PCC alum Steven Duggan shows how the microelectronics pathway is ripe with opportunity
Story by Abe Proctor. Photos by James Hill.
There are many players in Portland's high-tech sector, but none bigger than Intel. The California-based semiconductor company operates four campuses in Hillsboro where it carries out everything from research and development to design to chip fabrication. It's one of the area's top employers, but the source of many of its entry-level employees may come as a surprise – Portland Community College.
The Microelectronics Technology (MT) Program, based at the Rock Creek Campus, boasts a record of placing its graduates in gainful, living-wage careers – most often with Intel. Ninety five percent of graduates end up working for Intel, and 100% find jobs in the semiconductor industry, said program faculty Dorina Cornea-Hasegan.
But for some, the journey doesn't stop there. Steven Duggan, who graduated from PCC in 2004 and went on to work for Intel, was recently promoted to the coveted rank of principal engineer – placing him among the company's elite engineers. Duggan is the first MT graduate to reach this level with Intel.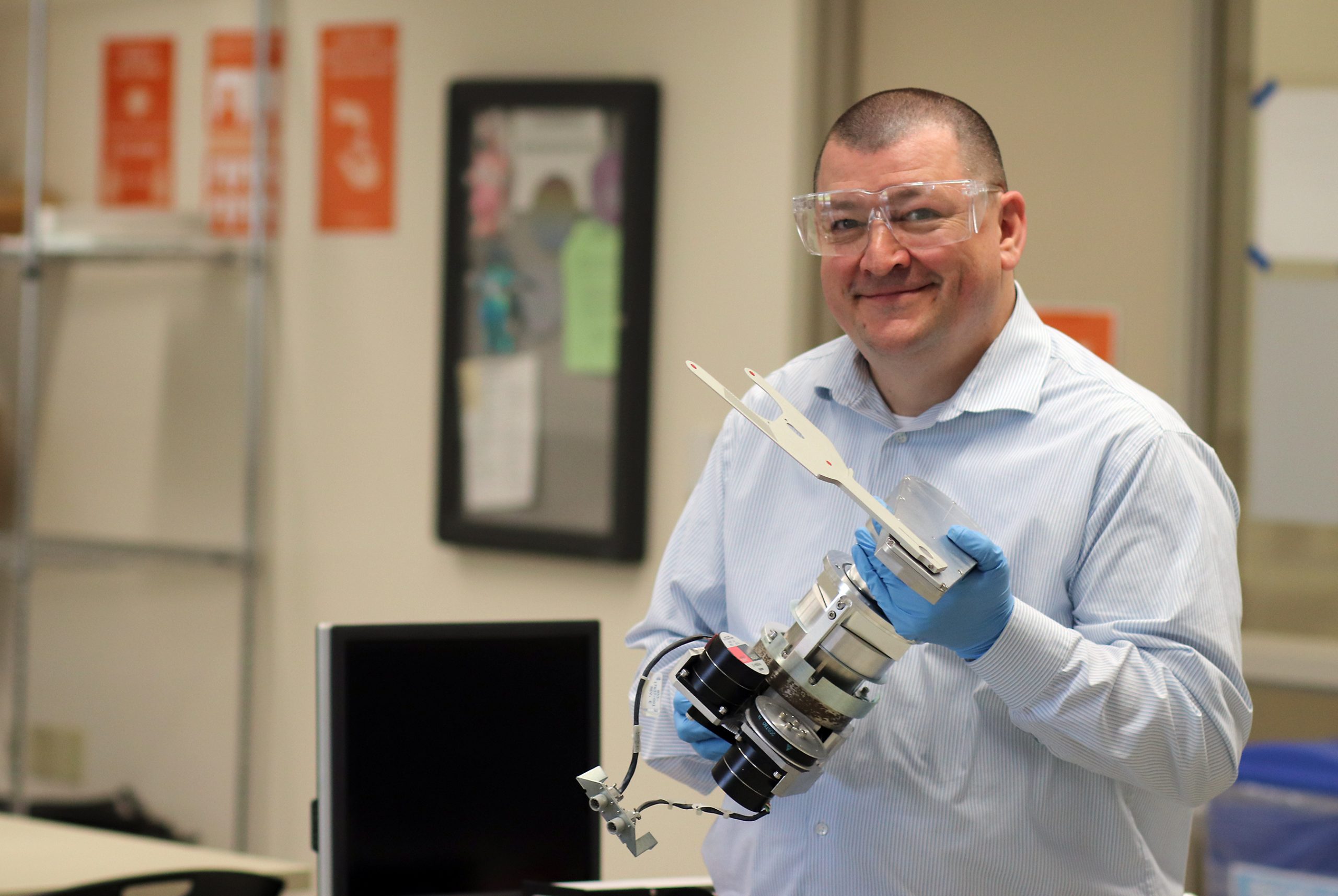 Academic Pathways: Science & Engineering
The Microelectronics Technology Program is just one of many pathways within PCC's science and engineering offerings.

Launch your professional career in one of these programs or earn credit with science classes that will transfer to a university.
"Being a principal engineer is a recognition of technical skill and leadership within the company," Duggan said. "It's difficult to achieve at Intel. In terms of Intel's technical leadership pipeline, it goes principal engineer, then senior principal engineer and then fellow."
Cornea-Hasegan is understandably proud of her former student. And while his promotion makes him stand out, she's excited about what the example of his success could mean for current and future students.
"We're very proud of Steven," she said. "He was one of my first students to graduate from the program. He demonstrated from the beginning a strong intellect and a desire to do well in school. I think he will inspire our current students to work even harder."
The program's connection with Intel is no accident; in fact, it's been baked in since the beginning. It was created in 1999 at the request of Intel, who needed new employees to fuel the explosive growth that the company – and indeed, the entire high-tech sector – was experiencing at the time. The company approached PCC with the notion of creating the program, offered to design the curriculum to meet their specific needs, and even donated the equipment on which students would train. The result, Cornea-Hasegan said, was a "golden" source of new technicians for Intel. Since then, MT has served as a steady pipeline of new technicians for the company as about 30 students graduate each year with a associate degree in microelectronics.
The program offers students a two-year associate degree in microelectronics along with two degrees in automated manufacturing and solar voltaic manufacturing. Students can also earn certificates in mechatronics and solar voltaic manufacturing with less than one year of study. 
When Duggan enrolled in the program, though, it was during a lull in new hires for the semiconductor industry. An immigrant from Ireland, he had a background in high tech, but didn't have the skills or training to work in semiconductors.
"When I came to Oregon, Intel – and others – were in the middle of a hiring freeze," he said. "I thought it would be prudent to get an associate degree while the industry wasn't hiring, so that I would be ready to work when it did. I took advantage of a Washington County scholarship that was available at the time, which was crucial."
Duggan's foresight proved to be spot-on. When Intel was hiring again, he was ready. He was hired as a technician in Intel's Logic Technology Development group (LTD), along with most of his classmates, and he was off and running.
"Almost every student in my graduating cohort was hired by Intel," Duggan said, "and almost all of us went into LTD. PCC was essential to me and the career that I've had."
Duggan said that the MT program employs a well-balanced blend of classroom learning and hands-on experience, something he believes is central to its success.
"Being able to take what we learned in a lecture and actually do it in the lab was incredible," he said. "This prepared me to work at Intel more than anything else, and I think it can be really appealing to students who appreciate hands-on learning."
The program "is one of those gems at PCC that not many people know about," said Carrie Weikel-Delaplane, PCC's dean who oversees advanced manufacturing and trades programs, "but it can be the gateway to great things for our students."
The program can also be a useful resource for semiconductor and other high-tech employees who are looking to upgrade or supplement their skills, Weikel-Delaplane said. Courses are timed to align with most tech workers' schedules, and starting this fall term, microelectronics classes will be offered at the college's Willow Creek Center in Washington County.
This expansion is coming at just the right time, said Duggan.
"The current environment in the industry reminds me of how things felt in the late '90s, during the early Internet boom," he said. "Now, it's the digitization of everything – self-driving cars, smartphones, smarthomes, smart factories, that sort of thing. All of this is being accelerated by the changes brought on by the pandemic."
And what's next for Steven Duggan, newly-minted principal engineer? For one thing, he wants to continue to offer a helping hand to the next generation of Intel engineers, particularly to students from backgrounds that have historically had a difficult time breaking into the industry. Since graduating, he's stayed connected to the program by engaging with students, conducting mock job interviews with them and working to identify used Intel equipment that can be donated to PCC.
"I am passionate about helping people from diverse and underrepresented backgrounds," he said. "One of the things I love most about PCC is that it's an institution that gives opportunity to everyone."
Learn more about the Microelectronics Technology Program at PCC.