This content was published: February 4, 2020. Phone numbers, email addresses, and other information may have changed.
Local legislators visit with student ASPCC leaders across the college's district
Photos and Story by Community Relations and PR Staff.
Portland Community College students had a legislative session of their own last week.
On Jan. 27, the college's Government Relations Office hosted student-led "Legislative Roundtables" at the college's four comprehensive campuses with key state senators and representatives. Student leaders connected with each campus' ASPCC office were able to meet with a particular legislator to welcome them to PCC, and ask questions they feel are important.
Visiting PCC were State Rep. Susan McLain (Rock Creek Campus), State Sen. Lew Frederick (Cascade), State Rep. Courtney Neron (Sylvania), and State Rep. Rob Nosse (Southeast). Here's a recap of what happened:
Southeast Campus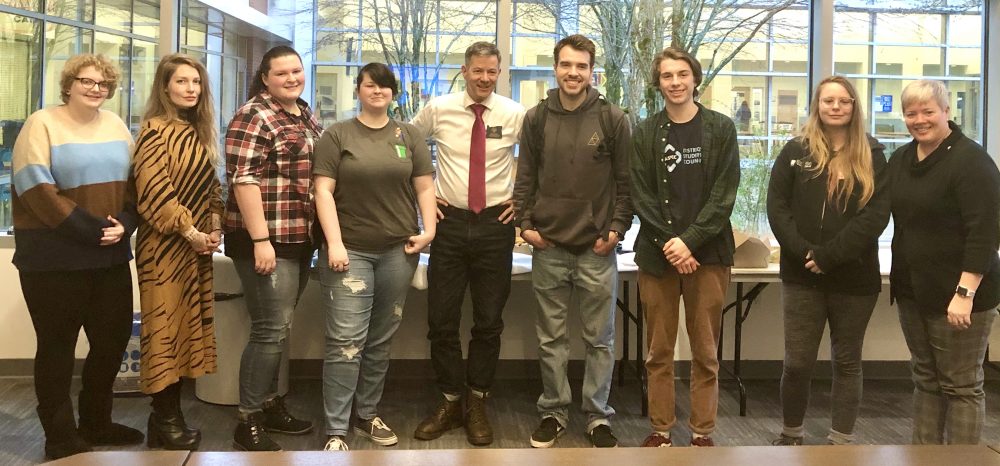 ASPCC Southeast student leaders had the opportunity to engage in rich dialogue with State Rep. Rob Nosse (dressed in tie) about real issues that are close to their hearts and community, such as affordable tuition, healthcare and advocacy for marginalized populations. Rep. Nosse shared stories of his own advocacy work when he was a student fighting for his university to be more affordable, inspiring and encouraging students to get involved.
"Sometimes culture changes the law, and other times the law changes the culture; politics is an important way you can make a difference," he said. "Having an organization like PCC who educates and builds political power is critical."
Sylvania Campus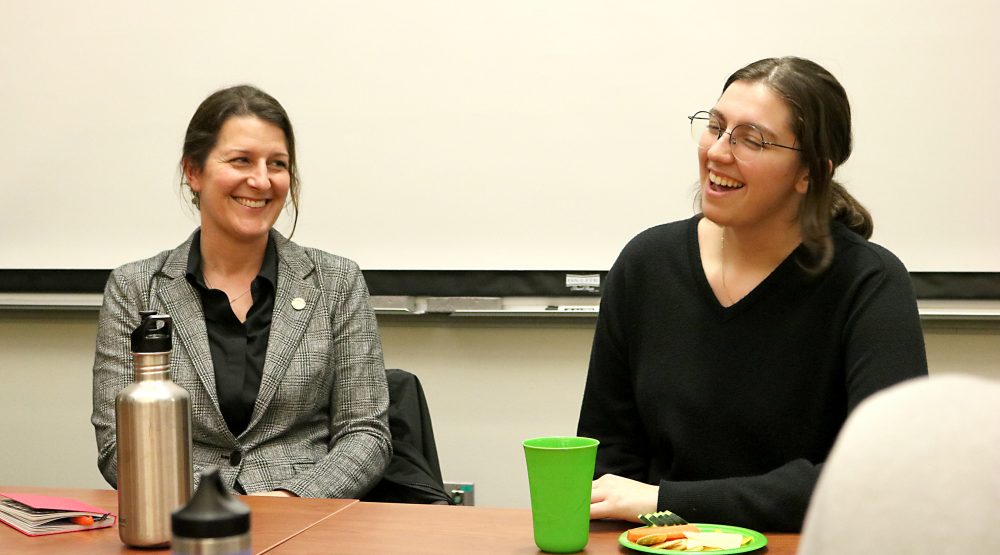 At the Sylvania Campus, 16 student development leaders met with State Rep. Courtney Neron (left) to discuss issues that they were facing in education. State Rep. Neron, who grew up in nearby Metzger and took classes at PCC, ran for office on the platform to help increase funding for schools. While she acknowledged that the last state budget focused on the K-12 system, she was hoping that she could help stabilize the community college budget, which is allotted by the state. In her one-hour talk with a variety of Sylvania students, they discussed her role on committees, the Oregon Promise and Student Success Act, the growing skill shortages in the workforce, the housing crisis, food insecurity, and child care.
Cascade Campus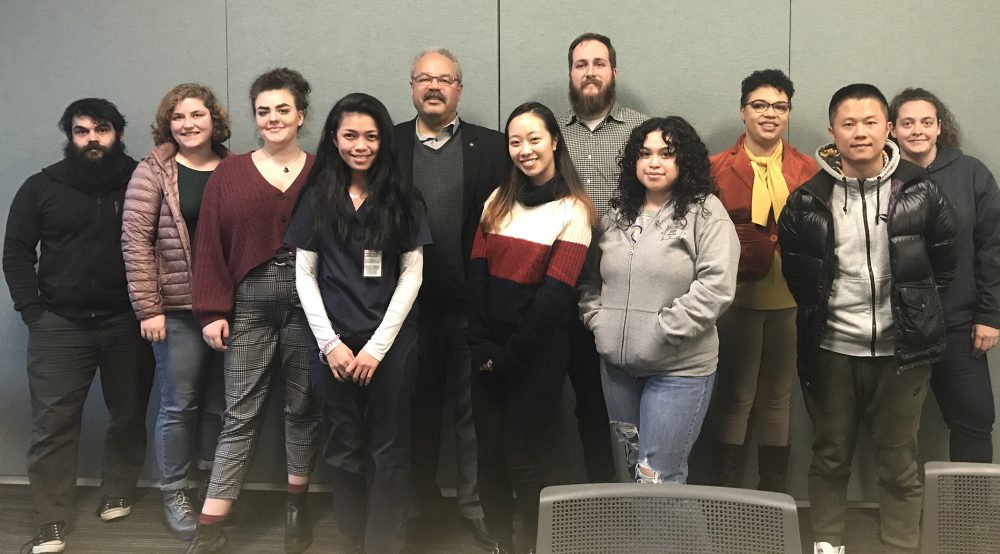 State Sen. Lew Frederick (fifth from left) fielded a wide range of questions from student leaders when he dropped by the Cascade Campus. Frederick, whose district encompasses much of inner North and Northeast Portland, has long been an ally of PCC and its sister institutions around the state, and he reiterated that support during his meeting with the students.
Sen. Frederick was asked about two topics near and dear to the hearts of PCC students – the future of the Oregon Promise Program and the prospect of funding support for community colleges that is sufficient enough to avoid future tuition increases. Students also asked him what the legislature plans to do to boost employment prospects for college graduates, as well as its long-term strategy to address the growing problem of homelessness in Oregon, particularly in the Portland area. When asked what his top priority in the upcoming legislative session will be, he cited Senate Bill 1567, which addresses disciplinary issues among law enforcement officers.
Rock Creek Campus
Oregon State Rep. Susan McLain discussed numerous legislative topics with ASPCC student leaders. McLain, who represents House District 29 (West Hillsboro, Cornelius, and Forest Grove), spoke about the challenge of ensuring a balanced budget in Oregon, as well as her support for state funding to help address health care costs for part-time faculty and a commitment to work to lower college tuition.
Rep. McLain also said she would like to see Oregon's K-12 schools use the Student Success Act investment to help expose K-12 students to introductory CTE programs that will prepare them to continue their education at community colleges and beyond. She pointed to PCC's Oregon Manufacturing Innovation Center Training Center as a shining example of industry investment and collaboration with educational institutions, ensuring that the training students receive at colleges like PCC is truly top of the line.