This content was published: February 14, 2020. Phone numbers, email addresses, and other information may have changed.
PCC's 2020 legislative interns are learning the governmental ropes
Photos and Story by Sarah Rose Evans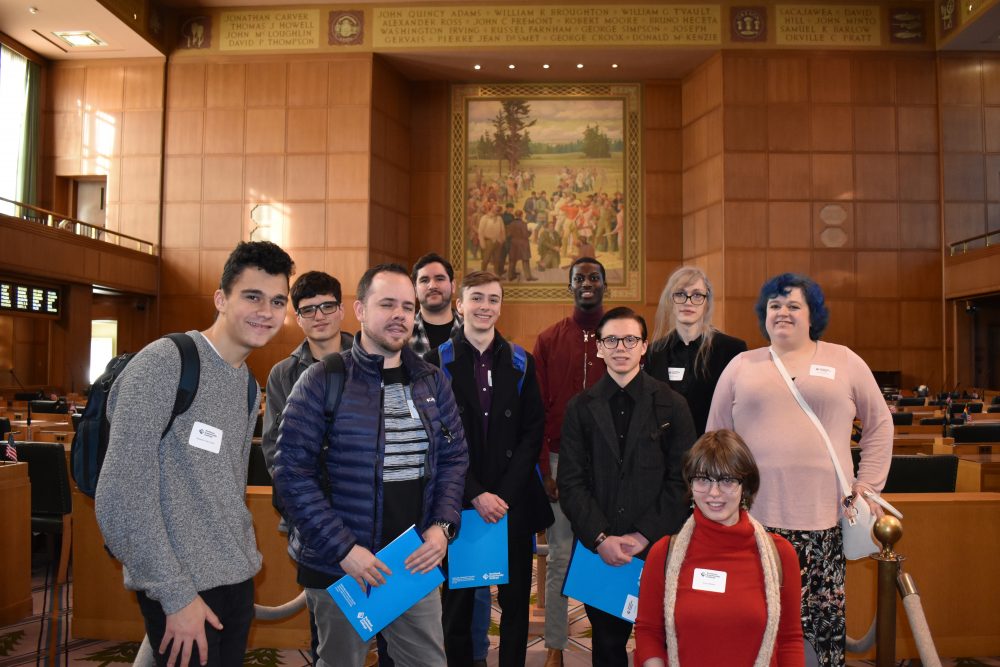 In February 2020, twelve Portland Community College students will be embarking on legislative internships at the Oregon State Capitol.
The Associated Students of PCC Legislative Intern Program is an opportunity for students to learn first-hand how laws are made and what careers in government are like. Each of the interns will be working in a legislator's office during the legislative session, which in even-numbered years lasts for 35 days.
"Witnessing these processes in person helps demystify the process of government," said Emma Kallaway, PCC's director of Government Relations. "The legislative internships were established by PCC to give interested students experience in government."
Jenna Devenberg, who is interning with State Rep. Janeen Sollman, is one of the students who will be interning at the Capitol. She left her corrections job to attend school full-time. At PCC she's working towards her transfer associate degree and plans on going on to earn a bachelor's in Political Science at Portland State University. Eventually, she'd like to work either as a lobbyist or on political campaigns.
"I knew if I wanted to make a career of politics I needed real-world experience," said Devenberg, who facilitates constituent meetings, answers inquiries and attends committee hearings.
"I want to learn what happens behind the scenes as new laws are made," said Mamadou Fall, who is an international student from Senegal.
Fall, who is in State Sen. Rob Wagner's office, is interested in becoming an international aid worker or diplomat so he can help elevate the voices of people of color.
Another Sen. Wagner intern is Sam Sullivan, who graduated from Lake Oswego High School last May and hopes to transfer to the University of Oregon to study history and political science.
"This internship is a great way for me to see the policy process in action," he said.
The internships help students learn about the legislative process as well as helping them earn valuable professional work experience.
"This internship is a major opportunity for me to pursue my goals in life by getting the professional development necessary to build a career in this field," said Eugenie Ridenour, who will be interning with State Rep. Alissa Keny-Guyer.
The rest of the 2020 ASPCC Legislative Internship cohort includes:
Robert O'Brien (Internship: State Rep. Janeen Sollman) — Interested in a career as a foreign service officer. Currently dually enrolled at Portland State University.
Emily Williams (State Sen. Rob Wagner) — Focused on sociology, specializing in civic and community engagement and wants to someday attend Reed College. .
Sebastian Alamo-Selis (Rep. Alissa Keny-Guyer) — Is earning both his high school diploma, through a program at a charter school and wants a career in political science or economics.
Dominic Baldocchi (State Sen. Lynn Findley) — Has the goal of earning a bachelor's degree in Political Science from Portland State University.
Matthew Bryan (State Sen. Kathleen Taylor) — Looking to transfer to Southern Oregon University to study political science and international studies before joining the Peace Corps.
Edgar Baker (State Rep. Susan McLain) — Earning his associate degree in Arts at PCC.
Justin Hicks (State Rep. Susan McLain) — Is focused on architecture classes at PCC and wants to study political science at Portland State University.
Tess Alyasri (State Rep. Susan McLain & State Sen. Michael Dembrow) — After earning her transfer degree, Alyasri wants to study economics, finance and pre-law.
Inspired? The application for next year's Intern cohort opens on the first day of fall term 2020 (Sept. 21). For questions, call (971) 722-4920, or email stephen.arthur@pcc.edu.