This content was published: January 2, 2020. Phone numbers, email addresses, and other information may have changed.
Latin rhythms highlight winter season of Rock Creek's Experience Music Series
Submitted Content by Pam Beaty.
The sounds of salsa, merengue, cumbia, bossa nova, and more will be featured at Portland Community College's Rock Creek Campus as part of the winter season of the Experience Music Series, which is now in its seventh year. The series of diverse concerts and lectures will open on Jan. 21 with a chamber music performance by the Northwest Piano Trio.
The Experience Music Series, which is sponsored by grants from the Reser Family Foundation, Beaverton Arts Program, and Cultural Coalition of Washington County, is presented in conjunction with the Tuesday evening "Music Appreciation" class at the campus. Each concert is open to the public and is followed by a question-and-answer session with the performers.
All events begin at 7:30 p.m. in The Forum auditorium, located in Building 3. Admission is free (with an optional donation) for PCC students. Parking is available on campus for $2.
For more information about the series or the Music Program, contact coordinator Pam Beaty at pamela.beaty@pcc.edu, or visit its website at pcc.edu/rcmusic.
Jan. 21 | Chamber Music with the Northwest Piano Trio
The Northwest Piano Trio was founded in the Fall of 2014. Based in Portland, Ore., the Trio, with violinist Esther Shim, cellist Hannah Hillebrand and pianist Susan McDaniel, is committed to the performance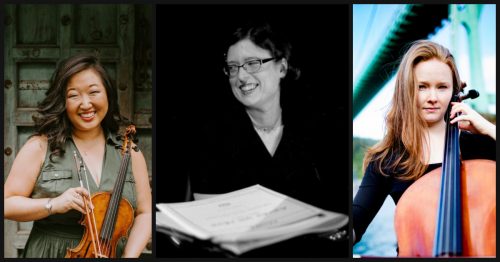 of traditional classical music while also exploring the music of 20th and 21st century composers. Their goal is to appeal to a wide array of audiences in varied settings, from the time-honored concert hall to the less-traditional local music venue. They are passionate about collaboration with artists of other disciplines to provide unique performances that give listeners a contemporary perspective on a non-contemporary art form.
Feb. 18 | Salsa and More with Son de Cuba
Son de Cuba is a quartet created by musicians from Cuba and the United States. They play many genres such as Salsa, Timba, Son, Merengue, Cumbia, Latin Jazz, and more. The band consists of
Nelson Morales (band leader, vocals, piano and bass), Freddy Vilches (percussionist and lead vocals), Ramon Brizuela (sax, flute and vocals), and Tony Glez (percussionist and vocals).
The band has roots in Latin, African, and jazz rhythms and blends this vast knowledge of different beats together in classic and modern Latin songs, exuding energy and happiness. Be ready to dance!
Feb. 25 | Bossa Nova with Caminhos Cruzados
Jazz guitar, Spanish flamenco, Brazilian bossa nova and West African polyrhythms cross paths in Portland-based trio Caminhos Cruzados.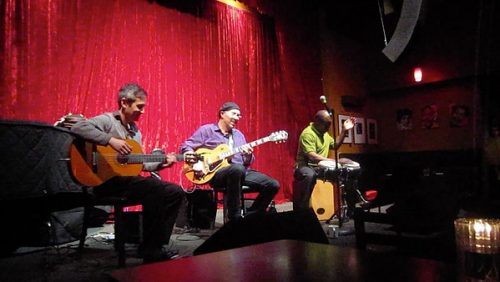 Caminhos Cruzados means "cross roads" or "paths crossed" in Portuguese and several disparate musical traditions do just that in this band. The trio features renowned jazz guitarist Dan Balmer, guitarist Nat Hulskamp, percussionist Israel Annoh, and special guest vocalist Lamiae Naki from Morocco.
Dan Balmer has long been considered one of the finest guitarists, composers, and educators in the Northwest, and has been hailed by the Los Angeles Times as, "the model of what a contemporary guitarist should be."
Nat Hulskamp studied ethnomusicology at the University of Washington, and in addition to flamenco guitar plays the Arabic oud. He has studied flamenco extensively in Spain and performs with Shabava Persian Ensemble, the Nat Hulskamp Trio and the nationally known world music group Seffarine (with Lamiae Naki).
Israel Annoh is a renowned master percussionist originally from Ghana. His style has its roots in Ghanaian and other West African music, as well as jazz greats like Max Roach. He has played with Highlife pioneer E.T. Mensah and Obo Addy.
Lamiae Naki  was born in the Moroccan city of Fes and was drawn to music from a young age. She began singing, writing songs, and using every resource to find new music and influences from widely varying cultures. Naki has also studied Andalusian music and other forms of classical Arabic music in Fes, and has continued to creatively apply her expertise in Moroccan and Andalusian music to many other traditions.