This content was published: December 9, 2019. Phone numbers, email addresses, and other information may have changed.
Leslie Smith slices and dices culinary job in favor of carving out trades career
Photos and Story by James Hill
Not so long ago, Leslie Smith was really cooking.
Since the age of 14, Smith has worked in restaurants—from fine dining to burger joints, to everything in between—in the United States and overseas. In Europe, she earned a master rating in traditional Italian cuisine so she could work in the kitchens of Michelin star-rated restaurants.
But this career path wasn't cutting it for the 31 year old.
"I realized no matter how high I flew in the restaurant industry, I was never really going to have the quality of life that I was looking for," Smith said. "The experiences I had were really tough. You never feel stable because they kind of give you the impression that they could drag anybody off the street to replace you.
"I think the biggest hurdle was letting go and deciding to find something new," she explained.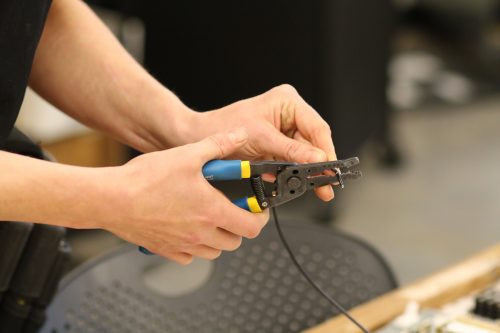 Pre-Apprenticeship Program
PCC provides pre-trade opportunities to students who seek careers in the trades or an apprenticeship.
These classes are designed to help students build the necessary skills to meet the minimum entry qualifications to enter a trade or apprenticeship program.
Women and minorities are encouraged to apply.
After spending more than a decade in the restaurant industry, Smith chopped her cooking career. She settled in Hillsboro and found work as a custodian for the Portland'5 Center for the Arts, which operates the city's five main theater venues. As she started her job, Smith found training opportunities through Oregon Tradeswomen Inc., where she was exposed to a range of trades opportunities that helped build her skills.
"And that's the one thing that I love about my job now is that I feel really valued," Smith said of her work with Portland'5. "This is something I wanted to do."
Determined to continue expanding skills in her new job, Smith transitioned into Portland Community College's HVAC Career Pathways Certificate at the Swan Island Trades Center. Portland'5 took notice and created an apprenticeship so she could qualify to be a full-time stationary engineer, which maintains building systems.
Portland'5 joined the Metro Limited Building Maintenance Electrician (LBME) Joint Apprenticeship Training Committee (JATC), which partners with PCC. Smith's employer became one of many of the committee's registered training agents, who select qualified and motivated workers like Smith within their own ranks and have them enroll in PCC apprenticeship classes, which are also held at Swan Island.
"The employers provide the supervision, training and competency while the apprentices go to school here," said Carrie Weikel-Delaplane, director of PCC's Apprentice & Trades Program. "They also pay for the majority of the schooling."
The Metro LBME JATC is not open to the general public. However, PCC's Pre-Apprenticeship Program is open to anyone interested in developing similar trades skills.
"It makes people more competitive for an apprenticeship opportunity," added Weikel-Delaplane of the pre-apprenticeship classes. "It's a great way to go."
The Metro LBME JATC requires 2,000 hours of on-the-job training hours. According to program specialist Emma Gray, the employers on the committee struggle to recruit women into the program.
"We are working hard to change this," Gray said. "Most manufacturing and trades industries in Oregon cannot fill all of the available jobs, and will never fill the jobs until they start expanding their recruitment efforts to include populations that have historically been excluded.
"Leslie is everything you could want in an apprentice," she continued. "She is not only a role model for aspiring women apprentices, but she is a role model for all apprentices."
Smith works eight-hour days and goes to class at Swan Island in the evenings as she transitions into the stationary engineer role at Portland'5. Her days are spent working on preventative maintenance or troubleshooting issues that a building may have, from HVAC to plumbing to electrical.
Smith is no longer bouncing from job to job and has found a great employer who values her skills. She sports a 4.0 grade-point average and soon will possess nearly a dozen safety, electrical, HVAC and building licenses required for her position. Eventually, Smith wants to pursue an associate degree in Facilities Maintenance Technology and hopes to one day work as a facilities manager.
"This is a job that I could have for the rest of my life," she said. "I realized pretty early on that my very best option was PCC, which is responsible for opening a lot of doors for me. When I needed to get an education and some experience under my belt, PCC was there for me."