This content was published: August 26, 2019. Phone numbers, email addresses, and other information may have changed.
Blacksmith hones skills he cultivated abroad to create sharp non-credit workshops
Photos and Story by Mike Phillips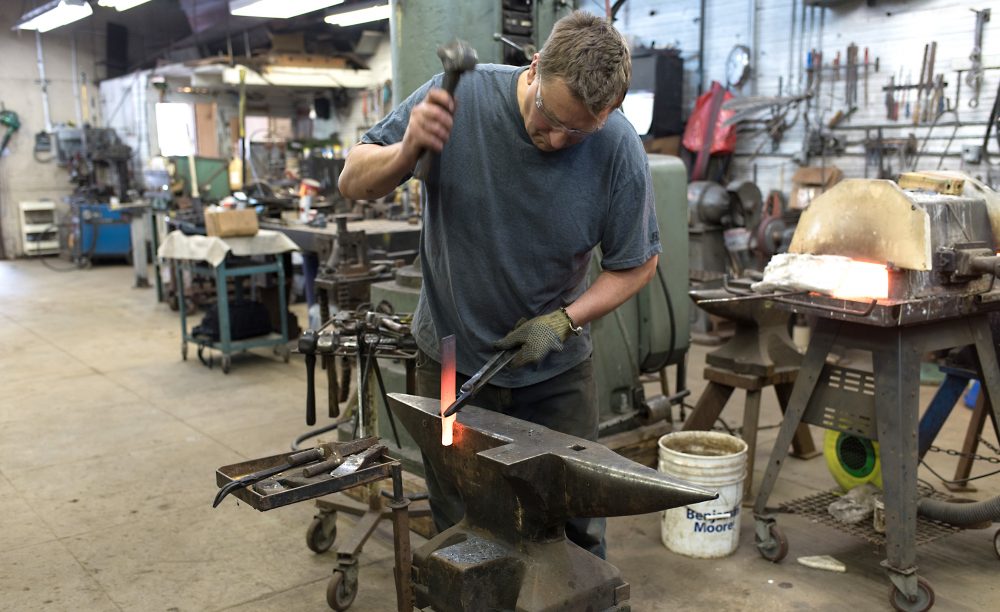 Deep in North Portland, Arnon Kartmazov's metal forging workshops are hot.
At his company Bridgetown Forge, his Portland Community College workshop class "Basic Smithing" is one of the most popular. It introduces students to skills he acquired over a lifetime of traveling, and explores the fundamentals of forging hot steel while crafting useful tools for around the home. Students begin with simple shapes and then develop abilities to create more complex objects. 
"Forging is a very visceral and physical endeavor that requires flexibility of body and mind, and the ability to improvise and adapt," said Kartmazov, who creates steel tools, knives, sculptures, and more at his business. "The craft requires extensive use of logic, as forging anything requires a series of precise steps in a strict sequence. It's very satisfying."

Explore Community Ed
PCC's Community Ed Program offers hundreds of non-credit and Continuing Education classes each term and enrolls more than 25,000 non-credit students each year.
Kartmazov has worked in Portland as a blacksmith since 2000 and joined PCC as a non-credit instructor earlier this year. A life spent abroad helped sculpt his expertise and knowledge. As a result, it makes him a valuable instructor for the college's Community Education Program.
In 1974, at the age of 11, Kartmazov and his family immigrated to Israel from the Soviet Union. It was a time when it was nearly impossible for most citizens of the former USSR to leave that country. 
While in Israel, Kartmazov was introduced to metalwork after a chance encounter with the last practicing blacksmith in Jerusalem. The blacksmith's 50-year-old shop was located in an ancient stone building near a bustling market where the smell of spices mixed with the industrial aroma of the shop's machine oils, hot iron, and coal forge (type of hearth used to heat metals).
As a student at Hebrew University, Kartmazov took courses in East Asian studies. That interest led him to Japan where he immersed himself in its metalsmithing traditions. Japan's 400-year-old standards for quality, he said, "blew him away."
"My 12 years in Japan has certainly influenced me," he said. "I value simplicity, directness, performance, and cohesion in my work."
Today, he teaches new generations of blacksmiths the art of tool forging, passing on the skills he learned in Israel and Japan to PCC's Community Ed students.