This content was published: July 31, 2019. Phone numbers, email addresses, and other information may have changed.
PCC connecting healthcare employers to students, jobseekers
Photos and Story by James Hill
Portland Community College's Willow Creek Center will be the epicenter for healthcare jobs and training come early August.
Co-hosted by the college's Medical Assisting and Career Pathways programs, the annual Healthcare Professionals Career Fair will be held from 10 a.m. to 2 p.m., Thursday, Aug. 8, at the Willow Creek Center, 241 S.W. Edgeway Drive. Admission and parking are free at the center, which is located next to the Willow Creek Transit Center.
Each year the Healthcare Professionals Career Fair attracts hundreds of people, including students interested in health careers and workers within the industry wanting to advance in their fields. The fair features a broad range of positions, from entry-level jobs in healthcare to clinical and advanced positions.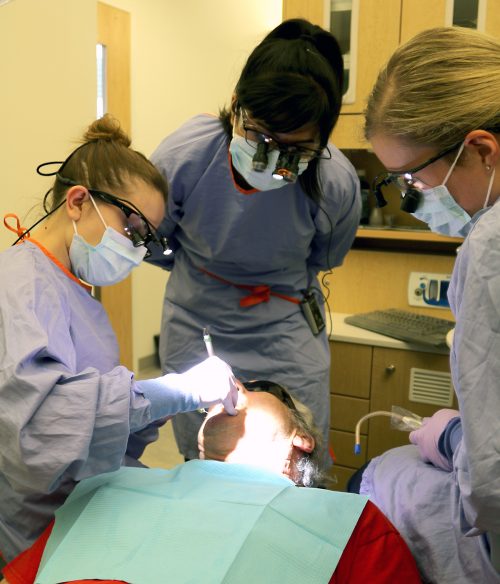 "Attendees make valuable connections with employers, learn about career opportunities in healthcare, and familiarize themselves with PCC programs that can prepare them for these jobs," said Michelle Parr, employment specialist with PCC's Career Pathways.
Participants will learn about working in dietary and medical services, membership records, housekeeping, sterile processing, medical assisting, caregiving, nursing, radiology, and many more key careers. They'll glean a better understanding of what it takes to become a lab assistant, phlebotomist, dialysis technician, mental health services worker, dental hygienist or assistant, pharmacy technician, admitting coordinator or an appointment scheduler.
Representatives from Providence, Legacy Health, Kaiser Permanente, The Portland Clinic, The Oregon Clinic, Moda, Eye Health Northwest, Virginia Garcia Memorial Health Center, Central City Concern, and others will be on hand.
PCC's nationally accredited Medical Assisting Program trains students to perform administrative and clinical tasks to keep the offices of physicians and other health practitioners running smoothly. Career Pathways offers fast-track certificate programs, with more than 50 options that lead to jobs and degrees.
For more information on the Healthcare Professionals Career Fair, call (971) 722-6270.