This content was published: May 3, 2019. Phone numbers, email addresses, and other information may have changed.
'Chance to Excel' grant supports upcoming Rock Creek Campus Choir tour
Photos and Story by Alfredo V. Moreno
The Portland Community College Rock Creek Campus Music Program was recently awarded a $10,000 grant from Chance to Excel to support the Chamber Choir's upcoming concert tour to Washington state and British Columbia (May 16-21). 
Chance to Excel selected the program with the aim of providing top-flight performance opportunities to students from less privileged backgrounds. The funds will support costs associated with performances, professional recording, and travel, plus education and clinic opportunities.
"The tour will give students an opportunity to make professional contacts and learn about transfer institutions," said Samuel Barbara, director of the Rock Creek Chamber Choir and head of the vocal studies courses. "They will get unique performing experience during the tour as well as excellent coaching."
The tour will begins in Seattle where the choir will work with the Seattle Pacific University choral, perform at Edmonds United Methodist Church, attend a clinic with University of Washington Director of Choral Studies Geoffrey Boers, and attend a performance of the opera "Carmen."
The next day, in Bellingham, Wash., the choir will attend a clinic with Western Washington Director of Choral Activities Dr. Tim Fitzpatrick and perform at the Bellingham Unitarian Fellowship Church.  
The tour culminates in Vancouver, British Columbia (May 19-20) with a clinic by the University of British Columbia's Graeme Langager and a final performance at Christ Church Cathedral.
Rock Creek Choirs to Perform Groundbreaking "Misa Criolla"
The Rock Creek Choirs will join their counterparts from Pacific University in presenting the ground-breaking choral piece "Misa Criolla" this weekend in a festive celebration of Hispanic music. The concert will also feature special guest artists Gerardo Calderon & Grupo Condor.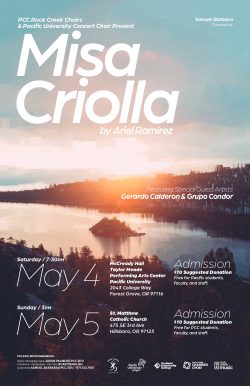 Composed in 1964 by Argentinian Ariel Ramírez, "Misa Criolla" was scored for traditional instruments and based on folk genres such as chacarera and carnavaltio. It brought the composer international recognition and is widely regarded for its artistic achievement. The mass was among the first in a modern language to be approved for performance in the Catholic Church by the Vatican Council.
Performances will be held on Saturday, May 4 at 7:30 p.m. at Pacific University's Taylor-Meade Performing Arts Center and again on Sunday, May 5 at 3 p.m. at St. Matthew Catholic Church in Hillsboro.
A $10 suggested donation will be collected at the door. The event is free for PCC students.