This content was published: December 10, 2018. Phone numbers, email addresses, and other information may have changed.
Have automotive certification, will travel: Student wants to help those on the move
Photos and Story by James Hill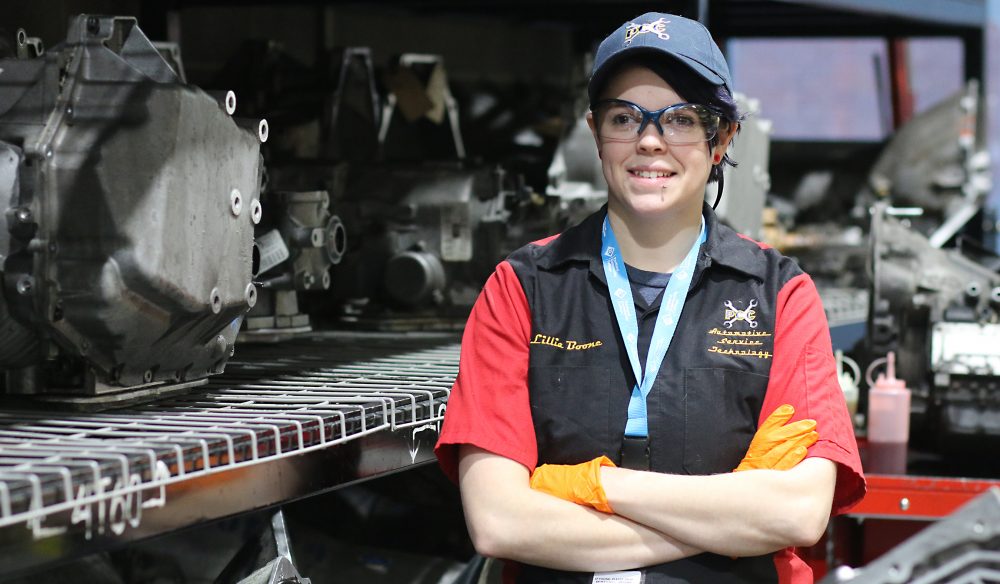 Lilly Boone's dream is simple. Well, at least, to her it is.
When she earns her associate degree from the Automotive Service Technology Program, the first-year college student wants to convert a school bus into a mobile auto shop and home for herself (a trend known as "skoolies"). Her aim is to repair vehicles for families who choose to live as nomads (think tiny home dwellers, RV enthusiasts…etc), but cannot make it to a traditional repair shop when their home, or vehicle, needs fixing.
"I want to travel the world as a 'Nomadic Mechanic' and help those who are stranded because they cannot get to an auto shop," said Boone, who, for now, lives in Tigard. "By watching YouTube I've learned that many 'nomads' have been stranded, in the middle of nowhere, because they don't have the knowledge to fix their vehicles. My interest in helping these people is what sparked my idea.
"I'll be able to travel anywhere," she added. "I'll use solar to power my living space completely, minus heating, since I'll be using a wood stove. I'll also convert the school bus to run off veggie oil. Unfortunately, the amount of power needed to run an auto shop is greater than a solar system can handle at this time. I'll use a generator for that."
As she works through her required classes at Portland Community College, Boone continues to shape her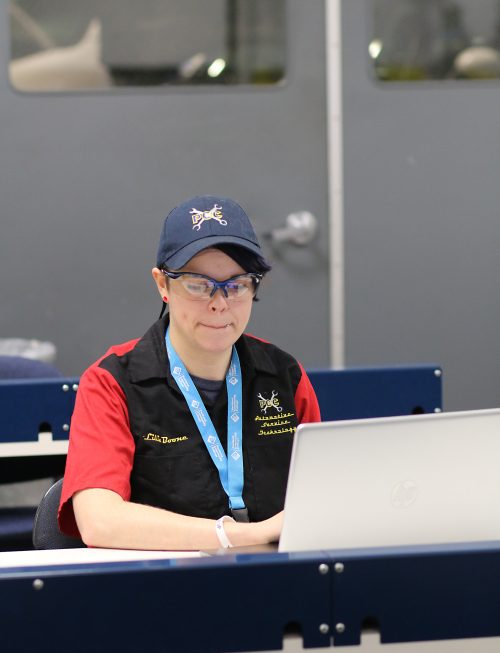 future grand plans. In addition to the converted school bus, she wants to use YouTube as an educational tool like other nomadic-themed how-to channels. On her particular channel Boone wants to provide video lessons where she'll cover the basics of auto repair, all the way to engine fixes and rebuilds, as well as market her services worldwide.
Rough Road in Rearview Mirror
Despite the 20-something's lofty dreams, she's traversed some rough roads to get to PCC: from being homeless to moving to Oregon with only $200 in her pocket.
The Wyoming native came to Oregon to restart her life. She had first moved to Denver for a relationship, but it ended up not working out after a few months. The experience of chasing other people's dreams inspired Boone to take control of her future. She called her aunt, Dee Wilson (PCC's longtime bursar), for advice, packed her Toyota Rav4 with her belongings (including her cat, dog and that $200), and moved to Portland in fall of 2016.
In 2017, Boone found work with the college's Facilities Management Services as a custodian. Her route included servicing the AM Building shop at the Sylvania Campus where automotive servicing classes are held. The constant work inside the shop helped nurture her interest in auto repair. That motivated her to explore its offerings firsthand, as well as talk to instructors about the training required.
"It gave me an advantage as I got to know all of the instructors and see a little bit behind the scenes of what they are doing for students," said Boone, who began the program in fall of 2018.
Resources Fuel Boone's Success
PCC's wrap-around student support services really made a difference in giving Boone the chance to succeed at college once she decided to enroll in the program. She was able to access the Panther Pantry, which is the college's free food resource for low-income or hungry students and staff, and utilize counseling services. She then was directed to apply for financial help with the PCC Foundation, eventually earning a career-technical scholarship to pay for tuition and tools.
"People shouldn't feel bad about taking advantage of the resources at hand," Boone said. "Having a counselor available to talk to and get the proper advice about what is happening in their lives, helps students focus on their classes. Stuff happens in students' personal lives and they need someplace to go to get help so they can focus on succeeding. This is why I am passionate about helping my fellow students realize the resources that are available at PCC because it provides so much for them to excel."
Providing robust student support services is a priority for the college.
PCC is lobbying the state legislature to fully fund community colleges for the 2019-21 biennium at $787 million. About $70 million of the total would go toward expanding programs with proven success like Career Pathways and Future Connect, along with improving counselor-to-student ratios, which has shown to double completion rates. And, another $70 million would be used to double the amount of career-technical graduates in the state.
However, Gov. Kate Brown recently released her recommended budget of community colleges of $543 million which would be 4.7 percent less than the current biennium budget level of $570 million. The recommended budget is a starting point for funding discussions during the legislature's session, which begins Jan. 22.

Auto Program Providing In-Demand Skills
But right now, Boone has access to plenty of wrap-around services to help her succeed in automotive service. The support services have given her the confidence to grow her determination and passion, which has impressed her instructors.
"Lilly is a hard-working student who is learning a new set of skills," said Russ Jones, auto service instructor. "And, she helps out other students when she can. She is going to school full time and working a full-time job on swing shift. This means she has to use all of her free time wisely so she can get her homework done on time and study for tests."
Jones' program focuses on training students in the latest automotive technology, and is equipped with 40 test vehicles, numerous above ground hoists, computerized four-wheel alignment racks, a chassis dynamometer, and many other specialized tools. He said PCC is playing a critical role in providing qualified workers for the industry in Oregon.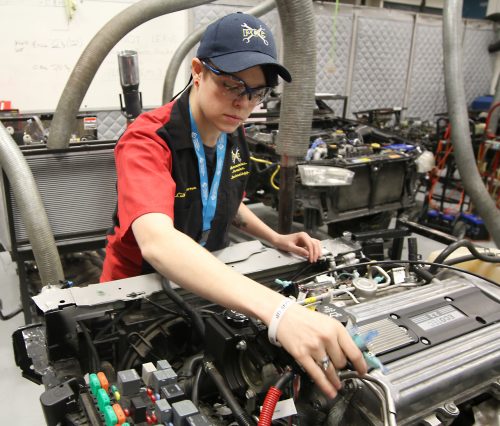 "The automotive job market is very good for our students," Jones continued. "There is a large need within the industry, and every shop owner I know is looking to hire at least one technician. Of course, they would like to hire journeyman technicians, but there are none to be found. Many employers are knocking down our doors to recruit our students to come to work as an entry-level technician. Our students have a bright future in front of them if they stay in the automotive repair industry."
Boone is on board with that sentiment. She said the program's lab modules are preparing her to take the Automotive Service Excellence (ASE) certification exams, which will help her and her classmates transition into well-paid and in-demand careers as automotive service technicians. And, they're perfect for someone who wants to convert a large school bus into a kick-ass mobile automotive shop.
"It has been a dream come true for me," Boone said of PCC. "The teachers here show endless support and true drive to help students reach their life goals. I hope that my story can inspire others to realize they do not need much to start chasing their dreams. They just need the passion and determination to take them all the way."