This content was published: December 11, 2018. Phone numbers, email addresses, and other information may have changed.
Festive holiday showcase offers samples from food entrepreneurs before their products hit stores
Photos and Story by Mike Phillips
In less than two weeks entrepreneurs from dozens of up-and-coming food businesses will gather at Oregon State University's Food Innovation Center for the Time to Market Holiday Showcase. This event offers free samples of innovative food products before they can be found on store shelves.
The Time to Market Holiday Showcase is the capstone event of a three-month intensive program titled "Getting Your Recipe to Market," offered by PCC's Small Business Development Center (SBDC). Tammy Marquez-Oldham, the center's director, said the program is for savvy food entrepreneurs seeking an efficient path from product development to commercial ready or product prototype.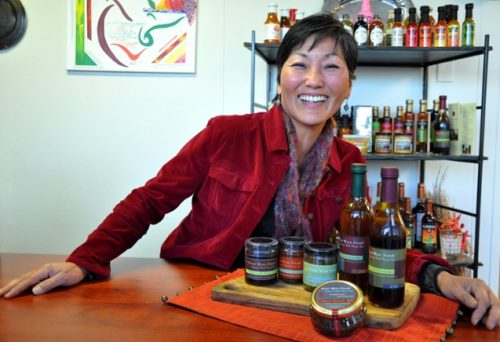 "This program was originally created for a handful of food entrepreneurs who had developed a food product, but didn't know how to take it into the marketplace from a business perspective," Marquez-Oldham said. "The PCC SBDC, Food Innovation Center, and New Seasons Market joined in partnership to bridge that gap."
A Chance to Taste
The Time to Market Holiday Showcase is from 5-7:30 p.m., Thursday, Dec. 13 at the Food Innovation Center (1206 NW Naito Parkway). The free event is open to the public, and families and foodies are encouraged to attend.
The holiday event is the first chance for entrepreneurs from the SBDC program to showcase their products to other local buyers. Alumni of the program are also invited to attend and offer food sampling and sales. This event is an opportunity for anyone thinking of going into the food business to network with local food entrepreneurs.
Program Has Long History
The Getting Your Recipe to Market Program started in the fall of 2006 and has served more than 400 food entrepreneurs. Those attending the program receive expert one-on-one guidance from advisors and industry experts, helping to avoid time-consuming or costly mistakes.
"Many food entrepreneurs starting out do not know where to focus their time and energy in navigating the complex food business industry," said Program Lead Jill Beaman, who has been running the program with Betsy Walton and Uri Kushner since 2012. "Our goal is to bring all the information and resources they need to one place."
These same industry advisors helped design the program to ensure it offers rising food entrepreneurs a solid foundation in business, organization, and product development, as well as food safety, product costing, packaging, production and distribution.
"In addition to OSU and retailers, we collaborate with local organizations and businesses to bring resources to our class including the Oregon Department of Agriculture, B-Line Sustainable Urban Delivery, and local commercial kitchens and co-manufacturers," Beaman said.
Valuable Feedback Spurs Success
At the end of the program, entrepreneurs have the opportunity to present their food products and business idea to New Seasons Market buyers in a 30-minute evaluation session.
"This can be some of the most valuable feedback the entrepreneurs will get before launching their food business," she added.
Examples of graduates that were successful at getting their products to the marketplace include New Cascadia Traditional, Better Bean Company, Brazi Bites, River Wave Foods, Driftwest Water Kefir, and Tan Tan Foods, to name a few.
"The relationships between the PCC SBDC and local industry supporters including the Food Innovation Center, and New Seasons Market, provide an invaluable opportunity for food entrepreneurs who attend the Getting Your Recipe to Market Program," Marquez-Oldham said.