This content was published: March 1, 2021. Phone numbers, email addresses, and other information may have changed.
College's 'Getting Your Recipe to Market' readies entrepreneurs for the store shelves
Story and Photos by Mike Phillips
Epicureans familiar with Portland's celebrated food scene have undoubtedly cheered on numerous local brands that have grabbed headlines for their artisan approach and innovative products.
What these food enthusiasts may not know is that a course offered by the Portland Community College Small Business Development Center (SBDC) advises entrepreneurs through their food business journeys as they aim to fill grocery store shelves and retail spaces with their passion projects.
The "Getting Your Recipe to Market" training is a 12-week class of instruction and guidance that strips away the mystery and costly mistakes affecting many first-time business owners. The training offers a clear process from product development to market-ready implementation, with local industry experts ushering the most efficient path forward each step of the way.
"Fifteen years ago we identified a unique opportunity to assist artisan foodmakers with the challenge of bringing a product to the marketplace," said Tammy Marquez-Oldham, director of the SBDC. "Local industry leaders came together, invested heavily and selflessly, demonstrating the inclusive spirit of Portland's business community and acknowledging that it is stronger when working together."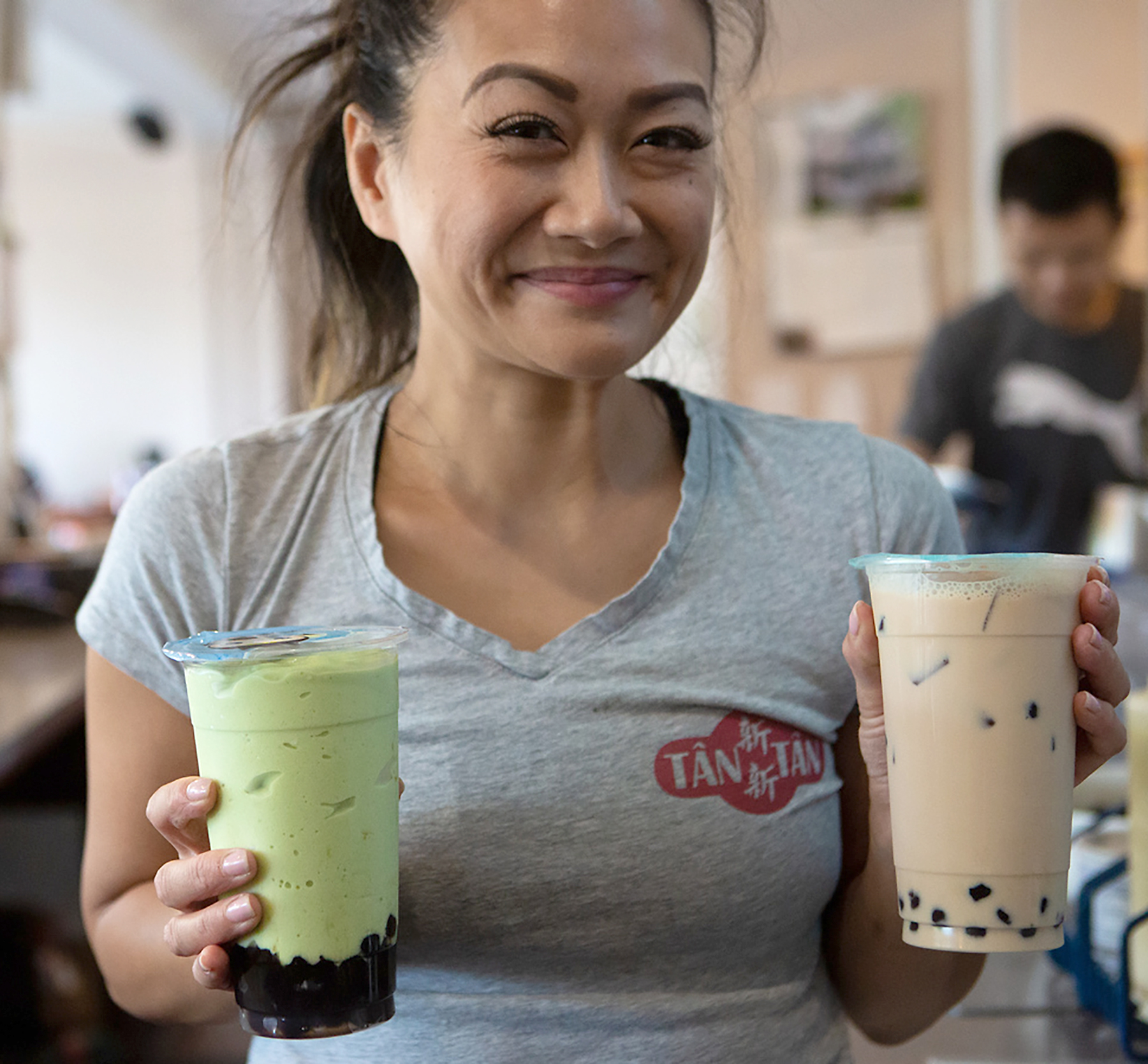 Getting Your Recipe to Market
This 12-week, intensive class helps local food entrepreneurs take their ideas to commercial-ready food products. PCC partnered with food industry experts, OSU's Food Innovation Center and New Seasons Market to take you step-by-step to produce, promote, and sell your product.
The SBDC offers the course during spring and fall terms. In addition, other food-specific business training offered by the SBDC includes "Restaurant Business Builders," which helps prospective restaurateurs, caterers and food cart owners plan for all aspects of owning and running a food-related business.
Students Add International Flavor
Jill Beaman, a lead advisor for the SBDC, said she enjoys the diversity of products and working with passionate food entrepreneurs, plus the creative and supportive environment that's created in each cohort.
"Participants include new-to-Portland immigrants from countries ranging from Burma to India to Vietnam," Beaman said. "We've had local hobby chefs and craftspeople who've perfected a family recipe and want to turn it into a business. We create an encouraging space where people come from all walks of life and learn from each other."
Recognizable brands like Brazi Bites, Better Bean Company and Seely Mint are all graduates of the program. Many more food cart operators, food innovators and restaurateurs have used the training to successfully diversify their business model by expanding to retail sales, often originating from customer demand.
As a mother of twins, Lisa Tran was struggling under the grueling schedule required by her family-owned Vietnamese restaurant, Tân Tân Café & Delicatessen.
"My parents are immigrants from Vietnam and my mother is the genius behind the food," she said. "Restaurant customers always asked us when we would start bottling our sauces and were the encouragement behind bringing our sauces to market."
After the birth of her children, Tran began seeking alternative revenue streams more conducive to her family needs. She said the "Getting Your Recipe to Market" training provided lessons and resources that became the solid foundation that her business is now built upon.
"The connection to New Seasons Market, plus mentorship and networking has been invaluable," Tran said.
Brewing Key Partnerships
The "Getting Your Recipe to Market" course is a partnership between PCC's SBDC, Oregon State University's Food Innovation Center and New Seasons Market. The organizations offer a full-range of learning options that includes business development guidance, food science and product development expertise and a leading retailer perspective.
"The combination of our programs have provided diverse entrepreneurs with the full suite of skills to move from concept to a viable product," said Food Innovation Center Director David Stone. "We've seen firsthand the benefit of the program to prepare people for the next step in developing their product and achieving their goals."
At the end of the class, participants have the opportunity to present to buyers at New Seasons Market during a product evaluation and presentation. The buyers review all products and offer expert feedback and answer questions before the entrepreneurs take their product to market.
"As a retail partner, our customers benefit most when we can offer access to unique, delicious and locally produced items in our stores," said Chris Tjersland, director of brand strategy and development for News Seasons Market.
The clients in the course are supported by many local organizations, such as Prosper Portland, Portland Mercado, B-Line Sustainable Urban Delivery, Market of Choice, Papermoon Creative, and Food Methods. Their expertise allow the participants to successfully navigate the complex food business world.
The final capstone of the class is the chance to share products with the public for the first time at a specialty food trade show, which is an opportunity for other local retailers to discover Portland's latest food innovations.
This "Getting Your Recipe to Market" partnership of business experts and creative entrepreneurs has led to more than 420 graduates and helped more than 300 new business owners create a market-ready product.
A Perfect Recipe For Starting a Business
For local food entrepreneur and baker Robyn Galbos, owner of Robyn's Craft Bakehouse, her inspiration came first and the business concept – handcrafted crackers – followed.
"I initially wanted to start a community bread share, so I got a job working at a bakery to immerse myself in bread," Galbos said. "There I was, living my best life, sleep deprived and covered in flour, when I had an epiphany: people want better bread so why shouldn't we expect more from the humble cracker?"
Galbos said she literally built her business while taking "Getting Your Recipe to Market."
"The step-by-step format was helpful to us as beginners, it was all laid out in front of us," Galbos said.
Tran added that she didn't have any business goals entering the class, but her sauces are now in nearly 400 retailers in Oregon, Washington and Northern California.
"'Tân Tân' means 'New Beginnings' in Vietnamese, and that is exactly what this journey is all about," she said.