This content was published: May 7, 2018. Phone numbers, email addresses, and other information may have changed.
Blessing Landscapes, Intel and Oregon Tradeswomen, Inc. tapped as PCC's Employer Partners of the Year
Photos and Story by Kate Chester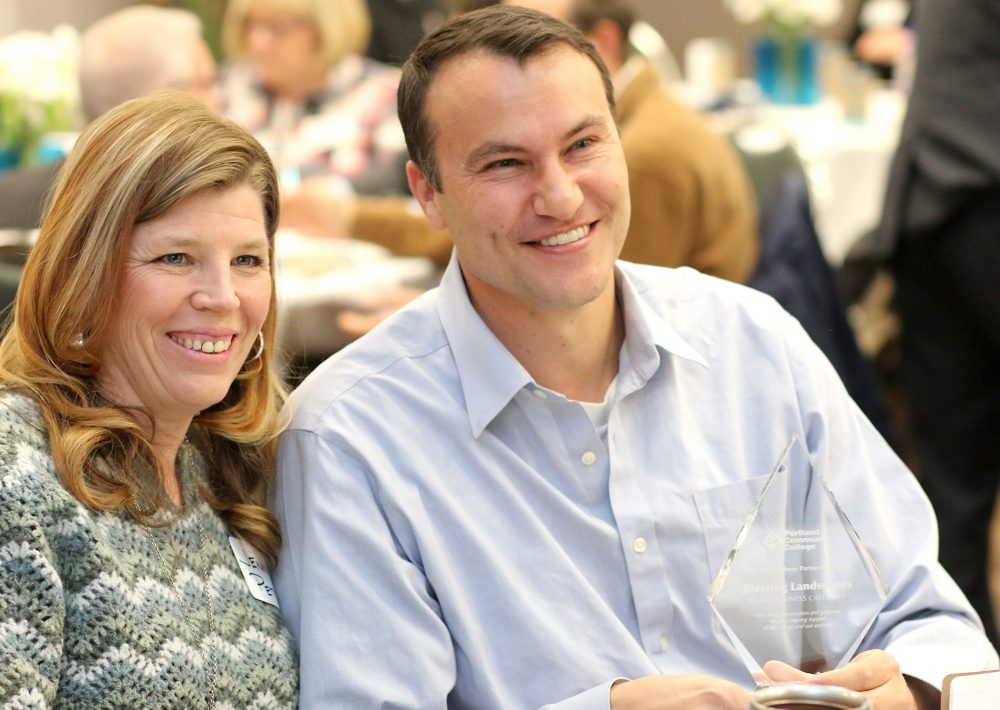 It was a full house at Portland Community College's inaugural Employer Partnership Awards celebration on April 11.
Nearly 100 attendees, representing a variety of PCC's key employer partners throughout the region, streamed into the auditorium of the Oregon Museum of Science and Industry. There they enjoyed an early morning breakfast, networking opportunities, and kudos from the college for the role they play in helping PCC to educate and train a skilled workforce.
It was also the chance to shine a spotlight on the efforts of three organizations chosen as PCC's 2018 partners of the year in the categories of Small Business (Blessing Landscapes), Large Business (Intel Corporation), and Government/Non-Profit (Oregon Tradeswomen, Inc.).
"For PCC to effectively prepare its students for employment opportunities and careers in an ever-changing work environment, we need strong partnerships with local employers," said Marc Goldberg, associate vice president of Workforce Development and Continuing Education at PCC.
"The event was simply a means to thank our partners, whose input, support and guidance enables PCC to educate a skilled workforce — and this is what drives Oregon's economy. PCC's partnership with a variety of organizations, in many and varied configurations, enables the college to be a critical catalyst for the region's economic success. All of us can stand to benefit from a thriving economy, and for that, we want to thank our partners," he said.
The event was the culmination of about a year and a half of planning by dedicated PCC staff. In the fall 2016, Goldberg formed a college-wide committee representing PCC's many campuses, centers and district offices, and whose members work with employer partners in a variety of ways. As a resource for the college, the group set out to create a comprehensive inventory of employer partners from across PCC's service area — and tallied more than 1,600.
These partnerships vary in look and structure depending on the needs and size of the partnering organizations. Types of collaborations include employers who hire PCC graduates; offer work-based learning opportunities for students such as internships, co-ops, clinical rotations, or apprenticeships; serve on career technical education advisory committees at the college; and participate in PCC's many job fairs, among a variety of methods and models.
Collectively, such partnerships "expand the pipeline of trained workers, ready to enter the workforce," said PCC President Mark Mitsui. "This helps to bolster the 'middle class' — education is the bridge to opportunity for our students."
With thoughtful deliberation, the committee considered nominees and evaluated them using criteria such as the length of time an organization has been a PCC partner, their support for hiring PCC students and graduates, their efforts to grow a diverse workforce in the region, and the myriad ways they contribute to student success at PCC by partnering with the college. Following are this year's award winners:
An agricultural services company based in NE Portland, Blessing Landscapes is owned by Jesse Brough, who partners closely with the Landscape Architecture Technology Program at PCC's Rock Creek Campus, 17705 N.W. Springville Road. He and Rebecca Smith, a landscape designer and PCC graduate, serve on the LAT advisory committee. The company works with PCC's Workforce Development in Washington County to offer on-the-job training via WorkSource, helping job seekers find permanent employment through work-based learning experience. Blessing also strives to develop new approaches to sustainability, which dovetails with PCC's mission and strong commitment to the environment.
"We currently have five PCC graduates with our company, and they're great," said Jesse Brough, owner of Blessing Landscapes. "Our partnership with PCC has definitely changed our business for the better."
Intel, a multinational corporation and technology company and the Portland Metro area's largest employer, has partnered with a variety of PCC departments and divisions including Microelectronics, Electronic Engineering Technology, and Civil and Mechanical Engineering Technology. It has hosted several technology camps and Science, Technology, Engineering and Math (STEM) workshops, with many of them geared to underrepresented communities. The goal is to attract them to the high tech field, an industry sector that offers high demand, high wage jobs. And as a long time supporter of the PCC Foundation, Intel offers scholarships and partnered with the college last year to host an Intel Encore intern.
"PCC has been an instrumental partner for us to recruit students for our manufacturing operations here in Oregon. We've also been able to partner with the college through the PCC Foundation, developing a strategy to engage middle and high school students and get them excited about STEM and careers through different programs here in Washington County," said Donna Maleki, Oregon community engagement manager, Intel.
Oregon Tradeswomen, Inc. (OTI) is a non-profit dedicated to promoting success for women in the trades through education, leadership and mentorship. The organization partners with PCC at the college's Swan Island Trades Center (6400 N. Cutter Circle) and through such programs as Welding, Machine Manufacturing Technology and Career Pathways. Because of its commitment to advancing equity in the trades, OTI's "Women in Metals" program regularly brings students to PCC campuses to learn about related metals disciplines. And thanks to OTI's influence, PCC's partnership with Vigor and the Maritime Welding program has yielded cohorts with women representing 50 percent.
"Our students tend to go off into a lot of different construction industries, some of which we are really well connected with, and some of which PCC has helped us gain better access to," said Amy James Neel, training director for Oregon Tradeswomen, Inc. "PCC has been able to bridge that divide for our pre-apprentice program, which prepares them for these entry-level jobs."