This content was published: January 8, 2018. Phone numbers, email addresses, and other information may have changed.
College to celebrate 19th anniversary of popular 'Wacipi' powwow at Sylvania Campus on Jan. 20
Photos and Story by Celina Baguiao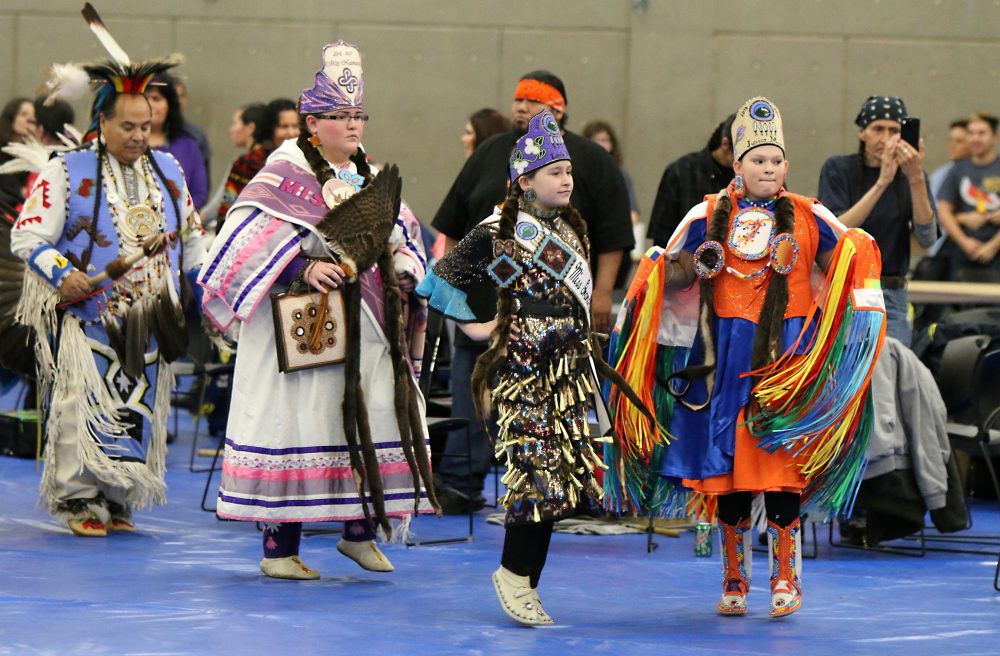 One of Portland's cornerstone Native American gatherings is ready to inspire, entertain and educate for a good cause.
For the 19th year, Portland Community College's Sylvania Campus (12000 SW 49th Avenue, Portland, 97219) will host its "Wacipi" ("They Dance") Traditional Powwow from noon to 9 p.m., Saturday, Jan. 20, in the Health Technology Building gymnasium. Honored guests include master of ceremonies Bob Tom (Confederated Tribes of Siletz and Grand Ronde), whip man Ed Goodell (Confederated Tribes of Siletz), co-host drums Four Bands and Turquoise Pride, and head dancers Gina and Jason Stacona.
"Every year the powwow draws more than 1,000 spectators and dancers throughout the state of Oregon and Washington," said Miguel Arellano Sanchez, coordinator of the Sylvania Multicultural Center, one of the PCC resource centers helping to manage the event. "The powwow is an opportunity for students and community members to preserve and practice the rich heritage of Native Nations, and for non-natives to be exposed to other world views and cultures in our area."
This year's event will include grand entries at 1 p.m. and 7 p.m. and a free community dinner at 5:30 p.m. Also featured are performances by drum groups and dancers, as well as crafts, food, activities for children, a college fair and raffle prizes.
Money raised from the event benefits PCC's Native American Scholarship Fund, while vendor space provided by the college helps local Native American businesses.
"I hope that our neighbors will come and experience the variety of activities offered," said Arellano Sanchez, "such as dance competitions, drumming, native food vendors, a free community dinner and a chance to win a king-size Pendleton Blanket! Bring your friends and family for a great time."
At PCC, there is an active Native American Club that connects Native students to their culture and assists with outreach like the powwow.
"I believe that being involved in the powwow is important because it's one of the many ways we pass on traditions, meet who is in our community, visit with old friends, make new friends, and become involved on campus," said past Native American Club member and PCC grad Jamie Carline.
The Winter Powwow is sponsored by Sylvania Campus President Lisa Avery, the PCC Powwow Planning Committee, Sylvania Multicultural and Women's Resource centers, and the Native American Youth and Family Center.
Admission and parking to the powwow are free.
For more information, visit www.pcc.edu/powwow, or call (971) 722-4116.
"It's an amazing cultural event that you'll never forget," said PCC alum and past powwow volunteer Evan Crisholm. "The community dinner features buffalo stew . . . the drumming and dancing, and the whole feel of the space, is very spiritual. You definitely get a heartfelt feeling while you're in the building and become very connected to the drums. Don't miss out."