This content was published: November 15, 2017. Phone numbers, email addresses, and other information may have changed.
Rock Creek Round Up: BCT's Design Build Remodel Program is a winner
Photos and Story by Janis Nichols
The Building Construction Technology Program (BCT) at Portland Community College has been recognized for its Excellence in Education by the National Kitchen and Bath Association. This recognition is based on the quality of BCT student projects. The program, based at the Rock Creek Campus, is accredited through the NKBA, a partnership that thrives on high expectations from both sides of the collaboration.
Andrea Kucker, NKBA School and Student Program Specialist, said that the BCT program has been affiliated with the NKBA for more than 10 years and that the quality of the college's graduating students is why it received the 2017 Excellence in Education.
She said, "Graduates of an NKBA-affiliated program have been taught best practices for meeting industry standards. They possess a designers' ability to accurately communicate design and mechanical instructions to builders, remodelers and other skilled professionals which is paramount to the successful completion of any renovation project. These highly regarded educational programs provide the industry with a superior level of design expertise and technical merit."
In the past, schools accredited through the NKBA were offered funding to support an annual outstanding student award. Stephanie Crosson won this award in 2016 and is now doing high-end residential work in Southern California. Other outstanding graduates like Laurel Winkle have gone on to open their own remodeling companies. Her company, SheBuilds, is in Canby.
All students in the BCT program may compete in the NKBA Student Design Competition where the first prize winners for 2017-18 receive $5,000 and a trip to Las Vegas to attend the Kitchen and Bath Industry Show. One prize is given for the best kitchen design and another for best bathroom design. The Local chapter of the NKBA also awards its own $500 prize for best kitchen design which recent BCT graduate Heidi Zywicky captured in June 2017.
The quality of student work has been appreciated by other organizations as well. This fall, Savannah Waterworth, a second-year student in the BCT program, was selected for a $400 student scholarship award by the Professional Women in Building Council in association with the local chapter of Home Builders of America. Joss Mallett, who graduated from the Design Build Remodel Program (which is a sub program under BCT) in 2014, is now a design consultant with the Neil Kelly Company in Lake Oswego.
"I started with Neil Kelly as a Design Associate," she said. "I had prior drafting experience, but my BCT education in mechanical and electrical diagramming gave me an extra level of detail and polish and my NKBA training put me over the top. I'm now in a senior position as a Design Consultant where I get to help new graduates."
Hilary Campbell, Design Build Remodel Program coordinator at Rock Creek, has also been singled out for her contribution to the construction industry. In October, she received the Daily Journal of Commerce Women of Vision Award. The Journal honored 46 women for their involvement in the building industry in Oregon and Southwest Washington.
In three years under Campbell's leadership, the number of women in the Design Build Remodel Program has doubled.
"We have a real need today for skilled labor after a deep eight year recession that saw a lot of folks left the construction industry for good," Campbell said. "We need new energetic people to fill those roles quickly. Construction is an industry that doesn't wait. Women are 50 percent of the population and a valuable resource for all kinds of jobs in construction including harder labor jobs. Construction is an industry that gives you the satisfaction of creating something. Women are uniquely qualified to bring social and communication skills to the job site where conflict is constant and where negotiation and problem solving skills are rewarded."
Congresswoman Bonamici Listens to Student Concerns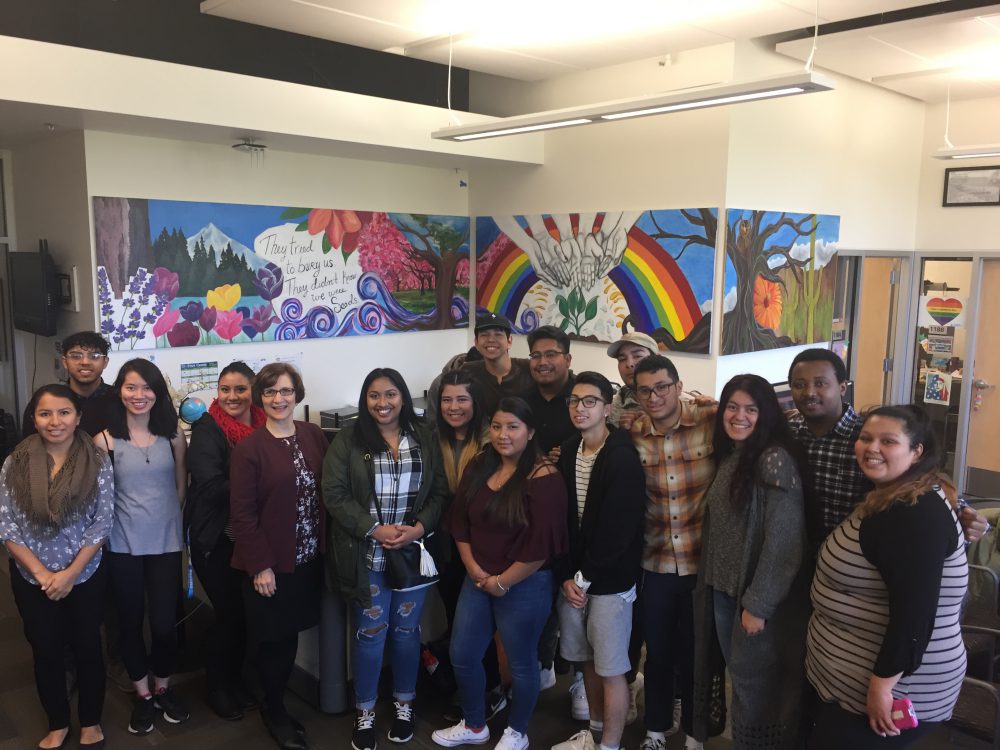 Recently, U.S. Congresswoman Susan Bonamici visited with DACA, or known as DREAMer students, and student veterans at the Rock Creek Campus. In the Multicultural Center, Bonamici asked and answered questions about immigration policy in the current administration. At the Veterans Resource Center, she listened to student concerns regarding Veterans Administration policies and challenges specifically involving veterans in the Aviation Science Program, which based at Rock Creek.
Art Rock Captures Imagination of Campus

If you missed Art Rock 2017 at the Rock Creek Campus earlier this month, then you missed a lot.
There were sessions on ink drawing, relief monoprints, art collection tours, faculty presentations, music, an art scavenger hunt, student-written 10-minute-play performances, sculpture, ceramics, calligraphy, carving, demonstrations and a talent show. Kudos to the Arts & English Division for a knock-out event.
Career Encounters Welcomes New Students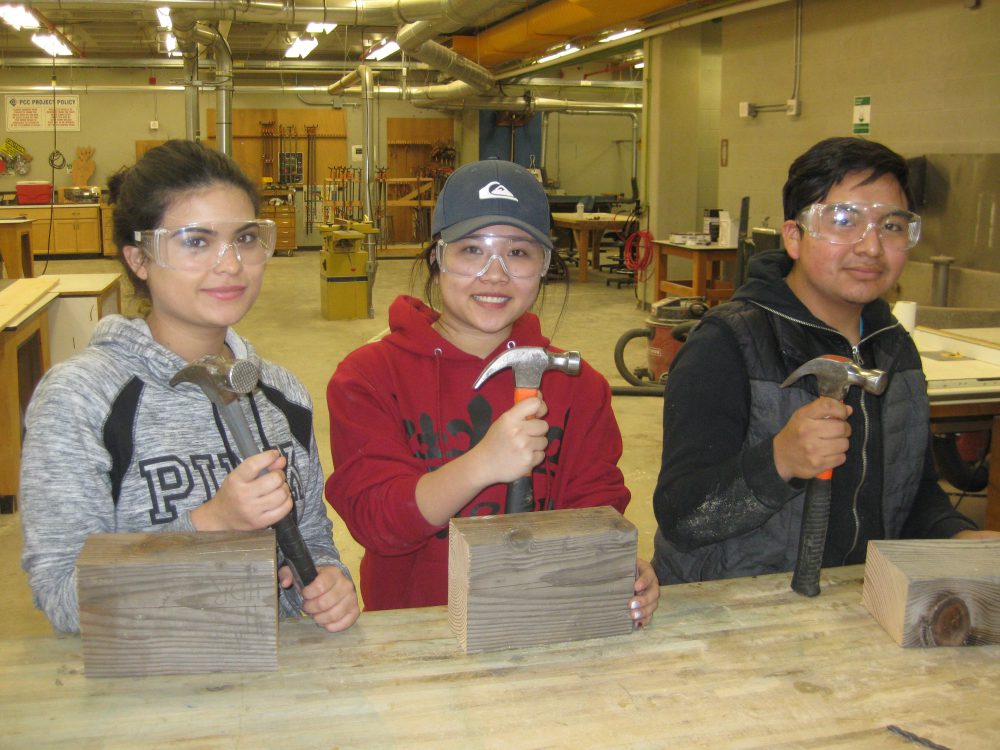 Last year it was all about wings and wheels. This year its building construction, and the fine and performing arts. For Beaverton School District juniors and seniors who participate in Early College High School's Career Encounters Program at the Rock Creek Campus, the experience introduces them to career exploration and personal growth.
The program invites 20 eligible Beaverton School District juniors and seniors to explore Career Technology Education (CTE) programs as possible alternatives to four-year degree programs. Students who are eligible to leave their high school campus around the noon hour (early release) travel by bus to Rock Creek two days a week for 11 weeks.
As with most first-time efforts, Career Encounters has made adjustments to enhance the program including how it recruits students.
"In our first year the program was open to any student who showed interest in career technology," said Sylvia Juarez, ECHS's program coordinator for Career Encounters. "This year, we recruited students who are more ambitious about planning for college and who are mature enough to handle the more independent college setting. Career Encounters allows students to enter their field of interest with a better understanding and opens doors to other opportunities that can help them complete their first two years of college with less debt."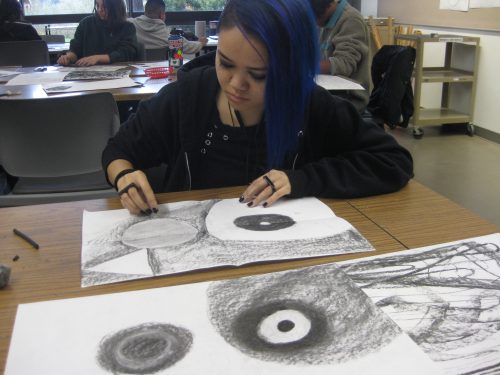 This fall, instead of offering the Transportation Trades cohort, which offers students an introduction to Auto Collision Repair and Auto Body Painting, Diesel Service, Aviation Maintenance, Aviation Science and Welding, students are offered Building Construction Technology (BCT) and the Professional Arts Cluster, which includes space planning, computer aided design, remodeling, music technology, creative writing, drawing and painting.
The two-hour classes engage the students in hands-on activities and in addition to learning the basic skills of the program, they are required to research information about one of these careers, their employment opportunities, wages and required technical expertise.
Angie Berdahl, Rock Creek Dean of the Arts and English Division, spoke about the arts cluster.
"So many students are interested in the arts but they don't see a clear pathway to a career in these fields," she said. "Our intent is to give these students a chance to explore an array of careers they can pursue in the fields of art, music, and writing. The Career Encounters arts cluster is supported by seven faculty members who are teaching the different units in the class. All of these faculty, as well as the department chairs, have gone to great lengths to get the first arts cluster off the ground."
The project, the only of its kind in Oregon, is unique in that BSD pays for tuition, tools, art supplies, required clothing like leather boots and coveralls, and bus passes to Rock Creek. Students earn one-half credit toward their applied arts requirement and two full credits as a college elective.