This content was published: November 30, 2017. Phone numbers, email addresses, and other information may have changed.
Giving Tuesday effort reaps big dollars to battle food insecurity
Photos and Story by James Hill
Portland Community College's Feed the Mind Campaign on #GivingTuesday was not a success. 
It was a phenomenal success.
The campaign, operated through the PCC Foundation, raised more than $15,200 for the college's Panther Pantries, which provide food to students in need on all four comprehensive campuses. The college had 18 hero pages setup for the fund-raiser, which included internal and external champions as well as campuses and students.
The campaign's goal was to raise $10,000 for the Panther Pantries because nearly 50 percent of PCC's students face food insecurity. The pantries, led by ASPCC, are one of the best ways to directly combat this issue and are located at — Cascade (Second Floor, Student Union Building); Rock Creek (Room 113, Building 5); Southeast (Room 105, Mt. Tabor Hall); and Sylvania (Room 102, College Center).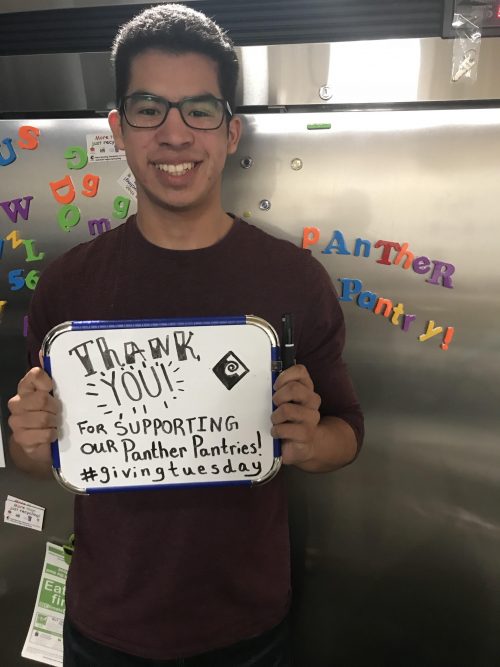 "(Tuesday) was an amazing day for PCC students," wrote Diana Giorgees (PCC Foundation board student representative) and Kien Truong (District Student Council chair and student representative for college board), in an email to the college community. "Your gifts, likes, shares, and enthusiasm helped us immensely as we raised these critical funds. Giving Tuesday may be just one day, but your contributions will have far-lasting impact on our most vulnerable students, and for that, we are truly grateful."
The top-six pages raised at least $1,000 included:
PCC Foundation Board members Karen Kervin (Vice President, Community Relations Manager, Northwest Region, US Bank) and Diana Giorgees (student representative).

Southeast Campus.

Rock Creek Campus.

Cascade Campus.

Sylvania Campus.

Poppie the Panther.
For complete results, visit the college's Feed the Mind hero page. The Southeast Campus's total ended up being 154 percent of its original goal.
"This will make such a huge impact in our students' lives and ensure they can focus on their studies instead of where they're going to get their next meal," wrote Campus President Jessica Howard and student leader Warren Gunn. "Thank you again for your continued efforts in supporting equitable student success at Southeast."
PCC's Feed The Mind Campaign generated plenty of buzz on social media. Noted author on student issues Sara Goldrick-Rab retweeted PCC's initial fund-raising ask. Also, the above video generated 5,100 views on Facebook and out of the 10 tweets between PCC's Twitter accounts, @Portlandcc and @PCCpanther, more than 6,500 impressions were generated and countless retweets.
And, the PCC Foundation plans to have an even bigger presence on Giving Tuesday in 2018. Stay tuned.