This content was published: October 31, 2016. Phone numbers, email addresses, and other information may have changed.
Noted author and politicians talk debt, hunger and rising costs for students
Photos and Story by James Hill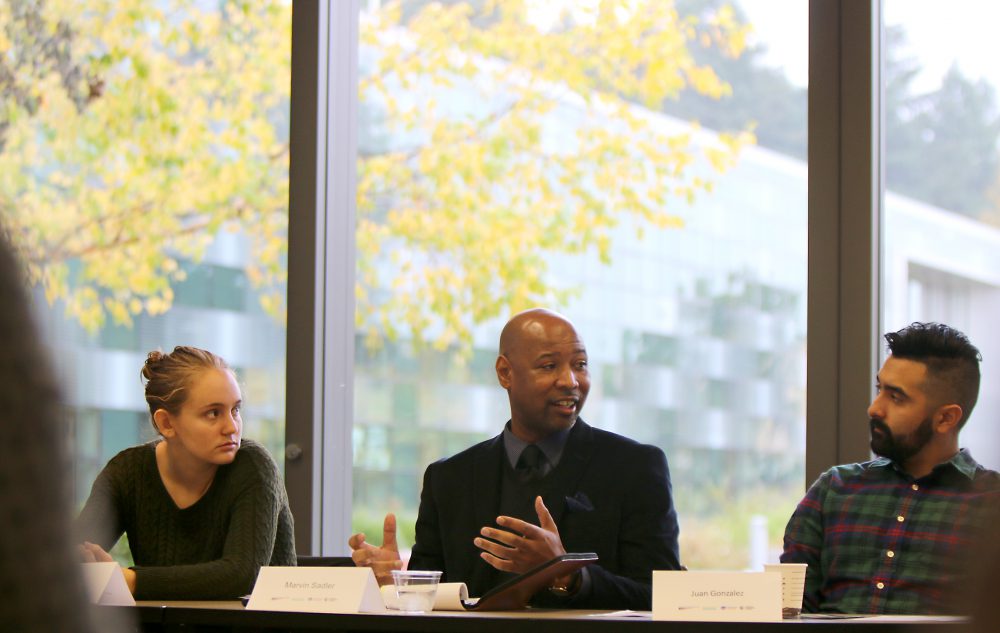 During October PCC became the epicenter for the topic of college affordability.
The college welcomed best-selling author Sara Goldrick-Rab, a professor of Higher Education Policy & Sociology at Temple University, to its Cascade and Sylvania campuses for several talks. She discussed affordability, food instability and student debt – all issues PCC is exploring.
Goldrick-Rab's book "Paying the Price: College Costs, Financial Aid, and the Betrayal of the American Dream" is an Amazon Best Seller. It explores the public debate about the value and price of college and tackles the assumption that if students work hard enough, they'll be successful.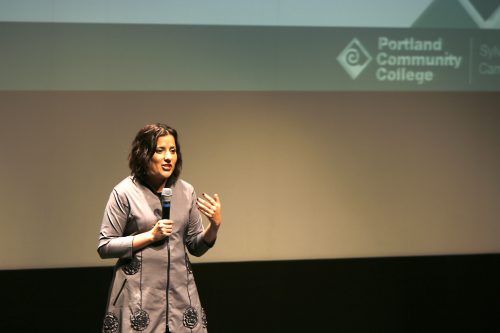 Her book focuses on a study of 3,000 young adults who entered public colleges and universities in Wisconsin in 2008 with the support of federal aid and Pell Grants. Goldrick-Rab, who taught at the University of Wisconsin prior to being hired by Temple, found that students suffered from a lack of money once they'd arrived at school; they were unable to afford books and living expenses, in addition to tuition. As a result, they worked too many hours at outside jobs, dropped classes, took time off to save money, and at times went without adequate food or housing.
"We worked with a student who was forced to go into a homeless shelter, got raped and had a baby," she said, noting 13 percent of the students were homeless. "And there were many more students who found themselves on the street. And this isn't a Midwestern thing. Ivy League schools struggle with these issues (in different ways.)"
Goldrick-Rab discussed how students dealt with their homelessness. She shared that some universities had staff stand in line at local homeless shelters on behalf of students. This ensured the students could have a bed once they finished their day's classes. Some students masked their body odor from lack of showering by ripping fragrance ads out of magazines at their school's library. She added that men, especially, had a hard time as they typically refused to ask for assistance.
"Their sense of shame prevents them from reaching out for help because they feel it wouldn't be beneficial, but hurtful," Goldrick-Rab said.
Goldrick-Rab wasn't the only big name visitor hammering home the importance of college affordability. U.S. Sen. Jeff Merkley made a visit to PCC's Sylvania campus where he encouraged students to register to vote and addressed the problem of student indebtedness. The final event on this topic was the Student Debt Workshop and Roundtable at the Rock Creek campus, headlined by U.S. Rep. Suzanne Bonamici.
The roundtable helped the Congresswoman gauge the issues and experiences of the panel, made up of community members and PCC students and staff. Rep. Bonamici said she wants to push income-driven repayment plans as a way to help students avoid digging too deep of a hole. The loans are based on income and family size, and are operated under the Federal Direct Loan Program.
But there's a long way to go to fix a system where students of modest means are forced to take out large loans to earn a degree, according to the panelists. Elijah Herr, PCC's assistant director of Financial Aid, talked about how nontraditional students at the poverty level can demonstrate signs of post-traumatic stress disorder after they've opted to take out loans to pay for college. Even Marvin Sadler, a senior student account specialist and financial success coach at PCC, has had challenges funding his education. He told Bonamici he maxed out his credit card to pay for the first year of his graduate program and will have to borrow more in student loans to pay for the second year.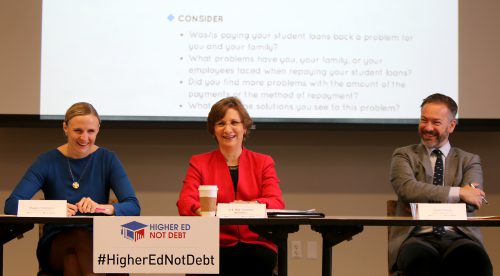 "It's great to hear your stories," noted Bonamici. "It takes this from the abstract to being real."
Student Sirianna Lilly told Bonamici that she hasn't had to take out loans to fund her PCC education, but knows she'll have to when she enrolls in graduate school, which scares her.
"I've worked with students from various backgrounds and it's a balancing act to fund their education," said panelist Jim Perez, PCC's interim vice president of student affairs. "Sometimes they leave with the question of wondering if pursuing an education is worth it. This is a continuing problem."
For more on these initiatives, visit www.studentaid.ed.gov.