This content was published: November 27, 2017. Phone numbers, email addresses, and other information may have changed.
International climate change conference puts PCC's sustainability efforts on global stage
Photos and Story by James Hill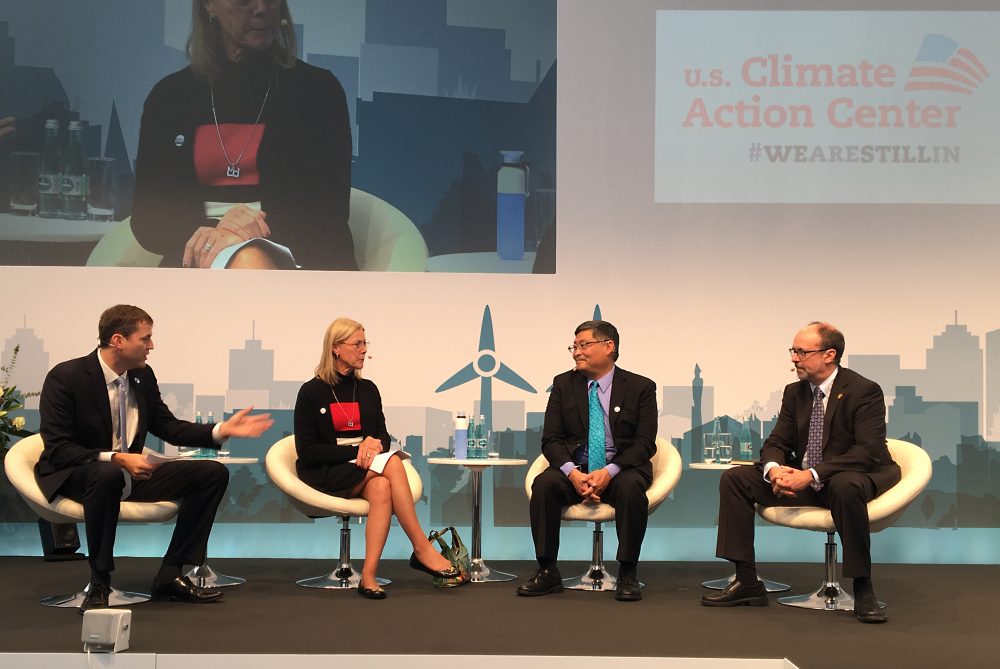 Portland Community College showcased its sustainability accomplishments on the world stage.
PCC President Mark Mitsui and Sustainability Manager Briar Schoon attended the Conference of the Parties (COP 23) in Bonn, Germany, as part of 'We Are Still In' (WASI), a non-federal, subnational group committed to upholding the Paris Climate Agreement. COP 23, which took place Nov. 9-16, served as the conference for the next round of United Nations climate negotiations and attracted nearly 20,000 attendees from around the world. WASI, meanwhile, represents a collective of 2,550 mayors, governors, tribal leaders, CEOs, investors, university and college presidents and religious establishments from around the country — more than 130 million Americans across 50 states and over $6 trillion of the American economy.
"The degree of international cooperation and innovation in this space is both impressive and necessary," said Mitsui. "There is much that we all can do locally and globally to address this challenge. It is clear that PCC and the other colleges and universities here in Bonn are leading the way in demonstrating the important role higher education plays in being part of the solution."
At COP 23, it was a chance for agencies to showcase their efforts and progress. WASI hosted the U.S. Climate Action Center, a first-ever pavilion and forum for American leaders to convene throughout the negotiations and share their contributions to address climate change. WASI also presented the "America's Pledge" report, which provides analysis on the scope and scale of actions taken by states, cities, businesses and higher education in the United States, to drive down their greenhouse gas emissions.
It was at the Climate Action Center that Mitsui served as one of three panelists in a session, "U.S. Higher Education Institutions: Forces for Global Climate Action." He was joined by panelists Dianne Harrison (president of Cal State-Northridge) and David Finegold (president of Chatham University). PCC's leader highlighted the key role that higher education institutions can play to nurture the next generation of leaders in climate action and sustainability. A shared commitment to carbon neutrality and specific strengths two-year and four-year colleges can bring to the effort also were highlighted.
"It was powerful to discuss with my peer presidents how community colleges and universities can work together to combat climate change," said Mitsui. "Engaging our campuses in best practices, educating the clean tech workforce, raising awareness of sustainable practices across sectors, and developing the next generation of leaders are ways we can demonstrate that we are still in."
Mitsui serves on the steering committee of Second Nature, which coordinates the higher education portion of the WASI campaign of approximately 320-plus colleges. PCC was one of the first signatories of this coalition.
The college also is a founding member of the Greater Portland Sustainability Education Network (GPSEN), a United Nations University Regional Center of Expertise (RCE) on Education for Sustainable Development. And just last month PCC was chosen as the winner of the annual Second Nature Climate Leadership Award for two-year colleges — a prestigious, national honor. Collectively, these efforts and honors contributed to PCC being tapped to attend COP 23 as part of WASI.
"The conference offered us the opportunity to share the good work PCC is doing with our peers, fellow WASI members, and the global community," said Schoon, who added that many of the signatories were able to demonstrate that the U.S. continues to make strides on climate action despite the absence of U.S. federal leadership.
"What is special about PCC's sustainability program is our holistic approach," said Schoon. "We've been very thoughtful to integrate sustainability throughout all of our systems — academics, operations and administration — and we're fortunate to have had President Mitsui speak to this as part of his panel session."
Schoon noted that being part of the WASI contingent at COP 23 enabled PCC to make connections with WASI members and international peer institutions. Their discussions focused on partnerships to support local climate action, best practices in resiliency planning, and inspiration for hands-on learning opportunities in sustainability/climate action.
And she confirmed that PCC is developing its sustainability plan and will be updating its climate action plan in the next few years.
"My goal is to incorporate what we've learned here, as part of this conference, into our programming at PCC, to ensure that our efforts continue to align with the goals of the Paris Climate Agreement," said Schoon.
"This kind of commitment is central to PCC's sense of community — locally, regionally, nationally and globally — and to our values as an institution. Our behavior and action is crucial and makes a measurable difference to address climate change."
PCC Sustainability: We're all in this together!
The college is shrinking its carbon footprint, promoting healthy and equitable systems, and is a leader in sustainable purchasing and green building practices:
Only community college in the nation to be a founding member of the Sustainable Purchasing Leadership Council.
Practices a closed loop system on the Rock Creek Campus, producing cafeteria food in gardens and returning food waste to the soil through composting.
Regularly achieves LEED Platinum and Gold certifications while striving for Silver as minimum goal on new projects.
Learn more about PCC's sustainability efforts.