This content was published: October 16, 2017. Phone numbers, email addresses, and other information may have changed.
Rock Creek Roundup: Harvest Festival draws record crowd, instructor honored by DJC and so much more
Photos and Story by Janis Nichols
Hundreds of families found their way to the annual Rock Creek Campus Harvest Festival Saturday, Oct. 14. Aztec Dancers, fiddlers, free pumpkins, face painting, a petting zoo, hayrides and more where all part of a picture-perfect fall day. This is a collaborative involving ASPCC, the Learning Garden, the Veterinary Technology Program and its student club, the Multicultural, Women's Resource, Queer Resource and Veterans Resource centers, the PCC Library, the Club House, Career Exploration Center and the Rock Creek President's Office.
Building Construction Faculty Honored for Vision
Hilary Campbell, a Building Construction Technology (BCT) Program instructor, received the Daily Journal of Commerce Women of Vision Award at a luncheon in Portland on Oct. 10. The Journal honored 46 women for their involvement in the building industry in Oregon and Southwest Washington. Campbell, who is also the coordinator of the Design Build Remodel Program at Rock Creek, was nominated for the award by Karen Sanders, division dean of Business & Applied Technology.
According to Sanders, Campbell's most impressive achievement over the past three years was her success in winning accreditation for the BCT Program by the National Kitchen and Bath Association (NKBA). As the only full-time faculty member in the Design Build Remodel Program, Campbell took the lead on the accreditation process with a national accreditation team.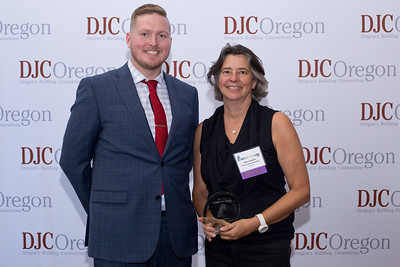 "The NKBA is a critical partner to some 60,000 members who work in the kitchen and bath industry across the country," Sanders said. "The NKBA is the accrediting organization that bestows legitimacy and competency within kitchen and bath remodeling programs at a variety of institutions including Boston Architectural College, Indiana State University, the University of Georgia, Virginia Tech, the Art Institute of Pittsburgh and PCC. In fact, the program at PCC is the only hands-on construction educational program in the country with this accreditation – all others are design-based programs. This was a very complex undertaking so kudos to Hilary for her success."
In her nomination letter, Sanders wrote, "Hilary is the only full-time female faculty member in our BCT Program and she has made it a priority to mentor and encourage female students. The number of women in the program has doubled over the last three years and she serves as a role model for students who must navigate a male-dominated field."
In 2015, one of Campbell's female students was named the NKBA Outstanding Student, an annual award sponsored through NKBA and SubZero-Wolf Appliances. In 2016, another of her female students won the NKBA Columbia River Chapter Student Award for Best Kitchen. The student received a $500 prize and will compete in NKBA's National Design competition in Orlando, Fla., in January.
Added Sanders, "Hilary's dedication to increasing the number of women and underrepresented students in the BCT program is impressive. She is a great role model and is passionate and authentic in her desire to help people."
Art Competition Returns to Rock Creek
Welcome to the Second Annual Rock Creek Art Competition for Staff and Non-Art Faculty. Last year's competition was so successful that organizers have decided to make it an annual event at Rock Creek. If you've entered a piece last May, campus leadership hope you'll do it again.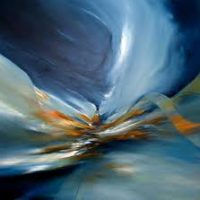 Non-competing members of the Rock Creek Art Collection Advisory Committee will select work to be exhibited in the Helzer Gallery from Feb. 6-28. First, second, and third winners will receive gift certificates to Blick Art Materials. Winners will be announced at the reception on opening day, Tuesday, Feb. 6, at noon in the Helzer Gallery in Building 3.
Artists must complete the information form required and submit up to three digital images of their work. Contact gallery director Prudence Roberts (prudence.roberts@pcc.edu) by Jan. 8, for submission details. All media are welcomed. If you wish to sell your art, indicate the price on the required form. Because of the size of Helzer Gallery, it cannot accept large pieces. Participants must have a current or former connection to Rock Creek.
Finalists will be notified by Jan. 15. Exhibit-ready art must be delivered to the Gallery between Jan. 29 and Feb. 1.
Rock Creek Wins the Gold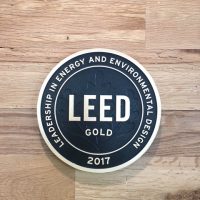 Building 5 at the campus is officially a LEED Gold building and it has the plaque to prove it. The certification came in July, but the actual award was mounted on the wall near the Information Desk in Building 5 last week. A LEED (Leadership in Energy and Environmental Design) rating requires that structures be ranked in six distinct categories related to sustainability; water efficiency, energy and atmosphere; materials and resources; indoor environmental quality and design innovation.
The LEED certification program is administered by the Green Business Certification Inc.