This content was published: September 29, 2016. Phone numbers, email addresses, and other information may have changed.
Harvest Festival to reuse leftover pulp for delicious fall recipes
Photos and Story by Janis Nichols
Harvest Festival buzz at the Rock Creek Campus leads to thoughts of pumpkins … which leads to pumpkin carving … which typically ends with a useless pile of pumpkin pulp.
At this year's event, scheduled from 10 a.m. to 2 p.m., Saturday, Oct. 15, pulp gets a new life with the "Leftover Pumpkin Recipe Jamboree" which combines composting and food waste reduction with edible alternatives.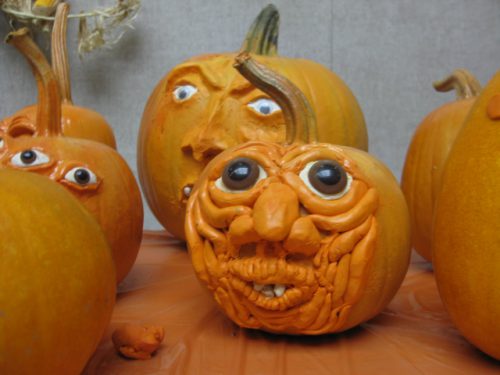 ASPCC Sustainability Team leaders Rylie Wolff and Shannon Southard will share their recipes for pumpkin pulp hummus, pumpkin bread and pumpkin pie. Visitors to the Learning Garden will learn the health benefits of pumpkin seeds, as well as hear tips on how to bake and season them.
"Not all people compost their pumpkins," said Wolff, "so we'll also talk about why that's a good idea."
The Learning Garden will also feature a DIY Upcycled Halloween Costume display that encourages more sustainable and practical costume alternatives including an umbrella jellyfish and a paper-towel-tube wind-up doll.
In addition to activities in the Learning Garden, Harvest Festival will offer those things that returning visitors have come to expect at the annual student-sponsored event. These include the petting zoo, face painting, music, hayrides, pumpkin decorating, free snacks and more. Indoor events will be staged in the foyer of Building 5. Outdoor activities will be between Building 5 and the Learning Garden.
The Harvest Festival is free and open to the general public; parking is free of charge.