This content was published: October 9, 2017. Phone numbers, email addresses, and other information may have changed.
President's 'Fireside Chats' kick off at Sylvania with spirited discussion
Photos and Story by James Hill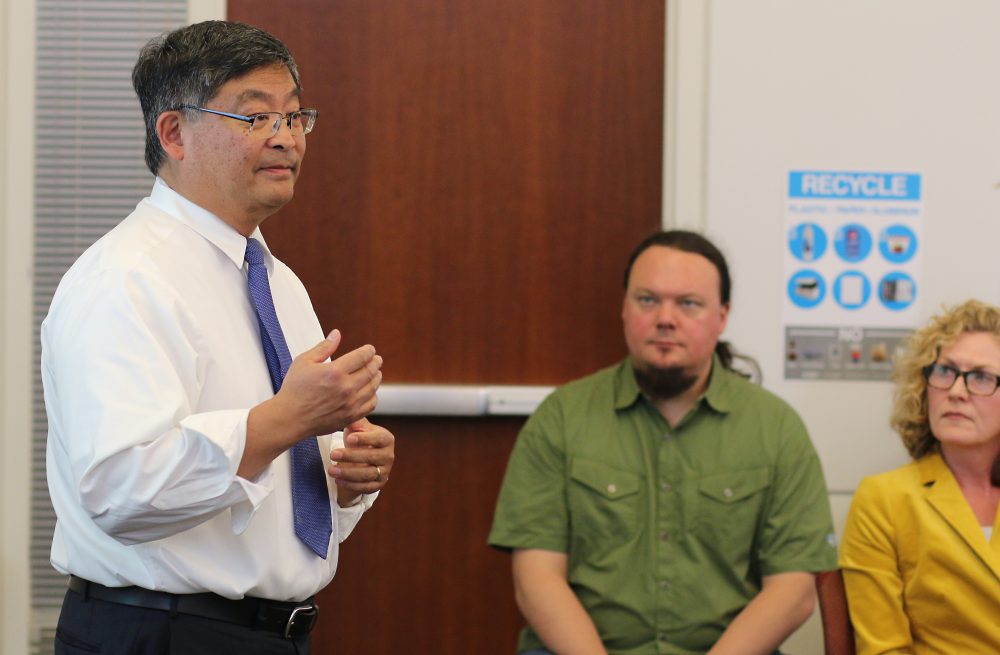 There may have not been any fires, but there was plenty of chatting.
On Oct. 4, Portland Community College's largest campus, Sylvania, hosted the first of Mark Mitsui's nine "Fireside Chats: The Future of PCC" events. Throughout October, the PCC president is visiting each campus and many of the district's centers for feedback and information sharing about PCC's most important issues. Mitsui is discussing the college's goal to foster greater accessibility and equitable student success, through long-term visioning for PCC's facilities and the 2017 bond measure.
Along with Bond Program Director Linda Degman, Mitsui outlined the potential work the bond would do if it is passed. They covered facets such how the bond would improve workforce training programs like modernizing the college's workforce training center in Northeast Portland, and provide updated equipment and technology for programs; expand Health Professions & STEAM (science, technology, engineering, arts and math) by renovating the existing Health Technology building and develop new interactive training spaces for healthcare professions programs; meet needs for safety, security, building longevity and disability access; and extend the lifespan of PCC facilities through upgrades and repairs.
As Degman explained, the new bond measure is very different than PCC's 2008 bond.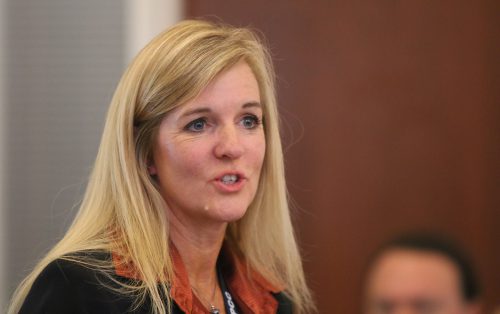 "It's a very different bond program than in 2008, which was about building capacity," Degman said. "We needed to have enough classroom and student spaces to accommodate the growth we were experiencing due the recession. The 2017 bond is more about workforce development, current space utilization and investing in needed upgrades.
"And, we're not increasing taxes with this one as it's maintaining the current tax rate," she added.
And one thing is for sure, Mitsui added, is that PCC will remain a good steward of funds and ensure excellent care of buildings related to any future bond project as it has been for its past bonds.
"I want to give a big shoutout to the bond crew in partnership with FMS and others that work hard every day to maintain these facilities," he said.
In addition to the bond measure discussion, Mitsui updated attendees on the work going forward on opportunity and equitable student success, intersecting the strategic plan, accreditation core themes, and community needs. This included the college's new initiative Achieving the Dream, a comprehensive, national movement focused on equitable student success. The network of higher ed institutions, coaches and advisors, state policy teams, investors and partners, are helping more than four million community college students across the country like PCC have access to better economic opportunity through education and to experience equitable success as part of that journey.
As part of this effort, the college has announced the new YESS initiative, which is being led by Katy Ho (vice president for academic affairs) and Rob Steinmetz (vice president of student affairs).
There are still seven "Chats" remaining for interested folks to attend. Students, staff and faculty are encouraged to stop by these gatherings, which will feature a short presentation followed by a question-and-answer session.
Remaining "Fireside Chats" Schedule:
Noon-2 p.m., Monday, Oct. 9, in rooms 203/204, Student Union, Cascade Campus.
1-3 p.m., Wednesday, Oct. 11, in Room 115, Newberg Center.
10 a.m.-noon, Thursday, Oct. 12, in the Community Hall, Southeast Campus.
1-3 p.m., Thursday, Oct. 12, in Room 104, CLIMB Center.
11 a.m.-1 p.m., Friday, Oct. 13, in the auditorium, Building 2, Portland Metro Workforce Training Center.
10 a.m.-noon, Monday, Oct. 16, in the Event Center, Building 9, Rock Creek Campus.
1-3 p.m., Monday, Oct. 16, in rooms 103/104, Willow Creek Center.
What Would the Bond Do?
The PCC bond measure of $185 million would:
improve workforce training programs to better align with current and future jobs.
invest in training for Health and STEAM (Science, Technology, Engineering, Arts and Math) programs.
upgrade safety, security, building longevity and disability access.
If passed, it is estimated to the tax rate of 40 cents per $1,000 of assessed property value for the next 16 years. Learn more about it!