This content was published: September 27, 2017. Phone numbers, email addresses, and other information may have changed.
President Mitsui to host 'Fireside Chats' on future of PCC, student success and bond
Photos and Story by James Hill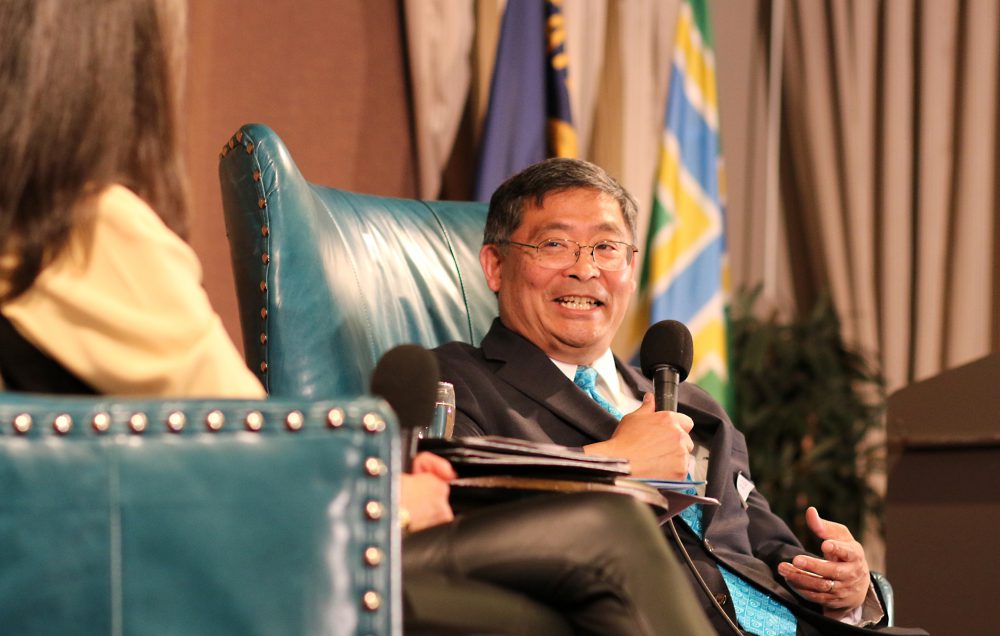 Do you feel passionate about Portland Community College's future? Then Mark Mitsui wants to have a chat with you.
Throughout October, the PCC President will visit each campus and many of the college's centers for "Fireside Chats: The Future of PCC." Mitsui will discuss the college's goal to foster greater accessibility and equitable student success, through long-term visioning for PCC's facilities and the 2017 bond measure. Students, staff and faculty are welcomed and encouraged to attend these gatherings, which will include a short presentation followed by a question-and-answer session. Coffee and light snacks will be provided.
The face-to-face conversations with Mitsui are an opportunity to come together as a community and discuss the future development of the college and its facilities. There will be plenty of chances to talk with the president as there will be a total of nine gatherings in all, with one at each campus and five more at various centers.
"Fireside Chats" Schedule:
2-4 p.m., Wednesday, Oct. 4, in the Oak Room, College Center, Sylvania Campus.

10 a.m.-noon, Friday, Oct. 6, in the Rose Room, Downtown Center.

Noon-2 p.m., Monday, Oct. 9, in rooms 203/204, Student Union, Cascade Campus.

1-3 p.m., Wednesday, Oct. 11, in Room 115, Newberg Center.

10 a.m.-noon, Thursday, Oct. 12, in the Community Hall, Southeast Campus.

1-3 p.m., Thursday, Oct. 12, in Room 104, CLIMB Center.

11 a.m.-1 p.m., Friday, Oct. 13, in the auditorium, Building 2, Portland Metro Workforce Training Center.

10 a.m.-noon, Monday, Oct. 16, in the Event Center, Building 9, Rock Creek Campus.

1-3 p.m., Monday, Oct. 16, in rooms 103/104, Willow Creek Center.
What Would the Bond Do?
The PCC bond measure of $185 million would:
improve workforce training programs to better align with current and future jobs.
invest in training for Health and STEAM (Science, Technology, Engineering, Arts and Math) programs.
upgrade safety, security, building longevity and disability access.
If passed, it is estimated to the tax rate of 40 cents per $1,000 of assessed property value for the next 16 years. Learn more about it!