This content was published: August 7, 2017. Phone numbers, email addresses, and other information may have changed.
No matter the obstacles, Ivan Hernandez finds his way in life
Photos and Story by Janis Nichols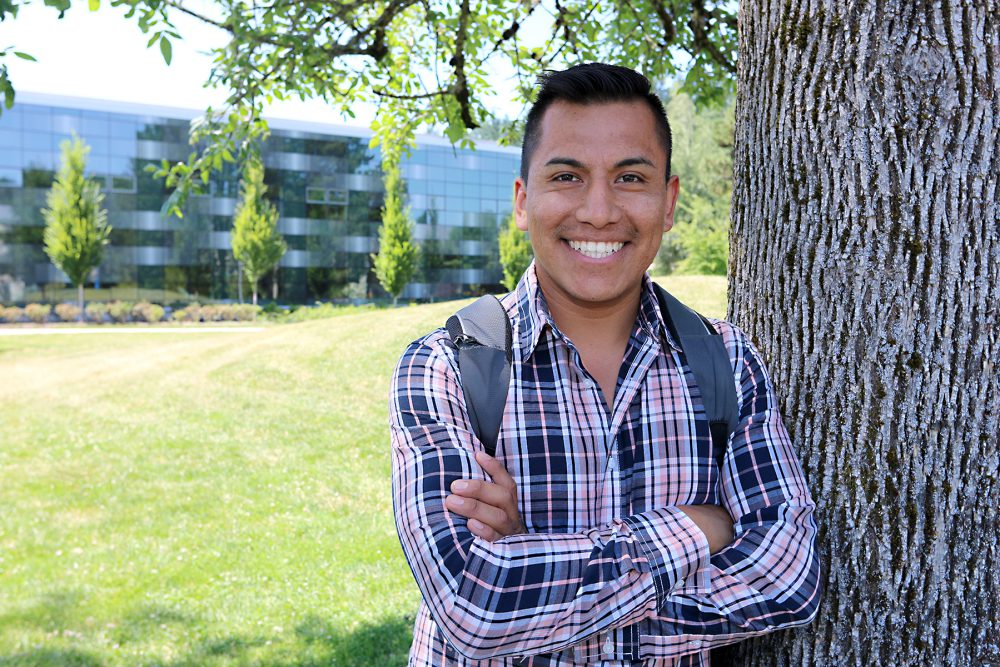 Ivan Hernandez just wrapped up his year as student body president of PCC's Rock Creek Campus. With a daily routine that might crush the average person, many on campus now believe he can actually be in two places at the same time.
In order to join his father, a migrant worker in Oregon, Hernandez immigrated to the U.S. when he was 12 with his mother, his brother and two sisters. His early work experiences included working in landscaping, construction, kitchens, waving sidewalk signs and caring for people. None of the jobs paid much, with some paying as little as $4.20 an hour, but the caregiving job offered a more flexible schedule, which allowed him to enroll at Rock Creek.
"I came from nothing," he said. "We were very poor. My mother taught me the value of helping people and to be humble. My father taught me the value of hard work. As an adult, those values have brought me success."
Hernandez said that as a young person, he was not a good student. For acting out and for chronic lateness, he clocked a lot of hours in detention.
"I had a habit of not doing my homework because I didn't have a goal to keep me focused," he recalled. "Then, in my junior year of high school, my English teacher stopped asking me about my work. Instead, he just ignored me. I couldn't believe it. It bothered me so much that I started doing my homework."
Hernandez finished the class with an "A" and did well in his remaining classes, getting involved in student leadership. In 2007, he attended the Oregon Migrant Student Leadership Institute (OMSLI) at Western Oregon University. In 2008, Hernandez returned as a mentor. He says it was one of his greatest high school experiences.
When he arrived at Rock Creek in the winter of 2014, he was determined to be an active student and he worked his way through student leadership. In addition to his studies and his commitment to the community, he worked, sometimes at three jobs. In the fall of 2016, two years after he first stepped onto the Rock Creek Campus, he was named student body president. He credits his success with his relationships with the campus' Women's Resource, Career Exploration and Multicultural centers.
"In the CEC, I learned different communication styles, and in the WRC I learned to be an ally for feminism," Hernandez said.
Hernandez is well known at Rock Creek, and his enthusiasm makes it easy to find him in a group.
"Ivan is a high energy person but he is also a good listener, and he can hear and accept different points of view," said Mandy Ellertson, manager of Student Life and Student Leadership at Rock Creek. "He doesn't judge people, and his leadership style is inclusive. He makes room for people and is very engaged."
When asked why he has worked so hard, Hernandez shared a memory.
"I remember going to the mattress store with my family," he said. "When we told the clerk what we wanted, she told us that the mattresses were expensive and we should go to another store to find something cheaper. I'll never forget it. I'm going to make sure that my family never has to go through that type of experience."
Success always has a price, and for Hernandez, he shared thoughts of feeling isolated.
"There is a lot of joy that comes with being a leader, but it can be lonely," Hernandez warned. "I don't have a lot of time to just hang out with friends or family. When you reach a certain point in life and you want to make changes, you often have to take responsibility and work alone. I hope to always have a call to action–ideas that lead to change, change that can be shared. That's the antidote for feeling alone."
Hernandez will graduate from PCC next June and then attend Pacific University, where he will pursue a degree in political science. After that, he plans to start his own marketing firm and eventually earn his master's degree in Business Administration.
"The long-term plan is to earn my Ph.D. in leadership and education and then return to Mexico to get involved in politics," he said. "In September of 2036, I'll run for the Office of President of Mexico and will improve the education system."
He makes the final statement with a straight face. There is no trace of doubt or playfulness in his voice.
No one in the room questions him.