This content was published: June 10, 2019. Phone numbers, email addresses, and other information may have changed.
Mother-daughter story comes full circle with two graduations and stories of giving back
Photos and Story by James Hill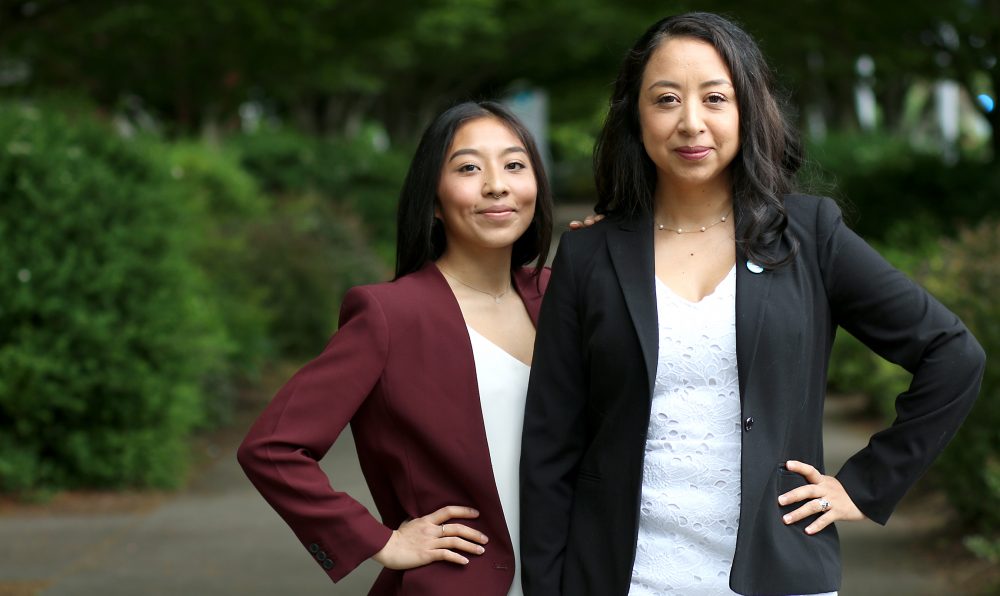 On Friday, June 14, there will be two graduations in the Hernandez household.
In the afternoon, Margarita Hernandez will don her cap and gown, and walk the stage at Portland State University to receive her master's degree in Educational Leadership and Policy. In the evening, she will travel across town to the Memorial Coliseum to watch her daughter, Veyda Hernandez, obtain an associate degree from Portland Community College in front of thousands of attendees.
Yet the day is about much more than two family members earning degrees. It's about a mother's perseverance to survive domestic abuse and create a better life for herself and her daughter. It's a story, as Veyda said, that illustrates the strength of the PCC community and support services, as well as the powerful impact that women of color can have on each other.
Escaping Abuse
In 2000, Margarita, with 2-year-old Veyda in tow, fled Puebla, Mexico and an abusive husband to move to Tualatin and start life anew. The young mother scrambled to find work to support herself and her daughter, initially landing a job selling corn in front of a Mexican store.
Her meager income enabled Margarita to enroll Veyda in Oregon Head Start, which provides free, comprehensive preschool services to kids under the age of 5. And it was through this organization that she was inspired to start her own educational journey.
"I was so fortunate to get assigned to a social worker," said Margarita of Head Start. "This individual helped me navigate everything: from going to the health clinic, to setting up a bank account. And, I was encouraged to go to school and think about what I wanted to do."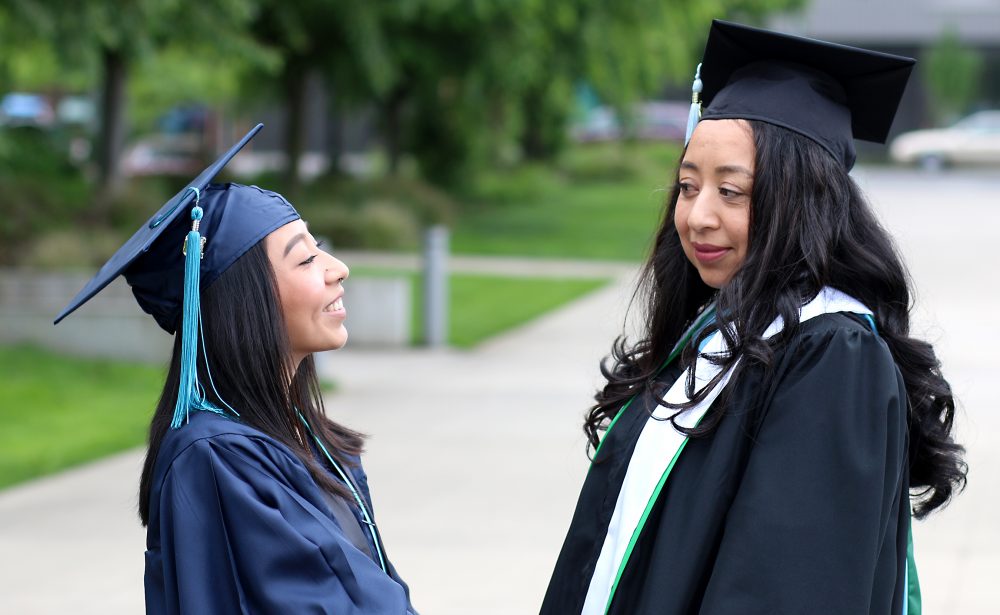 It Starts in a Church
Margarita did more than think about it. She signed up for non-credit basic education classes at a local church and when she finished, her teacher told her she was ready to study at the community college. Margarita took the placement test and enrolled in PCC's English for Speakers of Other Languages Program while working as a teacher's aide in Cornelius and Southeast Portland. She eventually wound up working for Head Start, the organization that helped launch her personal journey, for a decade as a family advocate, helping parents create goals for themselves, like planning for education.
Once she earned her ESOL certificate, Margarita began taking lower-division college courses at PCC.
It was a symbolic moment. Not only was she on a path to earning her degree, but Margarita had begun the legal process of becoming a permanent U.S. resident. This would require that she return to Mexico and apply for a green card in order to receive an immigrant Visa – a process that took nearly two years while her daughter transitioned from middle school to high school.
"I saw my daughter only once in 18 months," Margarita remembered. "It was very hard."
Mother-Daughter Separated
Veyda remembered that time well, too. She lived with her stepfather in Oregon while her mother was away. But the uncertainty of the immigration process for her mother, combined with the challenge of going to a new school and adjusting to adulthood, was a tough period in her life.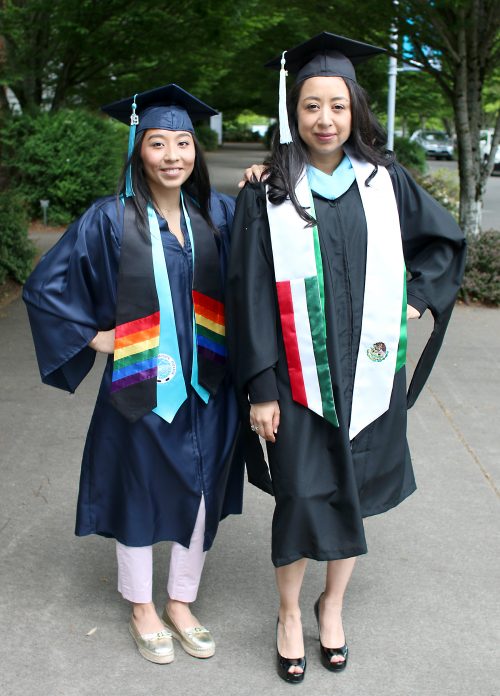 "Nobody really knows a daughter like a mom," Veyda said. "I had a lot of interesting things happen to me, and I couldn't ask her for advice or tell her about 'girl' things, like bleaching my hair or chopping it off the wrong way."
They emailed every day, covering all types of topics – Veyda's classes, her teachers and friends. Veyda was able to visit her mom, briefly, in Mexico, before flying back to Oregon.
"I remember hugging her, and then watching her as I went up the airport's escalator, waving goodbye," said an emotional Veyda.
PCC Launches Passion
When Margarita returned to Portland with a newly stabilized immigration status, her educational career blossomed. She took a full course load at PCC; many of her classes were at night, enabling her to work during the day. In time, she earned her associate degree, then transferred to PSU for her bachelor's degree.
As she was applying for her master's degree in the School of Social Work, she was hired at PCC's Future Connect Scholarship Program as a transfer specialist to mentor low-income and first-generation students. Future Connect leverages scholarship money, career guidance, and personalized advising to help these students succeed at college. Margarita's professional experience at Head Start made her a natural for the Future Connect role.
"When I work with these students, I see myself," Margarita said. "I see the doubt, the fear and the challenges, but I also see the willingness to take it on even though they may not be sure where they are going to land. I share those feelings, and this is why it is my dream job, because I have the chance to give back."
Future Connect Work
Future Connect launched in 2011 with a group of 150 Multnomah County students. It has since grown to other cities and counties around the metro area like Beaverton and Hillsboro, enrolling more than 600 students. Students join as a cohort each fall and stay with the program from two to four years, depending on their goals and needs.
Local organizations and municipalities recognize the need to fund Future Connect. It's financed through a mix of private and public entities like the cities of Portland, Beaverton and Hillsboro, as well as Meyer Memorial Trust, The Johnson Charitable Trust and Bank of America. Ninety percent of the students are low income, with 56 percent coming from households making $20,000 or less, meaning that every donation matters.
Josh Laurie, director of the Links Program that runs Future Connect, said Margarita's journey and skills are a perfect fit as she guides these students to achieve their academic goals.
"There is no substitute for the lived experience," he said. "Margarita's story is just one aspect of her greatness, in my eyes. Students and staff know that she works from the heart, and there is never a doubt with her when it comes to this."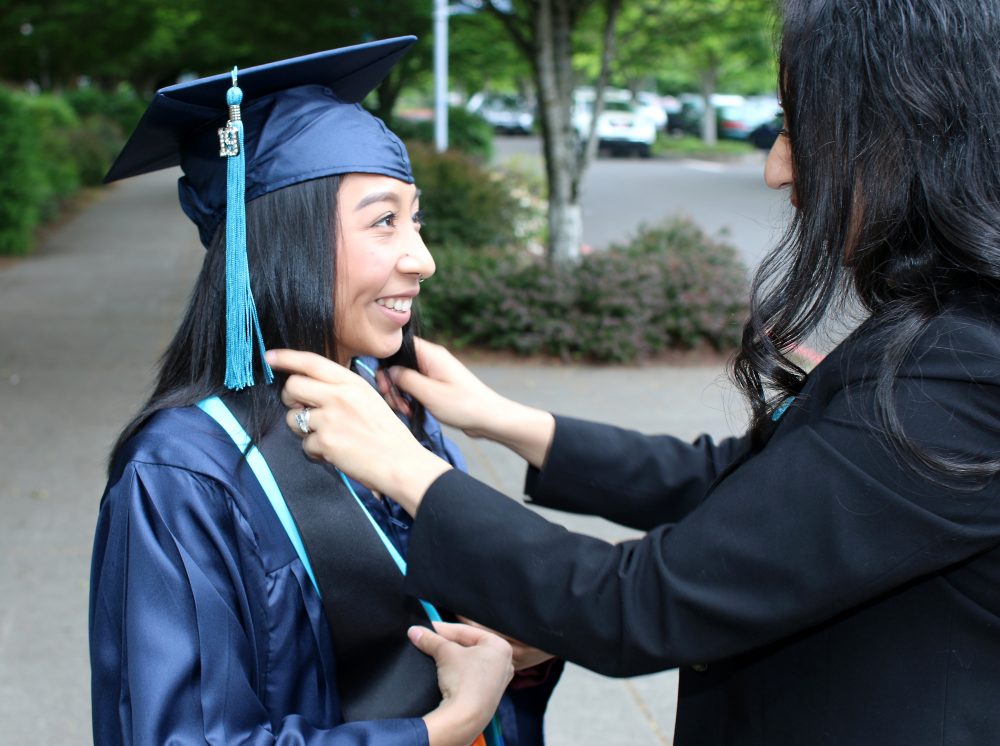 Veyda Headed to OSU
Not to be outdone by her mother, Veyda is transferring this fall to Oregon State University to study kinesiology. The 21-year-old started at PCC three years ago; initially, she was unsure about her educational path.
"When I brought Veyda to PCC, I didn't know what to do," Margarita recalled. "It triggered a lot of anxiety and stress. But the experiences from my own education taught me to sit back and give her support, but not get in her way of discovering her own path. I'm excited to see her take this next step."
Getting to this point wasn't easy, however. Veyda struggled with school, but with guidance from her mother and her instructors, Veyda discovered her passions and that she wanted to continue her studies.
"I can't help but tear up a bit remembering all of the classes I took and both of us staying up late at night studying, motivating each other to not watch TV," Veyda recalled. "My mom and I really pushed each other to keep going and to keep studying, and not let bad grades or bumps in the road slow us down. To get to this point feels pretty good."
As they walk across their respective stages on June 14, both feel the journey has been worthwhile.
"Every single struggle has made us tougher," Veyda said. "When we get pushed down, we get back up and just keep going."