This content was published: May 12, 2017. Phone numbers, email addresses, and other information may have changed.
Rock Creek Round Up: Partnering with Delta, Diesel Day powers up, and community awards galore
Photos and Story by Janis Nichols
In April, Delta Air Lines invited Portland Community College's Aviation Maintenance Technology Program (based at the Rock Creek Campus) to join a national program, Preferred Partner Schools, focused on filling the demand for FAA-certified AMTs.
Over the next 20 years, airline companies around the globe will need to hire 650,000 new technicians – sheet metal and avionics specialists, aviation maintenance and flight line technicians. Airline companies are demanding more aircraft and the current crop of well-seasoned technicians is retiring. Delta will focus on building its workforce over the next 15 years.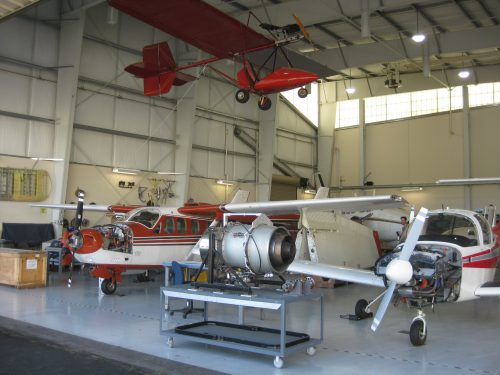 "The heightened demand for aircraft maintenance technicians is converging with the retirement of the current AMT workforce," said Marshall Pryor, AMT instructor and program chair. "Add to that, the change in thinking, over the past 20 to 30 years, of not providing basic mechanical skills development for the workplace and you have a perfect storm. The number of aircraft maintenance training schools has declined in that same period as well as the attractiveness of this type of job. The military is no longer training as many technicians and the training itself is not-specific. The airlines and schools have to rethink how to present the career of an aircraft maintenance technician attractive again.
"This is a great time to be entering the field, as specialty and career movement opportunities will be accelerated," he added.
Delta looked at 125 community colleges across the country with FAA-certified AMT programs located reasonably close to Delta maintenance stations like the one at Portland International Airport (PDX). The PDX operation is large enough to be able to provide internships, which is a critical piece of the partnership. The airline shortened the list of 125 to 38, which includes Rock Creek.
"The process included an application and a site visit," Pryor continued. "We have a good reputation and provide quality instruction. Not a lot of our students have gone to work for airlines in past years. Due the nature of our FAA regulated instruction, most of our equipment and instruction is generalized and not specific to large aircraft. Delta is willing to help us make that adjustment to expanded emphasis on commercial aircraft."
Delta will provide equipment and demonstration modules as well as faculty training in large aircraft. The company has also offered to help PCC market the AMT program.
"We are excited and honored," said Pryor. "It's always nice when an outsider recognizes the quality of our program. Being selected from a field of 125 colleges is a big deal. We see many benefits in this partnership, particularly for our students. Delta is a global operation which creates limitless opportunities for our graduates."
Delta and AMT representatives from all 38 colleges will gather at Delta TechOps in Atlanta in mid-June to fine tune the details. With the college's closest student-recruitment competitor in south Seattle, the Rock Creek AMT program is likely to draw a crowd.
Diesel Day Draws 600 to Rock Creek
More than 600 high school students, industry partners and PCC diesel students from all over Oregon spent Friday, May 5 immersed in the world of Diesel Service Technology at Rock Creek's 18th annual Diesel Day.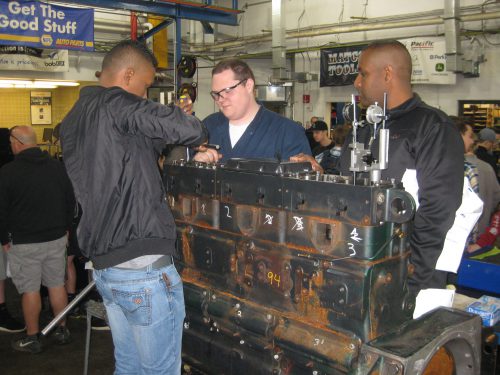 The event, started in 2000, includes an array of activities that give participants an idea of what diesel technicians do in the field. Students also have an opportunity to meet with regional employers who are looking for skilled diesel technicians. Among them were representatives from The Pape Group, Peterson Cat, McCoy Freightliner, Bobcat of Portland, Western Bus Sales, DSU Peterbilt, Cummins NW, and Linn Benton Tractor.
Students, who were able to sit behind the wheel of several massive earth movers, had the option of participating in more than 25 different training sessions that included operating the Bobcat Excavator and the Cat Mini Excavator. Engine valve grinding, hydraulic cylinder testing, engine disassembly, dent removal, Human Foosball and a barbecue kept the students moving and engaged.
Campus Selected as Outstanding Community Partner
The Rock Creek Campus was honored May 4 by the Beaverton School District when it accepted the 2017 Outstanding Community Partner Award.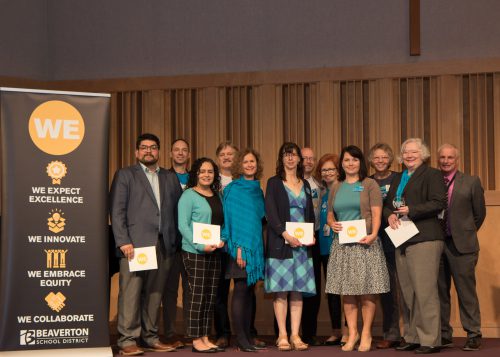 Campus President Sandra Fowler-Hill and Rock Creek faculty and staff members were on hand to accept the award. Rock Creek sustains more than 16 diverse programs that benefit Beaverton School District students. Among those programs singled out by the District were PCC's TRIO Talent Search, Career Encounters, Dual Credit, Future Connect, Preview Days/Career Tech Tours, the Learning Garden and Early College High School/Opportunity Knocks.
Attending the ceremony were (from left in picture) Jose Esparza, Josh Laurie, Vicky Lopez Sanchez, George Warneke, Elaine Cole, Beth Molenkamp, Andrew Cronk, Dorina Cornea-Hasegan, Heidi Edwards, Janis Nichols, Sandra Fowler-Hill and Beaverton School Superintendent Don Grotting.
La Raza Awards Presented During Semana de la Raza
Every year as part of the annual Semana de la Raza celebration at Rock Creek Campus, individuals are recognized for their outstanding commitment to service and community engagement, and to social and economic justice in the Latino and Mexican communities.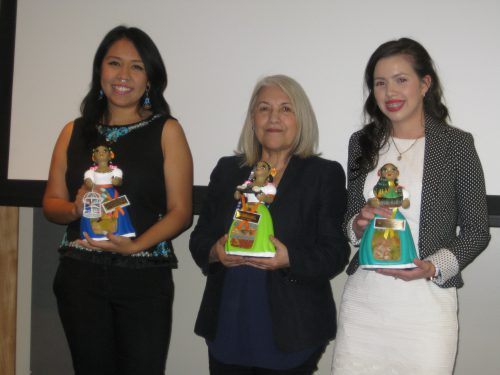 The recipients for 2017 are Rock Creek student Delfina Yareli Garcia Rivas, Rock Creek Multicultural Center coordinator Liliana Luna Olalde, and the Executive Director of Centro Cultural of Washington County Maria Caballero Rubio.
The awards were presented April 28 as part of the College's first Mente Summit, which welcomed more than 200 young men to Rock Creek to address many of the inequities and barriers facing Latino males.
Both events are sponsored by ASPCC and the Multicultural Center at Rock Creek.