This content was published: May 31, 2017. Phone numbers, email addresses, and other information may have changed.
Rock Creek round-up: Speed culturing, service awards, car show and Hermanas excite campus
Photos and Story by Janis Nichols
Rock Creek Campus students in the English for Speakers of Other Languages program, who collectively represent more than 17 different countries, recently sat opposite students in the business program and discussed a pre-arranged topics — for example, housing in Portland — to assist the language learners with their English proficiency. Also, a dozen ESOL students had the chance to meet with diesel technician students in ThinkBig, a dealer service technology program sponsored by Caterpillar dealers.
The conversation topic was different but the level of engagement was the same, benefitting the ESOL students as well as exposing PCC students to new cultures. Rock Creek instructors Usha Ramanujam (Business Administration), Larissa Sofronova-Allen (ESOL) and Ish Rivas (ThinkBig) created this approach — a new and innovative way to introduce ESOL students to the campus community — in partnership with the college's Internationalization Steering Committee.
"It was invigorating to see ESOL students visit with the ThinkBig students, converse with them and see their lab in person," said Ramanujam. "To continue the momentum, both groups plan to meet again at the end of the term — but this time, the diesel students will be the guests! They've been invited to visit the ESOL class, enjoy lunch prepared by the ESOL students, and participate in conversations about food and culture from different parts of the world. How exciting!"
Hermanas Conference exposes Latinas to STEM
On May 12, the Rock Creek Campus and the Intel Corporation welcomed 200 high school Latinas to campus for the fifth annual Hermanas Conference. The mission of Hermanas is to increase the number of underrepresented girls who attend college and to inspire them to pursue an education in a STEM-related field.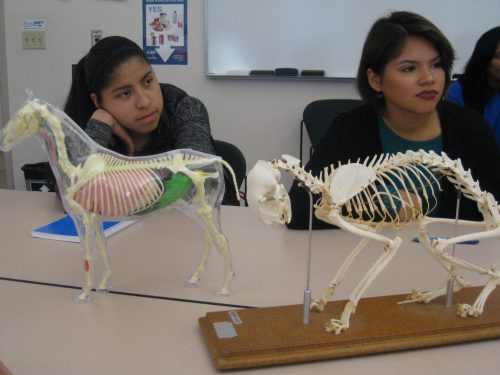 With assistance from 50 volunteers representing PCC, Portland State University and Intel, students wound their way through the Rock Creek Campus, taking advantage of 11 different workshops that introduced them to physics, anatomy, circuitry, optics, geology, hydrology, hardware and software technologies and Rock Creek's STEAM Lab.
Part of the day's inspiration came from keynote speaker Miriam Ceja, manager of Facilities Technology Transfer at Intel. Ceja joined Intel in 2004 after graduating from the University of Washington with a degree in chemical engineering. She had served as a process project engineer and a construction design manager before moving into her current position. The day also included a Latina Town Hall with college students and Latina STEM professionals.
Service Awards honor longtime staff
The campus held its annual spring Service Awards on May 23. Colleagues and coworkers showed their agreement when the two major award winners were announced.
For her organizing skills and creativity, Jennifer Hamlin, executive assistant to Campus President Sandra Fowler-Hill, received the Building Community Award. Throughout the year, Hamlin organizes nine diverse events, from potluck lunches to Winterfest, fall In-Service and the spring Service Awards ceremony. Hamlin said her goal is to create events that are welcoming and fun. She also is seen as an outstanding team member who approaches her work with a sense of calm and humor. Hamlin has been at Rock Creek for five years.
The Building Community Award was created in honor of Bill Christopher, Rock Creek campus' executive dean from 1998-2005.
Meanwhile, the Gordon Galbraith Award for Excellence in Teaching was presented to Dolores Galindo, a Veterinary Technology Technology program instructional support technician since 1993. Recognized for her exceptional kindness and commitment to her work both on campus and in the community, Galindo has mentored students for more than 25 years. In 2007, she was inducted into the National Honor Roll of American Teachers and was the first technician to serve on the Oregon Veterinary Medical Examination Board.
The Galbraith Award honors the late Rock Creek economics instructor Gordon Galbraith, who set the bar for outstanding teaching and showed the world what it means to live a full and joyful life.
Auto Collision Repair hosts car show
Now in its fourth year, Rock Creek's Auto Collision Repair Car Show drew more than 200 people to its May 17 event. The crowd visited 14 shop tables representing various car repair businesses located in approximately 60 different locations throughout the region. The shop tables plus 19 vendors and 18 specialty cars, including a 1945 fully restored 20-seat Chevrolet bus, took up most of the floor space in the 17,000 square-foot workshop. The annual event connects Rock Creek students to potential employers while informing the auto repair industry about Rock Creek's high caliber program.