This content was published: January 2, 2017. Phone numbers, email addresses, and other information may have changed.
And, the Golden Poppies go to … Panther shows off what videos we liked in 2016
Photos and Story by Becky Olson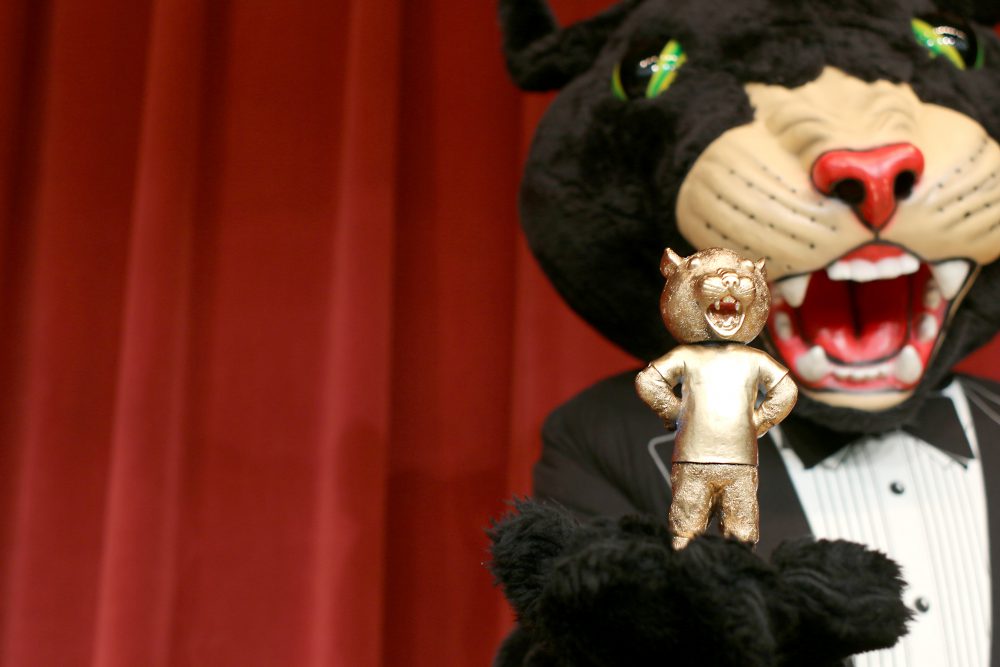 Videos dominated PCC's social media channels this year, sparking conversations and connections that resonated with students, staff and community members. From Poppie the Panther prowling on a treadmill to the launch of the new "Mini Max" recycling initiative, multimedia moments connect us as a community and keep us inspired and informed all year long.
Following are the most popular videos published to social media this year. Are we missing a good one? Post your favorite and tag us!
White vs. Whiteness
This April, "Whiteness History Month" engaged students, staff and community members in a month-long exploration of the origins and impacts of whiteness and white privilege in our society. A grassroots team of organizers created this event series, and also produced a series of educational videos to foster conversation and online engagement around this issue.
Celebrating Native Culture
The 2016 Winter Pow Wow, presented by the Sylvania Campus Multicultural Center, featured drum groups and dancers from across the region and attracted more than 1,000 community members. The signature event has become a cornerstone of the local Native community and supports the PCC Native American Scholarship Fund and Native American businesses. The 2017 powwow is just around the corner.
Supporting Orlando Shooting Victims
After the tragic mass shooting in an Orlando night club this summer, college community members gathered to support one another and process their emotions and grief. Pride flags were raised on all four PCC campuses for the first time ever in a public show of support and solidarity with the LGBTQI community.
Welcome New Students!
Starting your college career at a new school can be daunting and confusing at first. That's why PCC faculty and staff created a special video welcoming new students to its campuses at the start of the academic year back in September.
Special Message from the President
New college president Mark Mitsui made a great first impression when he joined the college as its seventh president last September. He introduced himself to students via video through his @prezmitsui Twitter handle.
A Polished Diamond
PCC alum Brenda Mallory received the college's highest honor for alumni in celebration of her career as a professional visual artist. She was one of five distinguished alumni to receive this honor. And, nominations for the 2017 Diamond Alumni are now open. If you know of a great alum, go forth and nominate!
CultureSEast Entertains
The second annual CultureSEast celebration brought a week of culture, stories and conversations to PCC's newest campus – Southeast. It was a time for students and the community to come together and honor the amazing diversity of Southeast Portland.
#GivingTuesday Pays Off
To mark the beginning of the holiday season and #GivingTuesday, PCC student leaders received a special delivery of $5,000 worth of healthy food from Whole Foods Market.
Appreciating Our Employees
This year marked the creation of a new award series to honor the contributions and dedication of PCC's classified workers. One of this year's winners, Malou Ensign, has been a custodian on the Sylvania Campus for more than 20 years. Here's her touching story.