This content was published: July 22, 2016. Phone numbers, email addresses, and other information may have changed.
Mark Mitsui selected as PCC's next president, begins tenure on August 29
Photos and Story by Kate Chester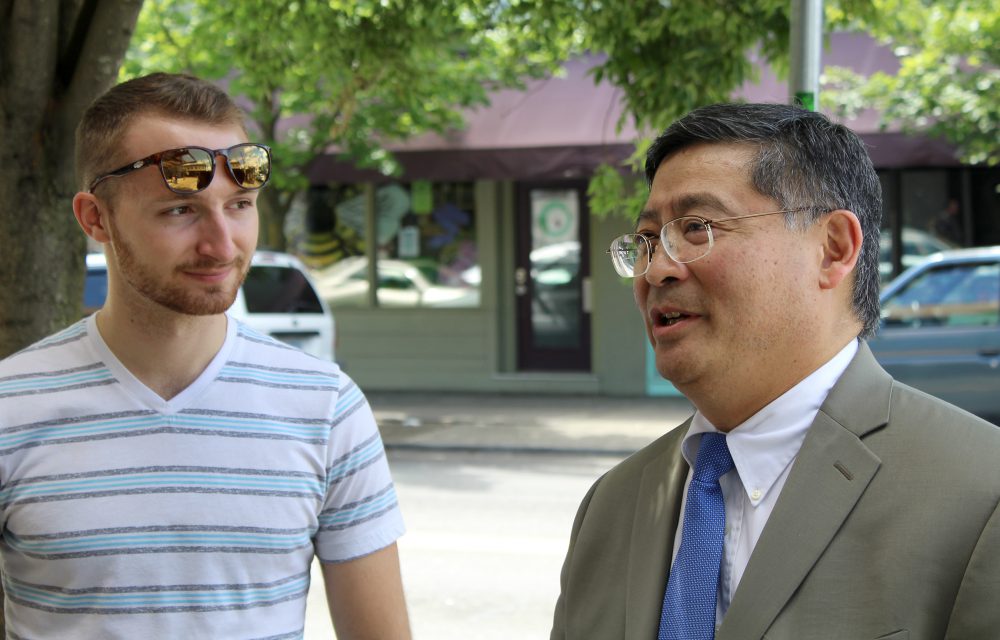 Portland Community College's Board of Directors made it official: Mark Mitsui has been chosen to serve as the college's seventh president.
The news was made public at PCC's monthly board meeting held Thursday, July 21. Mitsui will begin his work with PCC on August 29, replacing Sylvia Kelley, the college's executive vice president, who has served as interim president since the departure of Jeremy Brown in May 2015.
"The Board of Directors was tremendously impressed by President Mitsui's passion for the transformative power of community colleges, and by his clear understanding of PCC's complex environment," said Gene Pitts, PCC Board of Directors chair.
"He brings demonstrated strengths as a strategic thinker and transparent decision-maker, and he is a passionate advocate for social justice and inclusion. Coupled with his wealth of regional and national connections, President Mitsui is a natural fit for PCC and one who we believe will benefit the students and communities we serve," said Pitts.
Since 2013, Mitsui has served as the Deputy Assistant Secretary for Community Colleges within the Office of Career, Technical and Adult Education for the U.S. Department of Education. In this role he works to advance President Obama's community college agenda through partnerships with numerous federal agencies and national stakeholders. Among his many duties is co-leading the My Brother's Keeper Postsecondary Completion interagency team, which strives to improve college access and completion for the nation's young men of color.
Prior to working in Washington, D.C., Mitsui was the president of North Seattle College in Washington state from 2010 to 2013. While there, Mitsui successfully navigated the community college, which serves nearly 7,000 students, through the worst budget reduction the state had experienced in 30 years. During the college's 2013 accreditation review, he was commended for his strong leadership, inclusive strategic planning and transparency in decision-making. While guiding North Seattle, Mitsui was effective in his efforts to garner a variety of grants, was the founding chair of the Asian Pacific Islander Association of Colleges and Universities, was a member of the National Asian/Pacific Islander Council of the American Association of Community Colleges, and in 2013 was honored with the Rhonda Quash Coates Award for contributions to the Multicultural Student Services Directors Council of Washington state.
Before arriving to North Seattle College, Mitsui served as the vice president of Student Services at South Seattle College, from 2006 to 2010, and he has worked as an administrator and teacher at a variety of other educational institutions throughout the Pacific Northwest over the course of his career.
Mitsui holds a bachelor's degree in Physical Education from Western Washington University. He has pursued doctoral studies in Educational Leadership and Policy at the University of Washington, from where he earned his master's degree.
"I am thrilled to have been chosen to lead PCC, and I look forward to a long-term commitment with such a highly respected institution, one that is built on an exceedingly strong foundation," said Mitsui.
"Portland Community College is known for its collaboration, outreach and engagement, both internally and externally. On personal and professional levels, this philosophy and approach resonate with me. I have a sign in my office that reads, 'If you want to go fast, go alone. If you want to go far, go together.' I am excited to go far together with my colleagues at PCC, on behalf of the institution and the students we serve," he said.
Mitsui is a regular presenter at national and international academic conferences and professional meetings. Among his many speaking engagements, he recently presented on "Innovative Models for Funding Community College Completion" at the National Academy of Sciences, Engineering and Medicine Board of Education and Workforce conference, on "Middle Skills and Online Learning" at the AACC annual Board of Directors meeting, and spoke at the U.S. Conference of Mayors Workforce Development Council Annual Congressional Forum.
"President Mitsui has rich and varied professional experience that he will bring to PCC," added Pitts. "He is a skilled communicator and relationship-builder, and the Board strongly values his collaborative and collegial style. For all of these reasons, we believe that his special combination of strengths, skills and attributes will advance our college and enhance our culture."
Q & A with New President Mark Mitsui
What was it about PCC that attracted you and what stood out on your visit here as a finalist?
PCC is nationally known for advancing student success and for a sustained commitment to equity, inclusion and diversity. I have also discovered how strongly the Portland community supports PCC and in turn, how well served the community is by the college. PCC offers an outstanding yet affordable education, expands and explores the borders of what is possible through evidence-based innovation and widens the passage to opportunity for low-income residents of the Portland area.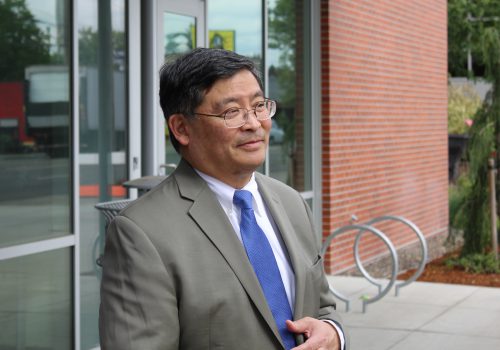 PCC seems to me to be passionate about the "triple bottom line," that is, fostering a more equitable and environmentally sustainable prosperity for the Portland area. I also sensed the palpable commitment on the part of PCC to realizing the transformative power of education and that this sense of mission is widely shared across the college.
How would you describe your leadership style, and what skills do you possess that would be most important in being successful here?
Generally, I strive to engage members of the community in the strategic work of the college through effective, two-way communications, creating alignment and coherence, using data (both qualitative and quantitative) for feedback, decision-making and adjustment of efforts, helping all members of the community see where they can play a role and catching people doing things well (recognition and celebration).
I believe that active listening is an important part of leadership, as is relationship building, earning and keeping trust and having a sense of humor.
Do you have priorities you want to tackle in your first months on the job?
I plan to hit the ground listening and look forward to gaining a deeper understanding and appreciation for the important work that is taking place across all of the campuses and centers, and I would enjoy visiting the campuses. I also look forward to getting up to speed on, and beginning to work on initiatives such as the upcoming bond campaign and implementation of the strategic plan.