This content was published: May 16, 2016. Phone numbers, email addresses, and other information may have changed.
Three job fair participants tell their stories of education, employment relationships
Photos and Story by James Hill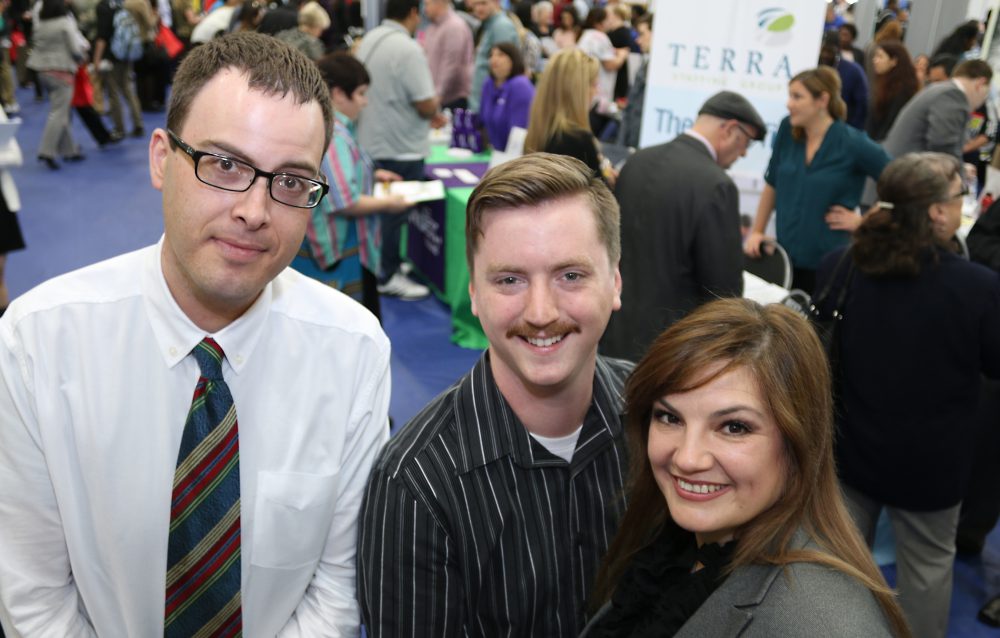 Aaron Pangborn, Maria Ramirez and William Spalding have something very important in common.
They are PCC students who were looking to network to explore their career options by attending the PCC Job Fair. And why wouldn't they? The fair is one of the foremost resources for employment services in the Portland metro area, attracting more than 100 area employers and 1,000 motivated job-seekers every year to the Cascade Campus gymnasium.
"I feel the most important aspect of the job fair is the ability for people to network with a multitude of employers at one time and in one place," Spalding said.
Spalding is vice president for Cascade's Phi Theta Kappa chapter (the two-year college honors society), an advocate for the Cascade Queer Resource Center, and serves as a member of student government. The Olympia, Wash., native is studying business and hopes to transfer to Marylhurst University to gain the skills he needs to start his own company someday. But first he needs to develop professional contacts and the PCC Job Fair did that for him.
"The jobs are all right there for you rather than having to search online, or through a listing," he said. "It allows you to see inside careers you typically wouldn't think about."
The fair places job-seekers face-to-face with employers from a wide range of industries in both the public and private sectors where they can learn about available openings, pay scales and benefits, and the amount of education needed. There are guest speakers and workshops as well as more than 80 PCC professional technical programs on hand to showcase their connections to area employers.
Like Spalding, Ramirez is a full-time student at Cascade, a Phi Theta Kappa member and works at the campus' Career Exploration Center as well as a HR manager for a small company. The ROOTS Program student is working on a transfer degree in business with a concentration in human resources and a minor in psychology. Ramirez wants to transfer to either Portland State University or Marylhurst. She said the job fair was a great starting point for her to develop relationships.
"I was looking to network and make the right connections because these are the kind of companies I'm looking to work for in the future," she said. "I shared this event on my Facebook page to let people on social media know about the event so they could come out and participate."
Pangborn just entered the college's Medical Assisting Program and will take classes at PCC's Willow Creek Center. Like the others, the Hillsboro resident used the job fair to develop professional relationships with employers and explore opportunities for his medical assisting externship. His goal is to work four years as a medical assistant before moving on to a physician assistant program or medical school at Pacific University or OHSU.
"I did my research and PCC has the best medical assisting program in the area," Pangborn said. "For me, the job fair was an opportunity to get out there and meet with recruiters, and establish connections that will get my foot in the door."