This content was published: April 26, 2016. Phone numbers, email addresses, and other information may have changed.
First-ever diversity awards celebration and host of new initiatives: the hallmarks of PCC's Office of Equity and Inclusion
Photos and Story by Kate Chester
Kim Baker-Flowers, director of PCC's Office of Equity and Inclusion, arrived to the college just under two years ago, filled with ideas to bolster and build on PCC's good work in the social justice arena. In her short time here she has done just that, injecting energy and leadership within the college's social justice framework which has led to a host of new equity and inclusion initiatives and events. In fact, commitment to diversity is so firmly embedded within PCC's mission that it has been woven into the college's recently adopted strategic plan, an aspirational vision document that plots PCC's future.
"I arrived to the college in 2014 and quickly realized that PCC had a wealth of talented faculty and staff who were already committed and doing the work of diversity, equity and inclusion," said Baker-Flowers.
"We've been able to build on that work, and we want to continue to grow the passion for it – so that we become the community college in the country that actually creates teaching and learning opportunities that ensure the success of all students who walk through our doors, no matter their life journeys or identities.
"We are capable of this," she said, "and we are working diligently to achieve this goal."
One such effort is a celebratory event to mark on the calendar. On Friday, April 29 PCC will host its first celebration of the college's diversity, equity and inclusion leaders who actively promote social justice, dialogue and action. This year's categories of honorees include:
Equity & Inclusion – Activism
(those who organize and lead equity and inclusion change at the college):
Kristin Benson/Staff.
Ricci Elizabeth/Faculty.
Tony Vezina/Student.
Equity & Inclusion – Advocacy
(those who have consistently promoted concepts of diversity, equity and inclusion at PCC):
Rut Martinez-Alicea/Staff.
Heather Mayer/Faculty.
Fatmah Worfeley/Student.
Equity & Inclusion – Climate Impact
(those who have created marked, sustainable impacts on equity and inclusion at PCC; this award can be given to present or past students, staff and faculty):
Rachel Black Elk/Former Student.
Amara Perez/Former Staff.
Christopher Rose/Faculty.
Equity & Inclusion – Curriculum, Teaching and Facilitation
(those who creatively infuse equity and inclusion into their teaching, curriculum and facilitation):
Ben Cushing/Faculty.
Gabe Hunter-Bernstein/Staff.
Jeannie LaFrance/Staff.
The event will take place from 3:30 p.m. to 6 p.m. at Cascade Campus' Student Union, in rooms 202-204. Recognition of this year's award winners will take place at 4:30 p.m. All are welcome to attend; reserve your participation by emailing equity.inclusion@pcc.edu.
Another example of an initiative launched under Baker-Flowers' watch – and supported by the college's Diversity Council – is the newly established equity and inclusion speakers/practitioners bureau. College staff desiring assistance to create a more inclusive work/learning environment can tap into the expertise of a deep roster of PCC speakers who are knowledgeable in a variety of diversity, equity and inclusion areas.
Other efforts under way are the PCC Inclusion Advocates (in partnership with Human Resources); a two-day social justice workshop: one was an opportunity for administrators and managers, which took place in November 2015, and one is for faculty and set for May 5-6; the Listening Intervention Team for Equity now in development, also supported by the college's Diversity Council; and a three-part social justice certificate series through PCC's CLIMB Center, whose start date is anticipated for June 2016.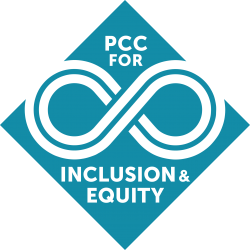 Finally, a new "look" for the Office of Equity & Inclusion has been designed that symbolically weaves together these several PCC initiatives now in progress. The college's Strategic Communications department partnered with Baker-Flowers and PCC's district Diversity Council to create the image.
"The changing demographics in the United States and the expected population growth in Oregon demand that PCC creates a learning environment that is welcoming and relevant to the new students we will be educating," said Baker-Flowers.
"We want – and we need – to be responsive in ways that honor each of our students, faculty and staff. This isn't an easy goal by any means, but it is one we aspire to," she said. "The initiatives and efforts in place will help us get there."