This content was published: March 28, 2016. Phone numbers, email addresses, and other information may have changed.
Five things you need to know about PCC's lambing season (and that llama)
Photos and Story by James Hill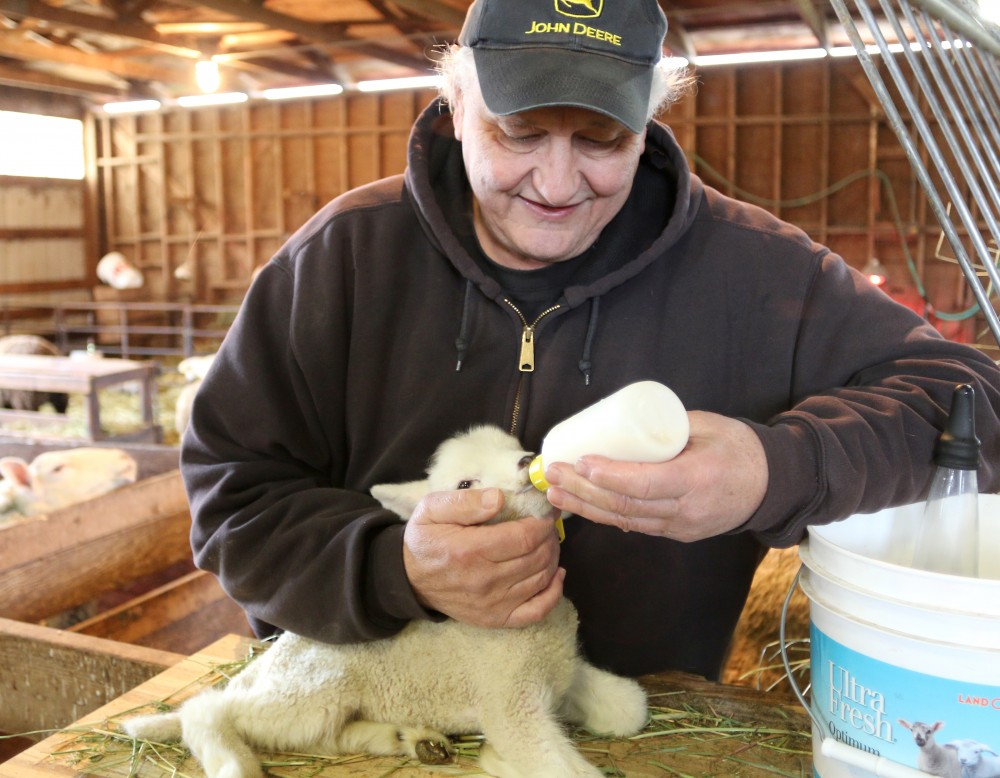 You don't get far in the Rock Creek Campus barn before you are greeted by the inquiring shaggy character named Talisman, who definitely has personal space issues.
It's late winter and the lambs are coming fast and furious for PCC Farm Coordinator Terry Lookabill, who will eventually oversee the delivery of 50-60 "babies." Lookabill and student volunteers from several programs work 24/7 to make sure the sheep's birthing goes well and that the offspring are fed regularly. His right hand man is Talisman, a six-foot-plus tall llama best known for his thick unkempt coat and his habit of waltzing up to visitors to kiss them whether they like it or not.
Here's five things to know about this annual tradition that dates back to when the the farm began at Rock Creek:
1) Why does lambing always happen in February and March at the college?
Lookabill said that lambs won't eat solid food the first month of life. So, by having the lambing occur in late winter the nearly 60 lambs will be ready to eat real grass that has started to grow in the campus pastures when spring arrives. This scheduling reduces the amount of hay needed during the cold winter months. Lastly, the timing gives Veterinary Technology Program students a chance to test their tailing and castration skills on the youngsters during winter term labs at the barn.
2) What happens to the lambs once they mature in the fall?
The lambs are considered meat animals and the males are sold at market when they get close to 120 pounds. This annual selling (roughly $10,000 that goes to the PCC Foundation) helps the farm pay for the hay ($17,000 a year) it imports to keep the animals fed during the winter. Lookabill keeps some females so that there are animals for students to care for through winter time.
3) Why are there alpacas and a llama named Talisman bunking with the lambs and sheep?
The four alpacas are used by students for their training as well. Talisman serves as a guard to watch over the flock and protect them from attacks by predators like coyotes and cougars. He's economical, too. Because he eats the same food as the sheep and other livestock, Lookabill doesn't have to buy additional food. Sheep dogs would require more costs due to this.
4) Do the sheep get sheared?
Yes. Lookabill hires Australian Eddie Dunham to shear the flock annually, a task he's been doing for PCC the past 20 years. Dunham travels to the US for six months at a time to shear sheep all over the country. While at the farm, the Aussie also shears the college's alpacas, which Lookabill describes as like watching melted chocolate roll off their backs. Historically, the wool would be thrown out but recently a knitting supply business in Orenco Station has been buying the wool every year for its classes.
"They love it," Lookabill said of the local business. "It tickles me that somebody can use it."
5) Can anybody come out to the Rock Creek Farm and see the lambs?
Absolutely, but one should wait until construction subsides later this spring. A structure is being demolished and a new one being built, according to Lookabill. Access will be restricted until work ends. When it all finishes, interested lamb watchers should wear old shoes or boots as it gets muddy. Lookabill's only rule is to not feed any of the animals. They're all on controlled feeding schedules, and outside food is unhealthy for them.
When access returns, head to the farm on the southwest side of the campus. Just look for the shaggy llama and you're there.