This content was published: January 4, 2016. Phone numbers, email addresses, and other information may have changed.
Swan Island Trades Center opens up the world of building construction to Salvador Castañeda
Story by Celene Carillo. Photos by Erin Berzel.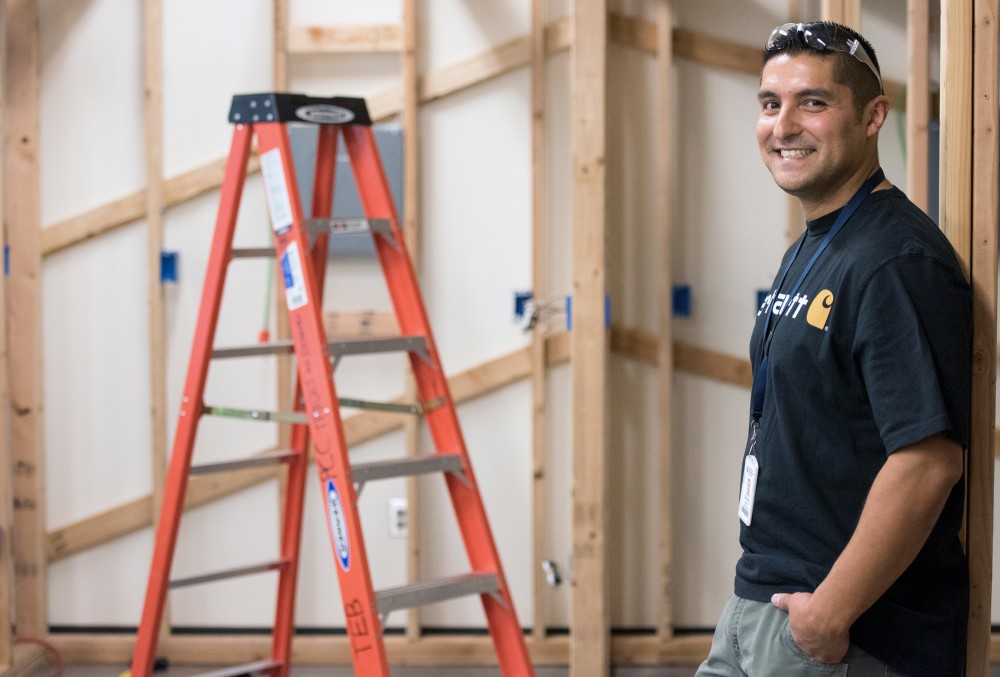 It wasn't until Salvador Castañeda toured PCC's brand new Swan Island Trades Center that he realized a degree in a field he loves (construction) might be possible for him.
Castañeda had just graduated first in his class from Constructing Hope, a free program in Portland that provides people with training in the construction industry. His graduation speech caught the attention of Dan Wenger, the dean of the Arts and Professions Division at the Cascade Campus.
"Dan invited me to come to Swan Island for a tour," Castañeda said. "He asked if I was interested in any of the classes there. I told him I was interested in all of them."
After the tour, Castañeda applied for a scholarship through the PCC Foundation and he got it.
"I never thought of myself as the kind of guy who would get a scholarship," he said. "This made the difference for me. Without a scholarship, I never would have been aware of all of the other opportunities waiting for me at PCC."
One of the Swan Island Trades Center's biggest supporters has been Ken Madden and his family. Madden, who sits on PCC's Board of Directors, is the owner of Madden Industrial Craftsmen, a company that provides temporary tradespeople for contractors throughout the region. His family also owns Madden Fabrication, which is responsible for seismically retrofitting the Crater Lake Lodge, as well as the Portland Loos that dot downtown.
For Madden and his family, supporting the Swan Island Trades Center, as well having created an endowed scholarship for students in the Building Construction Technology Program, is a choice that affects the nation's future.
"Those skills have built our infrastructure," Madden said. "It's substantive and the backbone of the U.S. economy. We see people who have come out of the scholarship system, who didn't have the money to learn the trades, talk about their life history and how scholarships have made a big difference in their lives. It's very moving."
Now, Castañeda, who even as a child took apart small appliances to see how they worked, is progressing toward his associate degree in Building Construction Technology. He's also an instructional support technician at Swan Island where he supplies equipment for classrooms and helps students with hands-on problems like identifying which tools to use for their projects, whether its putting together sheet metal or installing HVAC systems.
He's eyeing a bachelor's degree in electrical engineering in the future, something Wenger has encouraged him to do.
"Electrical engineering really intrigues me," he said. "It's definitely something I want to do. It's something I didn't even realize would be possible before coming to PCC."