This content was published: November 9, 2015. Phone numbers, email addresses, and other information may have changed.
Vets to Success: College takes part in national program serving veterans
Photos and Story by James Hill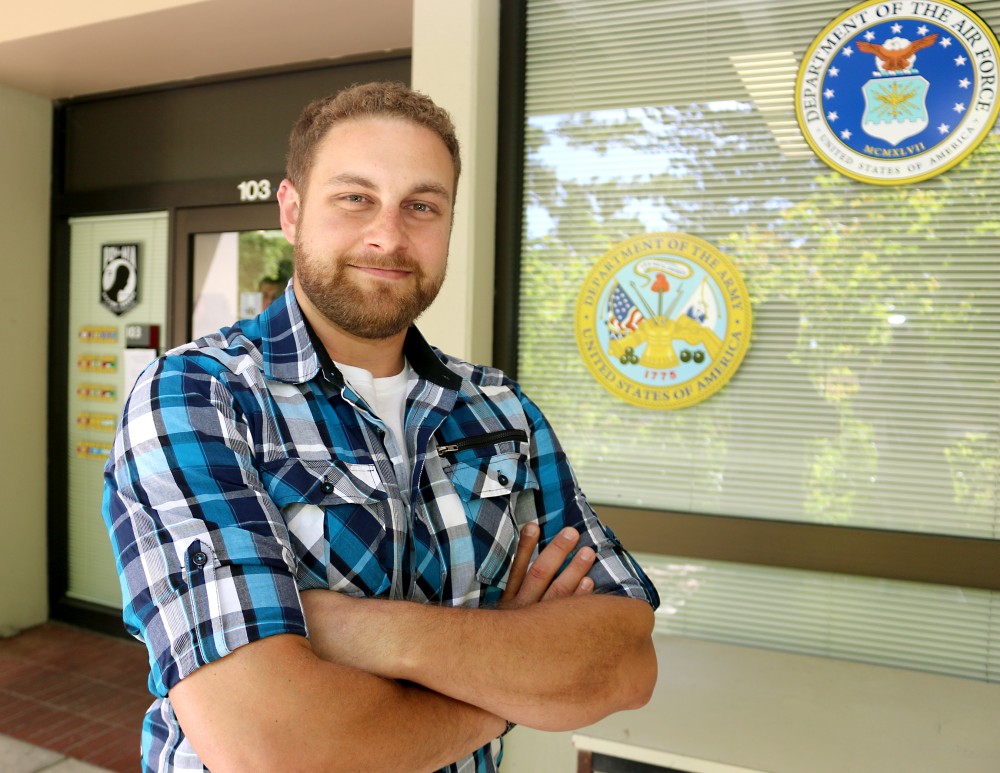 Jon Culbreath isn't sure what kind of flying he wants to do, whether it's operating a news chopper, or flying a helicopter that carries timber, or simply be a flight instructor. He just knows he wants to fly.
Culbreath's dream is coming true at Portland Community College. The Hillsboro resident, who served in the U.S. Marines from 2008-13, returned to Oregon to begin his educational path in fall of 2014 by enrolling in Rock Creek Campus' Aviation Science Program. He chose the college because the program's credits transfer smoothly to Embry-Riddle Aeronautical University's four-year degree in aeronautics.
But without Rock Creek's Veterans Resource Center Culbreath admits he may not have been able to start his education or even get through the classes. The full-service centers at PCC's Rock Creek and Sylvania campuses offer military veterans a safe space for relaxing between classes and socializing with fellow vets. There's coffee and tea, a place to discuss confidential matters, computer workstations and printers, work study and volunteer opportunities, connection to resources at PCC and in the community, and more. PCC also offers smaller locations at Cascade and Southeast campuses for veterans to meet with resource specialists.
"I think it's vital," Culbreath said. "A lot of times there is a disconnect between veterans who are re-entering the civilian populace or just getting back into school. When we go back to college we just feel really old and out of place, especially if you're just getting out of the military. It's great to have the centers here for us to get guidance on either reintegrating back into the civilian world, or knowing what benefits are available to us. We have all sorts of resources available to us here."
This week, PCC celebrates veterans for their service and the transition they are making from the military to civil life to pursue education. On Wednesday, Nov. 11 is Veterans Day and the college has many activities and support programs scheduled to honor them:
"Veterans Health and Wellness Fair" – 11 a.m. to 2 p.m., Monday, Nov. 9  (CC Upper Mall, Sylvania): A resource fair featuring service providers on campus and in the community that offer resources to support veterans' overall wellness.  Come meet representatives from the Portland VA Medical Center, Returning Veterans Project, PCC Fitness, and more!
Veterans Buttons – Stop by the Sylvania Veterans Resource Center (Room 246, CC Building) to pick up a button designating your status as a "PCC Veteran," "PCC Veteran Family Member," or "PCC Veteran Ally." Wear the button to show support for your student veterans.
Veterans Recognition Ceremony – Noon to 1 p.m., Tuesday, Nov.10, (CC Upper Mall, Sylvania): This is a traditional Veterans Day Celebration ceremony featuring keynote speaker Joanne Krumberger, director of the Portland VA Medical Center, and music from the Navy Band NW out of Silverdale, Wash.
The college's outreach to aid the transition of veterans back to school is no mistake. In 2013, PCC was selected as one of 93 colleges and universities nationwide to participate in the U.S. Department of Veterans Affairs' VetSuccess on Campus (VSOC) Program. PCC, which has more than 1,800 military vets on its campuses and one of only a handful of community colleges participating, was chosen for this program because of the services it has created, the size of its student veteran population and its proximity to a number of veteran resources located throughout the Portland area.
"We've improved our service time and access threefold by moving veterans services personnel for educational benefits into student affairs areas near financial aid offices at all of the campuses," said Bert Logan, PCC's director of Financial Aid and Veterans Services.
In addition to being a safe place to socialize and find resources, the on-campus resource centers at Rock Creek and Sylvania provide space for VetSuccess On Campus counselor Steve Gordon to connect with PCC vets. Since the initiative began, Gordon said the VSOC has provided assistance to 1,375 Veterans and eligible dependents.
"The service that Steve provides is outstanding," Logan added. "He's moved among the district's locations and set up relationships with entities at all of the campuses. It has really worked out great. He's everywhere and anywhere at the service of students and we as a college have really benefited from having him here. He's doing a great job."
The VSOC Program serves as the on-campus face of the VA by continually outreaching to veterans to connect them to resources. Counselors in the program help ease veterans' transition to student life and assist them in achieving their educational and career goals through the VA's Post-9/11 GI Bill, and other education benefit programs.
"Through outreach activities, the VSOC helps as many veterans as possible to learn about and maximize their VA education and other benefits, including VA healthcare, vocational rehabilitation, and applying for VA disability compensation when appropriate," said Gordon, who has been named 2015 VetSuccess on Campus Counselor of the Year. "Although there are currently no Veterans Resource Centers at the Cascade or Southeast Campuses, the VSOC has collaborated with the deans of Student Development to establish veterans services on these campuses by hosting Veterans Resource Offices and outreach tables in the Student Centers that are staffed by VSOC work study students who serve as peer advisors."
To veterans like Jon Culbreath, it's the sort of news that will help them to continue to fly high and level to their academic and career destinations.
"The Veterans Resource Centers are a good place for us to come in and meet with people from a similar walk of life and be able to associate with each other," he said. "To just kind of feel at home and let you be you."
If you are a PCC student who is a military veteran, service member, or dependent and want to know more about benefits and services, contact Steve Gordon at www.pcc.edu/vetsuccess, or steven.gordon@pcc.edu.