This content was published: September 21, 2009. Phone numbers, email addresses, and other information may have changed.
PCC gets with the Climate Action Plan
Photos and Story by James Hill
Under the metallic glint of Portland Community College's new wind turbine, President Preston Pulliams signed the college's Climate Action Plan – part of it's commitment to a 2007 national climate initiative to reduce carbon emissions.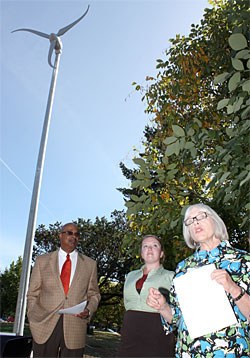 The plan, developed during the last two years by sustainability coordinator Erin Stanforth and a cadre of faculty, students and staff, pledges to reduce carbon emissions by 80 percent below 1990 levels by 2050. PCC plans to do it in steps – reduce emissions by 10 percent by 2012, 40 percent by 2030 and make the 80 percent goal by 2050. To do it, the college will look to green-up building operations, transportation services, credit programs, food and agriculture, campus operations, community outreach and monitoring and financing.
"I'm very proud of the work that has been done on this plan," said Pulliams. "I'm also excited about training our students for jobs in the green industry. It will continue to grow and we will be a key player in that."
That's what the new wind turbine, where the signing occurred, is for. Installed on Sept. 14, the turbine, known as the "Tower of Power" at the college, is 39-feet tall and weighs 600 pounds, and has a 19,000-pound concrete base pad to withstand strong winds. It can be lowered so that students in the Electronic Engineering Technology program's renewable energy systems option certificate can practice working on its electronics. The blades are fiberglass and will generate a small amount of energy that will go back into PCC's grid. Solar panels on a straw bale house below the turbine will act as another learning tool for the same students so they get both wind and solar repair experience on campus.
"What our faculty are doing is teaching how these systems work," said John McKee, division dean of Science and Engineering. "This is a great opportunity for our EET students. Even our meteorology students who are studying weather will use it, too. It isn't intended to make much of a dent in PCC's electrical bill. But it's sort of a statement piece for the college because we are making this commitment and are probably the first college in Oregon and the Northwest that has wind power."
It's just one of many commitments the college has toward developing green jobs and making sure the college reduces its carbon footprint. PCC's institutional commitments include its Sustainable Use of Resources Policy and the American College & Universities Presidents Climate Commitment where hundreds of colleges and universities nationwide have promised to reduce their carbon outputs.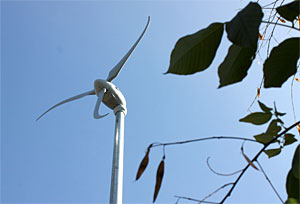 In tandem to PCC sustainability's organizational development process, sustainability programs and pilot projects are being developed and maintained district-wide. This includes the $80,000 Green Initiative Fund that will provide funding in 2009-10 to staff and student projects that help lighten the college's impact on the environment. The fund allocates money to projects that increase the amount of renewable energy used on campus, increase energy efficiency, and reduce the amount of waste created by the college.
PCC campuses serve as living laboratories where students, staff, and faculty are learning skills to build their knowledge of green industry and best practices. Green Teams have formed to improve recycling systems, build awareness about transportation alternatives, and strengthen the network of people concerned about PCC's ecology. For more information on the college's green efforts, visit https://www.pcc.edu/about/sustainability
"We are very pleased that PCC is right on target," said Sylvania Campus President Linda Gerber. "I want to give everybody on campuses and district offices credit because without their good work we wouldn't have an action plan today."