This content was published: October 21, 2004. Phone numbers, email addresses, and other information may have changed.
PCC's Theater arts department presents 'Nora' play
Photos and Story by James Hill
PORTLAND, Ore. – The Theater Arts Program is kicking off celebrating the 10th anniversary of the Sylvania Campus Performing Arts Center this year with Henrik Ibsen's classic play "A Doll's House."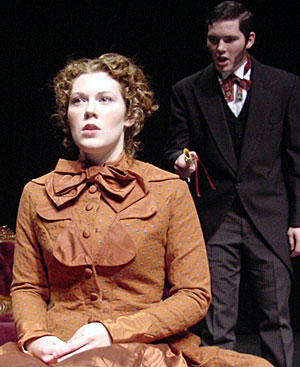 The adapted play, titled "Nora," is by famed theatrical and film director Ingmar Bergman. He retells the timeless tale of a heroine who realizes her marriage is false, and that she has been nothing but a "doll wife" to her husband. The play is set for 7:30 p.m. on Nov. 12-13, 18-20 and 2 p.m. on Sunday, Nov. 21. All performances are in the PCC Sylvania Performing Arts Center, 12000 S.W. 49th Ave., which was built in 1995. Please be warned that the play contains brief nudity.The cast consists of students Michaelyn Perdue (Scappoose) as Nora, McKenna Twedt (Tigard) as Kristine, Russell Dodge (Hood River) as Nils, Brian Culp (southeast Portland) as Doctor Rank, and Noel Thomas (Hood River) as Torvald. Dan Hays (theater coordinator) serves as the lighting and set designer while Margaret Louise Chapman designed the costumes. Also, students Steve Wasson and Mike Chapman serve as the sound designer and stage manager, respectively.Director of the play is Michael Najjar, PCC theater arts instructor.Tickets are $7 for adults and $5 for all PCC students and staff, and seniors. Parking is $2 on campus (Monday through Friday only). Purchase tickets by calling the PCC box office at 503-977-4949.