This content was published: October 17, 2003. Phone numbers, email addresses, and other information may have changed.
PCC a national alternative vehicle fuel day sponsor
Photos and Story by James Hill
PORTLAND, Ore. — Portland Community College will help celebrate the National Alternative Fuel Day Odyssey on Friday, April 2, 2004 at the Sylvania Campus, 12000 S.W. 49th Ave.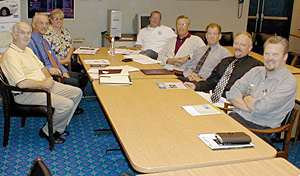 The nationwide event coordinated by the National Alternative Fuels Training Consortium, will showcase cleaner and more energy-efficient choices in transportation. Attendees will discover local alternative fuel vehicle options, local fuel sources, cost-saving facts, how the vehicles contribute to national energy security and other benefits.This will be the second time the college has hosted such an event. In 2002, the inaugural Fuel Day Odyssey attracted 245 people, ranging from students to the interested public and professionals. Attendees participated in workshops and were able to view and learn about alternative fuel vehicles, including electric and bio-diesel. In total, the alternative fuel day was staged at 51 different locations across the country and more than 17,500 people attended the event."This year promises to reach an even larger number,"said Jeff Triplett, PCC division dean of Business and Industrial Technology. "The event will showcase the economic and environmental advantages available through various clean, advanced technology and alternative fuel vehicles."The planning committee members (pictured) include, from left, Stan Sumich (Cascade Automotive Resources); Larry Medearis (Port of Portland); Betty Lou Cline (Oregon Department of Administrative Services); Michael Mitchell (U.S. General Services Administration); Doug Dunford (Columbia-Willamette Clean Cities Coalition, Inc.); Alan Puderbaugh (Salem Area Transit); and Bryan Winchester and John Banton (both of Portland Public Schools). Not pictured are Paul Stover (Smokey's CLN NGV TECH); Rod Lohoff (Oregon Department of Administrative Services); and Larry Adams (auto tech instructor at PCC).For more information, contact Stan Sumich at 503-518-3083.