Southeast MC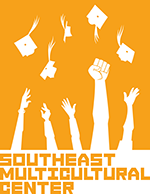 The Southeast Multicultural Center (MC) addresses institutional racism and the unique needs of students of color at the Southeast Campus. Our programs and services support the academic achievement, leadership development, and advancement of students of color at PCC.
COVID-19 Updates
Due to COVID-19, PCC campuses are closed. Multicultural Center staff will be working remotely from home, and will continue to be reachable at their PCC phone number and email address.
PCC has created a list of community resources for students and staff, as well as a COVID-19 updates page that all are encouraged to check often, as well as PCC email and Announcements in MyPCC.
We ask that questions not directly related to the Multicultural Center. Instead, visit the Virtual Help tab in MyPCC to find remote support options for PCC services.
Upcoming events and activities
View the Southeast MC calendar
Native Nations Club
PCC presents the Native Nations Club. We welcome all Indigenous students. Fall 2021 meetings are Mondays 1:00pm-2:30pm.
For more information, email Jennifer.pirtle@pcc.edu or visit Native Nations Club on PantherHub.