Southeast MC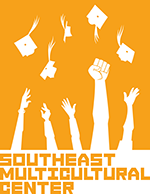 The Southeast Multicultural Center (MC) addresses institutional racism and the unique needs of students of color at the Southeast Campus. Our programs and services support the academic achievement, leadership development, and advancement of students of color at PCC.
Contact us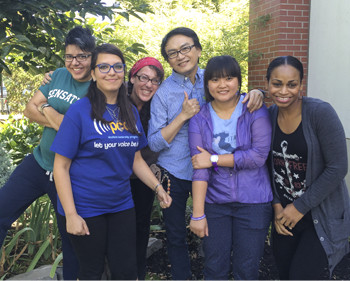 Hours
Monday – Thursday: 9am-5pm
Friday: 9am-2pm
*Hours vary due to events.
Instructor class rap request
Fill out the Instructor class rap form. A Student Equity Promoter will contact you to confirm. Thanks for supporting the Southeast Multicultural Center!
Brother to Brother
Brother to Brother is a leadership development and academic retention program designed specifically for Men of Color. It will take place Fridays 11am-12:50pm beginning 4/14 through 6/9.
If you are interested in participating, please fill out the Brother to Brother form and you will be contacted for an assessment interview.
Brother to Brother also has an associated Club open to all Men of Color beginning Spring Term 2017. More information to come soon.
Sisters In Strength Referrals
Sisters in Strength is a support group for woman-identified students to learn skills for coping with trauma. We meet for 6 sessions each term. More information can be found at the Sisters in Strength page. Please fill out the Sisters in Strength form, and you will be contacted for an interview.
The Southeast Multicultural Center is hiring for 2017-2018
The Southeast MC is seeking students to participate in the Multicultural Center's Equity Promoters Leadership Program during the 2017-2018 academic year.
The MC Equity Promoters staff the Multicultural Center and design, plan and lead educational events and programming with the goal of promoting diversity, inclusion, and education equity at the SE Campus for the success of all PCC students.
2017-2017 MC Equity Promoters Application
Students selected will commit to
Work for the entire 2017-2018 academic year.
Work 10 to 20 hours a week – including a 2-hour mandatory weekly staff meeting Fridays from 2-4pm.
Participate in Leadership Training at PCC SE beginning with 10 hours of online training August 7, 2017 – August 18, 2017, and in-person training to be held most days from 9am-3pm August 21,2017 through September 22, 2017. Schedule detail will be available during interviews.
Position summary
MC Equity Promoters design, plan, coordinate and lead events and programming that promotes diversity, inclusion, and education equity. They implement educational programs, organize events, outreaching campus community about the center's services, creating a force on campus to dismantle racism, sexism, classism, heterosexism, and all forms of systems of oppression. They promote education equity and a welcoming, healthy and positive campus climate conducive to the academic success of all students at SE Campus.
Responsibilities
Staff the center during assigned shifts
Develop, plan, coordinate and lead events to promote the mission of the center
Create promotional materials and displays (flyers, posters, etc.)
Work collaboratively with other student leaders within and outside the SE Campus
Attend weekly Staff Meetings and quarterly Staff Development sessions
Complete all required data collection and record keeping
Promote the MC programs, services, events, and activities
Other duties as assigned
Qualifications
Student at PCC SE Campus
Enroll in at least 6 credits per term at PCC for the entire academic year (Fall 17 – Spring 18)
Maintain an overall GPA of 2.5 or better
Must be in good academic standing for the term prior to selection and during the entire period of employment
Must have a demonstrated interest and knowledge of racial and ethnic issues and an interest in developing knowledge of social justice and education equity
Must exhibit sensitivity and solidarity toward traditionally underrepresented groups (such as people of color, women, LGBTQ, differently-abled, veterans)
Have a flexible enough schedule to support the activities of the program
Upcoming events and activities