Our staff
Contact us
Phone: 971-722-7680
Fax: 971-722-7771
Address: 17705 NW Springville Road, Portland OR, 97229
When I reflect on why it is that I work at PCC HEP, I always end up at the same place: HEP makes a difference in the lives of individuals, families, and the community, and it fulfills a personal need to serve the MSFW community. This connection was fostered by my own work experience in agricultural manual labor across the Pacific Northwest, and, the fact that I dropped out of school due to family responsibilities. HEP avail the possibility to continue with my education and this fact has never been forgotten.
PCC HEP serves you in order to attain the high school equivalency (HSE), proceeded by placement in higher education (including English-as-a-Second Language), etc., and provides support services to ensure you graduate and continue with your education. Your motivation, sacrifice, and dedication will be crucial to the successful pursuit of your studies. PCC HEP, guided by its mission, supports your effort and is fully committed to serving you. Welcome!
I was born in Peru where I studied Engineering and a Master's in Education. I worked for many years in my country in Kindergarten, Elementary, High School and adult schools. Peru being a nation with many limitations, it motivated me to put my effort into helping from my career to improve the educational level especially of those most in need.
I have lived in Portland for 4 years. Arriving at HEP-PCC was a great opportunity in my new life, since it allows me to put my knowledge and experience at the service of people who are struggling to improve themselves and achieve their goals. I identify with the HEP students since each one puts their effort and dedication to achieve the diploma, which is synonymous with overcoming and self-improvement. I highly value and admire the students who, beating many difficulties, managed to get ahead and show that every effort has its fruits.
I feel happy and committed to sharing the work at HEP-PCC with people of great personal and professional quality who, even though they are from different countries, agree to join efforts to support the achievement of the objectives of the program and of each student who joins it.
I was born into a family that always believed that "the most important thing was to get an education", although my parents did not have this opportunity. They always encouraged our education regardless of challenges and barriers.
In 2000 we moved from Costa Rica to the United States and settled in Arizona were we stayed for 4 years. In Arizona, I studied English at Chandler Community College. My husband's job relocated us back to Costa Rica, but I always had the hope to return to the United States. In 2013, we relocated to Oregon and today I work at Portland Community College – Rock Creek as a HEP instructor for students trying to attain their high school equivalency. Working at PCC is a dream come true as I always said "One day I wish to teach at a Community College". It is a great satisfaction to have the opportunity to help you, the migrant and seasonal farm working community.
I am Benjamin Garcia and I'm from a Mexican-American family in southern Oregon. My dad is from Aguascalientes, Mexico, and my mom is from Oregon. I have my dual nationality, so I'm Mexican, too! Speaking of education, I believe that getting a basic level of education is very important to advance in the United States. For example, my dad worked in the pear orchards and fields picking vegetables in southern Oregon until he got his GED, and then he was able to get a job with the railroad, earning better pay to support a large family. I went to Portland Community College (PCC) where I earned my associate's degree (two years of college) and then attended Portland State University (PSU) and completed bachelor's and master's degrees. I believe in education and its ability to change and/or improve a person's life, which is why I work for PCC. I am proud to be a part of PCC HEP and feel privileged to be able to work with the migrant and seasonal farm worker community. I am available to help guide you to earn your own GED, just like my father did.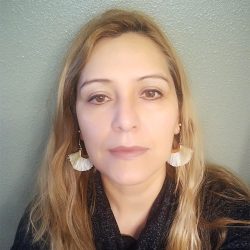 I am the daughter of parents who immigrated to the United States in 1985 to give me and my siblings a better quality of life. I was born in Tacámbaro, Michoacán, Mexico. When I was 12 years old, my parents decided to bring me and my brothers to the United States to be with them. When I arrived in Hillsboro, Oregon, I realized how difficult life is for people who work in farm labor or agriculture. My mom worked in a plant greenhouse and my dad used to work in a vineyard. My family and I worked on the strawberry, grapes, and really whatever we could find to pick. When I was 15, like my mother did, I worked in a plant greenhouse and realized it's a very tiring job.
For work reasons, I did not finish my studies. In 2017 a friend informed me of HEP and in just six months I graduated with the great help of the teachers and the program.
Now, I'm a HEP graduate! After graduation I took writing classes at Portland Community College (PCC). I understand the challenges that HEP students experience day-to-day, however, I am a testament to the fact that if one proposes to do something, it can be achieved.
I've always known my passion to be to serve my community. When the opportunity of this job became available at PCC HEP, I saw the possibility of helping others who have the goal of studying to improve their lot in life. I believe what I experienced during my time in the program and much that I have learned being part of the team will be very helpful to me. Now I'm here to contribute to your well-being.