Homepage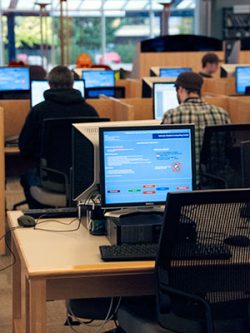 The most comprehensive facilities open to all currently registered PCC students are the Student Computing Center (SCC). They are located on the Cascade, Rock Creek, Southeast and Sylvania campuses. Software applications include Internet access, word processing, desktop publishing, spreadsheets, databases, web page authoring, presentations and programming languages.
While all currently enrolled PCC students are welcome, an orientation is required before using the centers.
If you need help while using a computer lab, lab assistants are available to assist you with computer applications such as Word and Excel. See the lab assistant job description if you are interested in student employment opportunities with a computer lab.
Computer Application Systems tutors are also available to aid with Office Applications, web development and other CAS assignments. Please contact your campus computer lab for more information regarding CAS, CIS, and CS tutoring locations and hours of availability.
Student Computing Center Hours
PCC's Student Computing Center hours are the same as our Library open hours.
Accessibility features
Each campus maintains an inventory of accessibility equipment:
Hardware may include adjustable desk heights to accommodate wheel chairs, large screen monitors, headphones with mics, ergonomic chairs, keyboards and mice.
Software may include audible software, which speaks to the user as the mouse is scrolled over text, and text enlargement software.
Check your campus computer lab for specific equipment. You may also order equipment through Accessible Ed & Disability Resources.
GoPrint™ printing
Please see the printing web page for printing procedures, page limits and other important information.
Orientation and account activation
Each year, students need to complete an online orientation on any computer at a Computer Resource Center or PCC library to establish a lab login. This is the same login and password students will use for GoPrint printing. Only currently enrolled students are eligible to take the orientation and create a login.
Each term, students will need to re-activate their accounts using the "Update Account" button on the screen. Once activated, the CRC account is valid for the CRC and library at any PCC campus for the duration of the term.
Additional computing resources
Other computing resources may be found in PCC libraries. Also, many academic departments manage specialized computer labs for students taking their classes.
Requesting software
Faculty chairs and Deans can use the IT Service Request page to access the Classroom Software Request form, allowing faculty to request software in PCC Classrooms and Computer Labs. All software requests must be approved by a faculty department chair or division dean. Software installation only take place between terms and must be requested by the 5th week of the prior term to ensure enough time for various teams to ensure functionality and accessibility requirements are met.