This content was published: April 20, 2018. Phone numbers, email addresses, and other information may have changed.
PCC QRC: Gender-Affirming Stuff Swap Volunteers and Donations needed! (Wed, April 25th)
Posted by hannah.cherry

The Sylvania Queer Resource Center is hosting the rescheduled Gender-Affirming Stuff Swap next week and we could use your donations and support!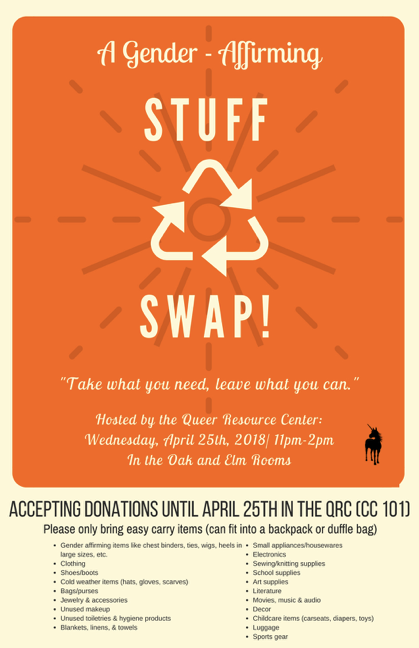 We could use help with event set up, organizing, folding clothes, greeting guests, cleaning up, packing up, and more! Multiple shifts available. Sign up today.
In addition to sharing the event widely, please consider dropping off your donations of new and gently used items like…
ties and bow ties,
heels in larger sizes,
wigs and hair extensions,
chest binders,
unopened makeup,
and other gender-affirming items/clothing/accessories!
We also have an Amazon wishlist of items with 2-Day shipping and I'm happy to swing by your Sylvania office to pick up donations. Please limit donations to items that are easy to carry and fit into a bag or backpack.
Gender Affirming Items PCC QRC SY
HUGE thank you to the many of you who have already brought by or sent donations! Many arrived via campus mail with no name so I can't thank you personally, but know your support is greatly appreciated!
This event is free and open to all – no donations required to attend!
Contact Information
Mae Stephenson, Queer Resource Center Coordinator
mae.stephenson@pcc.edu | 971-722-8525
rss

 About the Volunteer Opportunities Newsletter
The Volunteer Opportunities Newsletter allows students, faculty, and staff at PCC a more comprehensive look at volunteer needs and opportunities from our community partners. Our hope is that the newsletter will allow subscribers to stay better informed about community service opportunities in the tri-county areas of Portland, Oregon, as well as non-profit internships and scholarships available locally and nationally.