This content was published: March 29, 2018. Phone numbers, email addresses, and other information may have changed.
PCC ASPCC: Last Chance! Students Apply For Alternative Break Today! (Due April 4th)
Posted by hannah.cherry

TRANSFORM | LEARN | LEAD
All applicants need to be in good standing with the college, complete 10 hours of service, provide the appropriate financial contribution, attend all pre and post trip training's and orientations, be enrolled in at least 6 credits and possess a GPA of 2.5.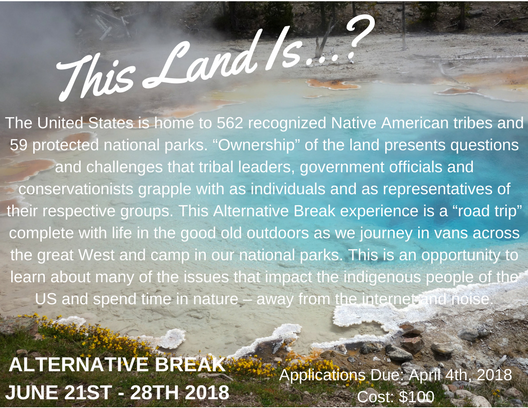 This Land Is…?
Location: Oregon, Montana, Wyoming and the Western USA
Dates: June 21 – 29, 2018
Application Due: April 4, 2018
Cost: $100 per student
The United States is home to 562 recognized Native American tribes and 59 protected national parks. "Ownership" of the land presents questions and challenges that tribal leaders, government officials and conservationists grapple with as individuals and as representatives of their respective groups. This Alternative Break experience is a "road trip" complete with life in the good old outdoors as we journey in vans across the great West and camp in our national parks. This is an opportunity to learn about many of the issues that impact the indigenous people of the US and spend time in nature – away from the internet and noise.
About the Organization
Supported by the Student Activity Fee, ASPCC provides students with an opportunity to travel in country and participate in service learning and civic engagement trips for a subsidized fee.
About the Volunteer Opportunities Newsletter
The Volunteer Opportunities Newsletter allows students, faculty, and staff at PCC a more comprehensive look at volunteer needs and opportunities from our community partners. Our hope is that the newsletter will allow subscribers to stay better informed about community service opportunities in the tri-county areas of Portland, Oregon, as well as non-profit internships and scholarships available locally and nationally.