This content was published: November 6, 2017. Phone numbers, email addresses, and other information may have changed.
PCC Cascade Language Exchange Program: Get paired with other students to teach and learn foreign language skills
Posted by hannah.cherry

The Language Exchange Program is designed to help students improve their foreign language skills through mutually shared practice so when they are paired up together they teach and learn from each other.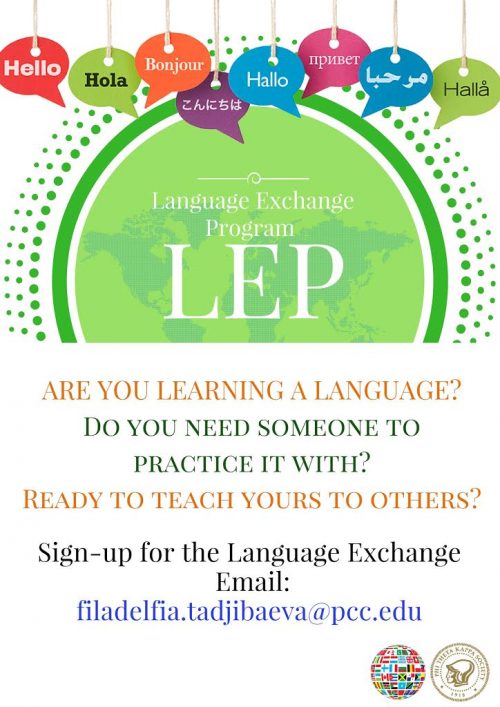 The process is easy for students to follow.The students fill out the short form to include the language(s) they are learning and the one(s) they are able and willing to teach (the fluent, native languages) others. When I see that language skills and abilities match, I connect them to each other. After that, they are free to email each other and arranging the time to meet and practice their language skills.
Language Exchange program is on-going. Last year we had over 150 people sign up for the program and 63% of them were paired grouped.
Anyone can participate! No special requirements. No fees. The program is made by students for anybody who is or want to learn any foreign language!
Or email: filadelfia.tadjibaeva@pcc.edu
Contact Information
Filadelfia Tadjibaeva, Clubs Coordinator, Phi Theta Kappa Officer
filadelfia.tadjibaeva@pcc.edu | 971-722-5735
About the Program
The PCC Language Exchange Program provides a free, flexible, and effective way for students, international and domestic alike, to meet and share their language skills.
The program emphasizes mutual exchange by all participants, so participants will have the opportunity to learn and to teach a language.
The students will group or pair up with the fluent speaker of the language they wish to learn. For students, it is an amazing way to practice their speaking skills.
About the Volunteer Opportunities Newsletter
The Volunteer Opportunities Newsletter allows students, faculty, and staff at PCC a more comprehensive look at volunteer needs and opportunities from our community partners. Our hope is that the newsletter will allow subscribers to stay better informed about community service opportunities in the tri-county areas of Portland, Oregon, as well as non-profit internships and scholarships available locally and nationally.