This content was published: April 29, 2015. Phone numbers, email addresses, and other information may have changed.
Spring eCycling in the Sylvania Library with Hard Drive Smashing Event on May 12
Posted by hannah.cherry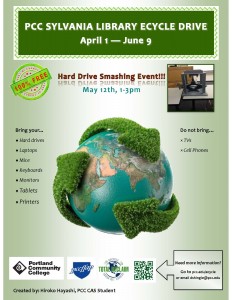 Are you finally getting around to your spring cleaning and don't know what to do with your outdated, no longer functioning computer hardware? Bring them to the Sylvania library! There are eCycle bins waiting for you under the stairs on the first floor!
Worried that your identity will be in jeopardy if you eCycle?  Come to the Upper CC Mall by the Info Desk from 1- 3 pm on Tuesday, May 12 to have your hard drive smashed!  Students will disassemble your computer and smash your hard drive using machines developed by PCC Sylvania Engineering students!  A large hole will be bored through the hard drives. Come join the excitement!  After the event, all computer hardware will be recycled by Total Reclaim.
For more information, contact Diane Shingledecker (dshingle@pcc.edu)
Community-Based Learning is a big part of the eCycle Drive. Student volunteers help design the event, create advertising, analyze collection data, and create reports. The poster here was created by Hiroko Hayashi, PCC CAS Student.