MyPCC
Ready to log in? Go to the MyPCC Login.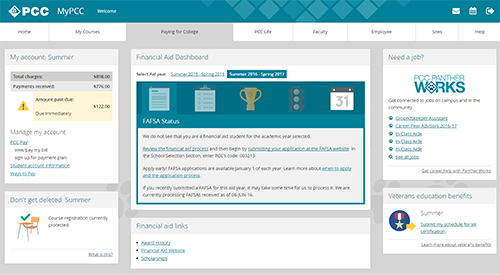 MyPCC is where you'll go to sign up for classes, check your student email, pay for classes, and more.
MyPCC is an online community for the students, faculty, and staff of Portland Community College. MyPCC is a secure site that allows you to check email, register for courses, communicate with other students and faculty, and take care of all aspects of college business.
Get started with MyPCC
Make sure you have been admitted to PCC.
Go to the login page and follow the instructions for first-time users.
Log in to MyPCC and look around!
Need help?
Logging in: for problems logging in to MyPCC, visit the MyPCC login help page.
Learn more: get acquainted with the websites and software PCC students use, visit Tech @ PCC.