Themes
MyPCC uses two themes: one for the main Home Community and one for Sites. Both themes can use a different channel column layout for each tab.
Some course content used to be housed in MyPCC and displayed using the Sites theme. We now have all course content in Desire2Learn Brightspace (D2L), which is managed by Online Learning.
Basic theme
The basic (or Home Community) theme is what you see when you log in to MyPCC. It includes the following tabs: Home, My Courses, Paying for College, PCC Life, Employee, Faculty, Sites, and Help.
All students, faculty, and staff can see the Home Community, but not everyone sees the same tabs. For example, students can't see the faculty or employee tabs.
Basic theme development info
Documentation about which vm files need to be updated to implement the themes is on Spaces.
In the past, users could create their own tabs and drag channels to different locations. We turned off this functionality in the Luminis 5 update. It made some things with the responsive design difficult to implement and maintain.
MyPCC in MyPCC admin
Settings:

Color scheme: Green
profile-left-header-menu: NAV_HEADER
footer: FOOTER
Checked: white-top-header, no-left-menu
small-chat-box: SMALL_CHAT_BOX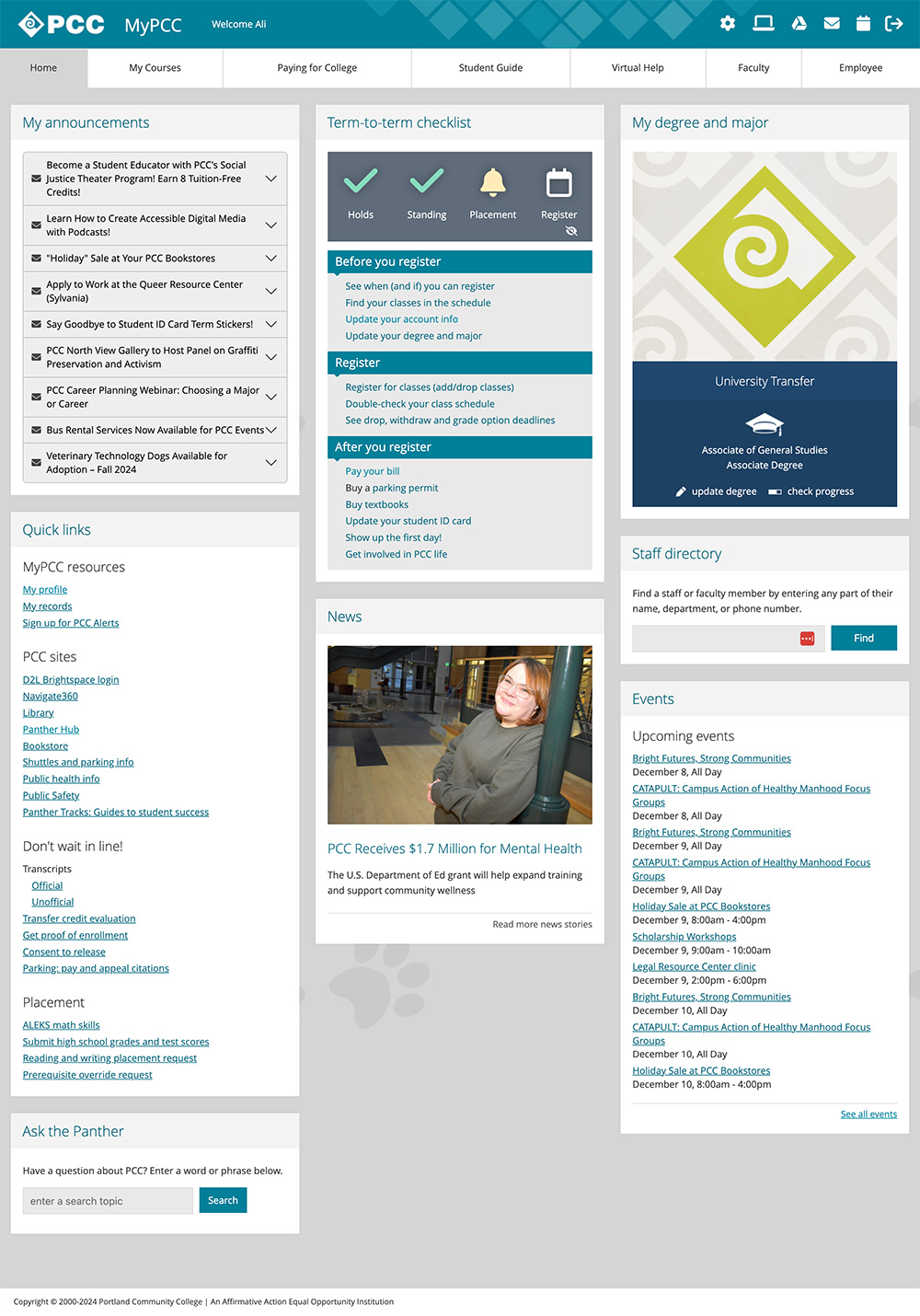 Sites theme
Sites use the sites theme. The main difference between the themes is the header. A "Return" link appears below the welcome message, which takes you back to the Home Community. The navigation items also change, and the name of the site appears alongside them.
Sites tabs include Home, Content, Links, Message Board, Class or Member List, and Site Management. Only the site owner can see the Management tab.
Sites theme development info