Art at Sylvania
The Sylvania Art Department is located at PCC's largest campus on a beautiful wooded hillside between Tigard and Lake Oswego, just off Interstate 5. The art and art history student at Sylvania will find comprehensive resources and facilities for instruction in a variety of media, including Painting, Drawing, Sculpture, Ceramics, Photography, Printmaking, Basic Design, Calligraphy, and Art History. Classes are small and taught by a community of professional artists and art historians whose mission is to render a strong foundation in the visual arts and art history for transfer to both private art schools and colleges and universities.
Watch the Sylvania Art Department in action
Use the "Playlist" pull down menu at the top left of video to choose a video.

Facilities
Basic Design studio – CT 113
The Sylvania Basic Design studio features a large classroom divided into two working areas. Half is used for traditional media with 6 large tables to accommodate 24 students. The other half of the room contains 24 iMac computer stations where students can work on digital projects. The facility includes 2 scan/print stations, a color laser printer, an Epson inkjet printer, a large light table, cutting and mounting areas and flat files. ART115, 116, 119, 119d and Calligraphy courses are held in this studio space.


Drawing studio – CT 231
The Sylvania Drawing studio features a large classroom with easels and drawing horses to accommodate 24 students. Students can also use a personal locker located in the classroom to store their supplies for the term. ART131, 231 and 237 are held in this studio space.
Art History
Sylvania boasts a state-of-the-art classroom for Art History instruction. Digital projection on three screens, comfortable terraced seats and tables, and appropriate lighting create the perfect atmosphere for viewing art images and films. Unlike traditional large lecture halls, the intimate size of the room promotes dynamic classroom discussion.
Art History students easily access digital art images for study and review using the ARTstor Digital Library of almost 1 million images related to art, architecture, and other academic disciplines. The PCC Library collects books, journals, and DVDs in the area of Fine Art. In addition to ARTstor, the PCC Library subscribes to a wealth of database resources for researching art, including JSTOR, Grove's Dictionary of Art Online, and Oxford Art Online. With traditional media, the Sylvania Visual Resources Library has a searchable catalogue of more than 50,000 slides.
Sculpture studio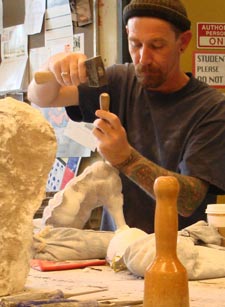 Sylvania has over 10,000 square feet of facilities dedicated to sculpture and ceramics, including a main studio, tool room, an outbuilding for stone and metal, wood shop, indoor storage rooms, and an outdoor work area. These teaching arenas allow us to teach from an extensive curriculum which includes stone carving, mold making, figure sculpture, wood carving and construction, mixed media, welding and introductory bronze casting and ceramics.
Stone carving tools
Down draft tables for dustless carving
Horizontal air compressor with 120 gallon tank, automatic tank drain, air line dryer,
Additional 120 gallon tank plumbed
16 fully plumbed, compressed air work stations including 4 outside in a covered work
Area with newly poured 10 x 14 foot concrete pad
Wet cutting diamond band saw
ICS gas powered, diamond chain saw
700 lb capacity hydraulic cart
Bosch hammer drill
Welding tools
5 oxy-acetylene stations on a manifold system
Welders: 2 MIG welders, 1 stick welder, two 4 'x 4' rolling 1/2″ plate top tables with locking casters, cutting table, and 3/4″ plate table
Cutting: Plasma cutter, oxyacetylene torches, horizontal band saw, bolt cutters, metal chop saw, 10 gauge UniShear, bandsaw, jigsaw
Forming and shaping: Imperial wheeling machine, extensive set of over 40 dogs for the anvil, extensive set of over 40 hammers for forming, heating station with rosebud coal forge, one 4′ x 4′ 1/2″ plate top tables with locking casters, vice
Grinding and polishing: Powerful downdraft systems for extraction of dust and fumes, two 2′ x 4′ down draft tables, belt/disc sander for metal hooked up to down draft system, portable shop vac for metal/fumes
Wood and mixed media tools
Stationary equipment: 2 band saws, belt/disc sander, scroll saw, compound sliding miter saw, drill press, planer
Hand held equipment: Router, 6 power hand drills, 5 angle grinders, 2 die grinders, circular saw, palm sanders and orbital sanders, 2 jigsaws, 2 flexible shafts
Hand tools and accessories: 40 well kept gouges, chisels, veiners, rasps, wooden mallets, full set of Forstner bits, auger bits, hole saws, mortising jig, dado blades, etc.
Bronze casting tools
Centrifugal casting machine
Investment casting
Portable foundry
Ceramics studio
The Sylvania Ceramics studio features 5 different kinds of kilns to attend to an well-rounded assortment of curricular offerings. Facilities include a sizeable main studio, glaze pantry, indoor kiln room, outdoor kiln building, and an outdoor kiln yard of some 2000 square feet.
Main studio
Handbuilding area with 3 large tables
13 Shimpo VL whisper wheels
13 Versa bats with custom-made ABS plastic inserts
4 Lockerbie kick wheels
Northstar super slab roller
Scott Creek 4″ extruder
7 cone 10 commercial clay bodies, with options for both throwing and handbuilding, ranging from porcelain to dark brown
Fully stocked glaze pantry and mixing area
Electric scale, 4 triple-beam scales
Glazing area with over 15 class glazes available to all students, also raku glazes, flashing slips, and underglazes
Kilns and firing
2 Skutt Model 1027 computer kilns for bisque firing
1 larger Skutt Model 1227 computer kiln for bisque firing
Fully covered outdoor kiln yard
20 cu ft Geil gas kiln for cone 10 reduction
28 cu ft Bailey gas kiln for cone 10 oxidation
18 cu ft Gas Soda Kiln
20 cu ft train/bourry hybrid wood fire kiln
Laguna Raku Kiln, Model 28, custom enclosed and ventilated reduction chamber
Other miscellaneous equipment
Peter Pugger pug mill for recycling clay – both dark and light clay available
Ball mill
Laguna spray booth and Geil spray gun
Sandblaster
Bench grinder, dremmel, other finishing tools
Reference
Full library of Ceramics Monthly magazine for reference, along with Ceramics Art and Perception and The Studio Potter
Small library of reference books, images, and videos for research
Hyper glaze calculation program
Printmaking
The Printmaking area at Sylvania features a spacious, open floor studio with abundant natural light. The studio is equipped for intaglio and relief processes, including traditional Japanese woodblock printmaking, oil based woodblock and monoprinting. Facilities available include three tabletop etching presses, a vertical etching tank, ventilated hood, aquatint box, 40 shelf drying rack, flat files and tearing/mounting area. The Printmaking studio fosters a collective learning experience and free flow between different methods of making impressions, while addressing imaginative approaches to solving formal, technical and conceptual problems.
General studio equipment
8 steel workbenches, 32″ high
20 adjustable height stools
2 light tables, 16″ x 20″
3 LED, 5 diopter magnification desk lights
46 Flat files, 26″ x 36″
Etching, printing, and drying equipment
Takach tabletop etching press, bed size 30″ x 60″
Takach tabletop etching press, bed size 30″ x 48″
Takach tabletop etching press, bed size 18″ x 36″
Schwede LLC aquatint box and a hot plate, 12″ x 18″
Vertical etching system for etching copper plates with ferric chloride
Ventilated hood housing 2 hot plates, 18″ x 24″ and 12″ x 18″
Two large glass work surfaces, 4′ x 8′ and one small glass work surface 2′ x 8′
Drying rack with 40 shelves, 22.5″ x 31″