Paralegal, CLEAR Clinic staff honored for community work by Oregon State Bar
Photos and Story by misty.bouse
The Oregon State Bar (OSB) President's Award committee has honored two Portland Community College staff for improving the quality of legal service and access to technology or other innovations and demonstrating public leadership.
Leni Tupper, Paralegal Program instructor and director of the Portland Community College Community Legal & Educational Access & Referral Clinic (CLEAR) at the Cascade Campus, and Karla Marquez Gaab – clinic legal extern and senior law student — were both recognized. Volunteer attorneys and legal workers who work with Tupper and Marquez Gaab help keep the clinic's legal services free and accessible to everyone in the Portland area, especially to PCC students.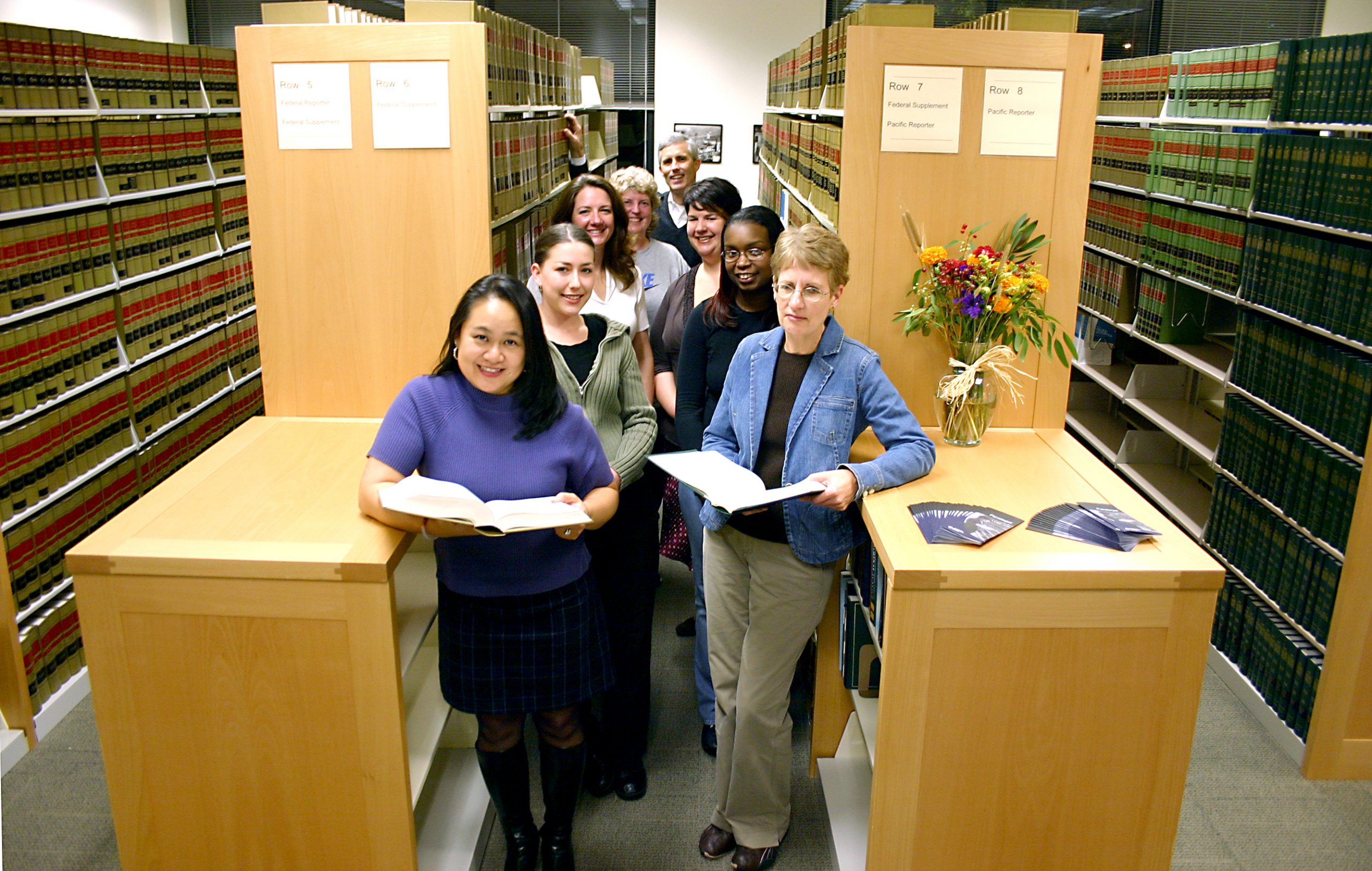 Academic Pathways: Public Service, Education & Social Science

The college's Paralegal Program is where students get a balance of legal background and hands-on practical skills through training from lawyers and paralegals practicing in the fields. Paralegal is under the Public Service, Education, and Social Sciences academic pathway, which expands students' knowledge of the world and society.
"At the CLEAR Clinic, we provide free, limited-scope legal services for issues that our legal system likes to expect that people can navigate on their own, but that are actually too complex and barrier-ridden," Tupper said. "With this unique delivery, providing mainly pro se, limited-scope services, we are able to help so many more people. We also use the passion of paralegal and law students for hands-on legal work in the social justice field to provide broad-scale access to justice. I believe this is why we won the OSB award for innovation."
In 2016, Tupper joined PCC as an instructor in the paralegal program, an area she had worked in prior to law school. Tupper practiced primarily immigration law for a decade before starting the PCC CLEAR Clinic in 2020, while also teaching.
"I noticed there were not many options for paralegal students in community-based learning, and at the same time, there is a real need for free legal services in the community," she said. " We started hosting clinic events for a range of needs: Deferred Action for Childhood Arrivals (DACA), criminal record expungements, legal services day (to waive court fines and fees), and citizenship days for example."
Tupper applied for grant funding to start CLEAR and host clinics regularly "to provide access to justice for the community, while providing the opportunity for students to gain practical legal skills." CLEAR is a teaching clinic staffed in part by students and volunteers – and never charges anything for their legal services.
"That's pretty unusual in the legal field," she added.
Marquez Gaab, a former DACA student, is in her final year of law school. She assisted with an asylum clinic with CLEAR over spring break for undocumented community members, and also works on eviction legal defense and expungement clinics. She, along with three peers, is being recognized for her work in creating UndocuLawNorthwest. The organization's mission is to help current or former undocumented students, or any other non-citizens, navigate their legal education, and law school applications.
Tupper said that the CLEAR clinic has completed thousands of criminal record expungements; hundreds of DACA renewals, immigration legal screenings, deportation defense services, eviction expungements, eviction representation, and name and gender-marker changes.
"It is really rewarding to be a resource for the community, and to have a walk-in clinic that is pretty unique in the legal world," Tupper said. "We get to be here to help people when they need it, and we have a robust legal referral program to other free and low-cost legal services. The feedback we've gotten is that without our services, people would be left to navigate the legal system on their own, but they can't."
The Paralegal Program has provided students with the fundamental skills and training necessary for success in the legal field. Faculty provide a balance of legal background and hands-on practical skills through training from lawyers and paralegals practicing in the fields in which they teach. The program's associate degree and post-degree certificate are approved by the American Bar Association (ABA).
The CLEAR Clinic staff and friends will attend the October 27 OSB honoring at the Sentinel Hotel of these inspiring advocates. 
For information on the CLEAR Clinic, visit https://www.pcc.edu/clear-clinic/, or for the Paralegal Program visit https://www.pcc.edu/programs/paralegal.