Meet PCC's new student benefits navigator Jennifer Lucena
Story by Celina Baguiao & James Hill. Photo by Yulia Tsarenko-Carey.
Even before the coronavirus pandemic, many students were struggling. College credentials, the most proven pathway out of poverty, remain out of reach for too many students, due to the staggering unmet financial need and basic needs insecurity.
Working together to address these issues is the Pathways to Opportunity coalition, which includes Partners for a Hunger Free Oregon, public colleges and universities, and the Oregon Department of Human Services, among other key partners.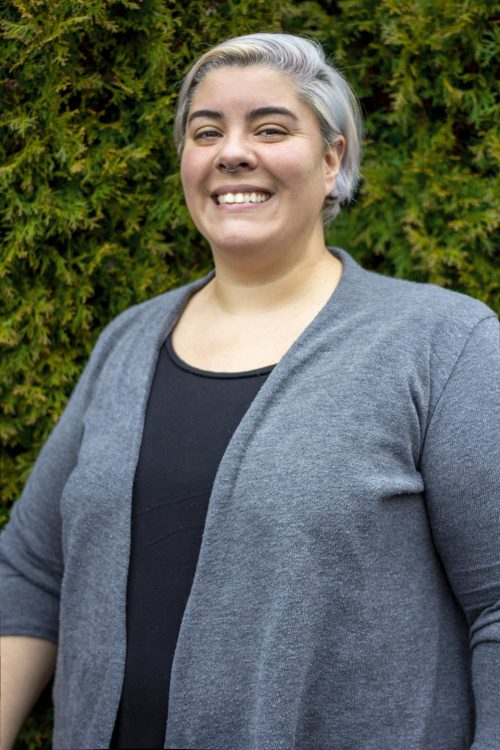 It aims to close opportunity gaps and increase economic mobility by expanding the federal, state, and local resources available to low-income students so more people can attend and complete college. PCC has its own Pathways to Opportunity (PTO) Council, which is charged with leading the college's work related to addressing students' unmet financial needs – housing, food, childcare, healthcare, etc. These are key barriers to completing college for many students, disproportionately impacting students of color.
In 2021, the Oregon Legislature passed a bill that establishes a student benefits navigator on every public college and university campus in Oregon. Once brought on board, the navigators will help students access federal aid like SNAP, child care, housing and much more. Students are leaving thousands of dollars in federal benefits and resources on the table. A benefits navigator ensures students access all the benefits they qualify for.
PCC's first student benefits navigator is Jennifer Lucena, community resources coordinator. Lucena, who attended PCC before transferring to Portland State University, discusses her new position and the impact she will have on the lives of students. For assistance, students can call 971-722-6465 or email gethelp@pcc.edu to reach Lucena.
What are your job duties in the new position?
One aspect of my role at PCC is to support students' access to federal benefits. I help check eligibility for Supplemental Nutrition Assistance Program (SNAP) food benefits, Oregon Health Plan (OHP) coverage, housing assistance, culturally specific resources, and other basic needs. Another part of my job is working with a group of benefit navigators across the state to develop best practices.
What did you do before PCC?
I managed programs serving people experiencing homelessness and supportive housing services in the non-profit sector. This work helped those currently experiencing and exiting homelessness through street outreach, a drop-in day center, case management, housing placement, as well as peer support services.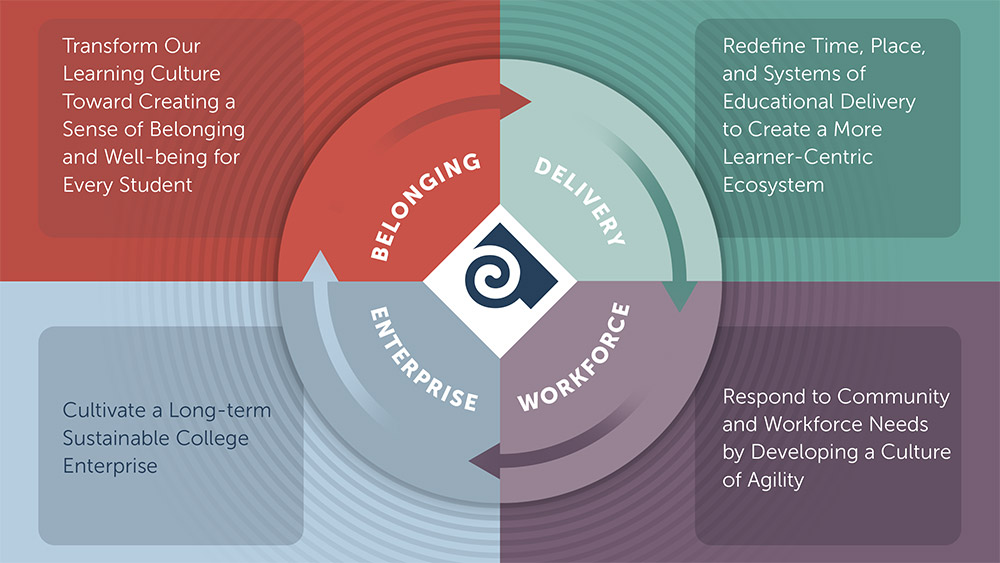 The Strategic Plan: Belonging
The 2020-2025 Strategic Plan prepares the college for the future of higher education. Part of the plan is creating a sense of belonging and well-being for every student. This means PCC works to ensure every student has the opportunity to key resources, new employees have a sense of belonging, all staff develop intercultural competencies, and the college supports a culture where employees feel acknowledged, inspired and supported.
What are you most excited about in your new position?
What excites me most about this work is supporting students in meeting their educational goals, which means every other facet of their lives can be positively affected. My personal experience growing up in a low-income household, means I know what many students are experiencing. I get to walk alongside them on their journey. I was eligible for most of my life and received the same benefits I can help students get now. Having my basic needs met as a student allowed me to graduate with a degree and offered more opportunities to my family and me. This work is my way of giving back.
How does this position support student success?
Not having adequate food, housing, and health coverage negatively affects student success. Without these needs being met, getting through school can be challenging. The work of a benefits navigator is to close those gaps and give students a chance for success. In addition, the achievement of a degree, job training, certification, or credentials can put students in a better position for the future.
What is one thing about PCC that has surprised you?
PCC is the largest college in Oregon, and yet each campus has a comfortable feel. It doesn't feel overwhelming and impersonal.
What type of student should be seeking your help?
Anyone! Whether you need help identifying basic needs resources, need help with an application, if you're staff or faculty looking for a resource for students, or aren't sure where to begin–reach out to me.
What's your one-line pitch to students about using your services?
Basic needs benefits relieve some of the financial stress of making ends meet, and there is someone to support you through the search, eligibility and application process.
Thank you, Jennifer!