America's longest-running African film festival to feature films from 18 nations
Photos and Story by Abe Proctor
The Cascade Festival of African Films (CFAF), marking its 32nd year as the longest-running African film festival in the United States, will return this February.
Due to the ongoing coronavirus pandemic, CFAF will be a hybrid festival this year, offering both virtual and in-person events. This free, five-week celebration of African cinema will run from Feb. 4 through March 5 and offer a glimpse of "Africa through African lenses."
It features a curated collection of 30 films by African directors from more than 18 nations. There will be live interviews with filmmakers, community conversations and a virtual marketplace featuring local vendors and more. CFAF is a rare opportunity for Portland viewers to discover the diverse vibrancy of African culture. In its virtual format, CFAF films will become available for viewing on specific dates, and remain available for viewing anytime – from the comfort and safety of festival-goers' homes – until the following Wednesday, up to a prescribed number of viewings.
In 2022 – after a year spent in a fully online format – the festival will return with a limited number of in-person events, while also maintaining its connections over distance virtually. This year's festival will focus on a theme of "Diaspora," celebrating people of African descent living around the world, including in the United States.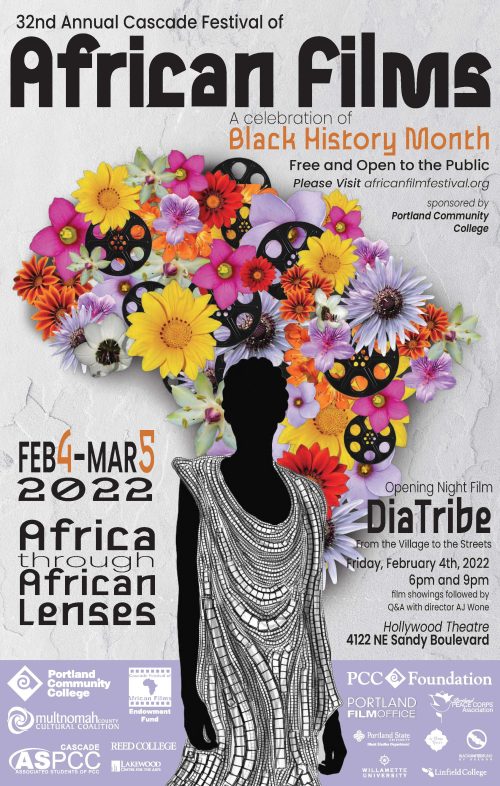 CFAF's opening-night film, "DiaTribe" (USA, 2020), is a concert documentary featuring the evolutionary lineage between African dance traditions and the dance styles of today's youth. Los Angeles-based filmmaker and poet poet A.J. Wone is joined by Portland-based Master Drummer Obo Addy and MC Mic Crenshaw, who converge to present a history of African music and dance dating back to its traditional roots.
"We felt that a film not only connecting the African continent with the diaspora, but also one that uplifted and celebrated local Portland artists, was exactly what we needed as we come back together as a community," said CFAF Coordinator Tracy Francis. "Also, it's inescapable that the last 500 years of history has resulted in African peoples, and their cultures, spreading all over the world. There's no place that hasn't felt the impact of the African diaspora."
Opening night will once again take place at the Hollywood Theatre, 4122 N.E. Sandy Blvd., at 7 p.m., Friday, Feb. 4. The film will also be available virtually on CFAF's Eventive platform. A livestream of the pre- and post-film festivities and discussions (visit www.africanfilmfestival.org for more information) will be available as well. Director A.J. Wone will join viewers in person for a post-film discussion. 
"The concept and mission of 'DiaTribe' is to serve as a groundbreaker, using rhythm and soulful spirit with respect to unveiling an impermeable foundation bridging the continent with North America," said A.J. Wone in his director's statement.
Aviva McClure is the associate director of CFAF and has a background in K-12 education. She noted that many Americans know little about the African continent, and that the festival can be a great educational resource for all ages.
"One of the unique aspects of our film festival is the commitment to screening films by African, Pan-African and diaspora filmmakers," McClure said. "This allows American filmgoers to have a more accurate depiction of African life and perspectives. In addition to the films, we also provide notes on each country, so that audiences can learn more about African history and culture."
Additional in-person events include the festival's centerpiece weekend, featuring  "Lingui, the Sacred Bonds" (Chad, 2021), by acclaimed Chadian director Mahamet Saleh Haroun on Friday, Feb. 18 at the Hollywood Theatre; and "Night Of Kings" (Ivory Coast, 2020) on Saturday, Feb. 19, at the Clinton Street Theatre, 2522 S.E. Clinton St. The closing-night film, "Min Alesh?" (Ethiopia, 2021), from up-and-coming director Amleset Muchie, will take place at 7 p.m. Saturday, March 4 at the Clinton Theatre. In-person events will require proof of vaccination or a recent negative PCR COVID-19 test.
One of this year's screenings, "Diaspora Suite and Other Short Films," includes an assortment of films from Brazil, Canada, Jamaica and the United States, as well as from Ethiopia and Ghana. Taken together, they comprise a global study of the African Diaspora.
"Our short film series asks viewers to explore and celebrate Pan-African movements that unite people of African descent who are living in the U.S. and around the globe," said McClure. "'Diaspora Suite' showcases common themes such as civil rights, climate justice, immigration and the importance of the arts."
In 1991, the first CFAF drew approximately 400 people and today, sustained by a small staff and an army of dedicated volunteers, it has grown to 5,000 attendees.
For more information on viewing films or attending events, visit www.africanfilmfestival.org.