This content was published: January 20, 2020. Phone numbers, email addresses, and other information may have changed.
President Mark Mitsui presents at climate change conference in Madrid, Spain
Photos and Story by James Hill and Kate Chester.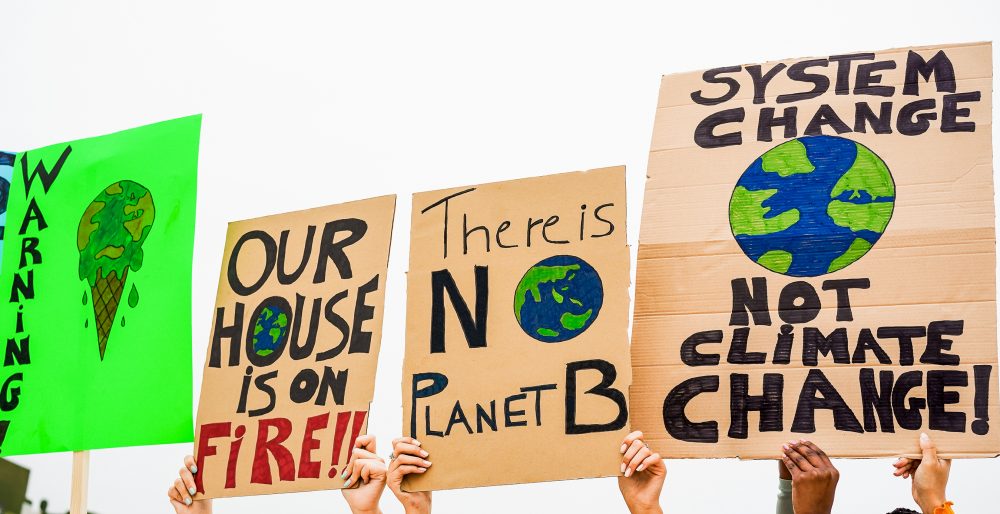 Efforts to combat climate change within the realm of higher education got international buzz this winter, thanks to Mark Mitsui, Portland Community College's president.
Mitsui attended the Conference of the Parties 25 in December, in Madrid, Spain, which served as the latest round of United Nations climate negotiations. He was a session panelist representing American community colleges and the nonprofit Second Nature as part of the "We Are Still In" movement, or WASI. WASI is a non-federal, subnational group committed to upholding the Paris Climate Agreement, and represents approximately 3,700 mayors, governors, tribal leaders, CEOs, university and college presidents, and religious establishments from around the United States.
"I am both alarmed by the data and inspired by the commitment of everyone who is still in," Mitsui said of the experience. "I'm infused with greater hope and urgency, and a stronger set of national and international allies to move forward with."
COP 25 centered on a landmark report produced by scientists serving on the United Nations Intergovernmental Panel on Climate Change. Their conclusion is that if carbon emissions are not drastically reduced, and reduced quickly, the planet stands to be transformed into something entirely different by the end of the century.
However, for Mitsui there was plenty of hope during his time in Madrid. Several countries had pavilions at COP 25 offering information and presentations about their climate action work in progress. While the United States did not host a governmental pavilion, WASI managed the U.S. Climate Action Center showcasing dozens of powerful examples of local climate change efforts underway.
"It was helpful to see what all of the other nations are doing," Mitsui said. "It was impressive and inspiring to see how different parts of the world are coming together to create a carbon neutral world."
Mitsui was struck by how much work is being done to reduce the impact of carbon emissions. Much of the conference centered on energy production and transportation, with conference participants focused on improving efficiency, managing reforestation efforts, and applying carbon sequestration to reduce greenhouse gas emissions. Mitsui also spoke to the emphasis on environmental justice at the conference, with included such speakers as former U.S. Vice President Al Gore, actor and producer Harrison Ford, and the young environmentalist Greta Thunberg.
"While all nations and peoples are impacted by climate change, some are impacted more than others," Mitsui cautioned. "Smaller island nations are at greater risk of disappearing altogether. In the U.S. and in other countries, some regions experience a disproportionately negative impact. Increasing the visibility of these needs is an important first step, and I appreciated learning of the promising strategies about this at COP 25."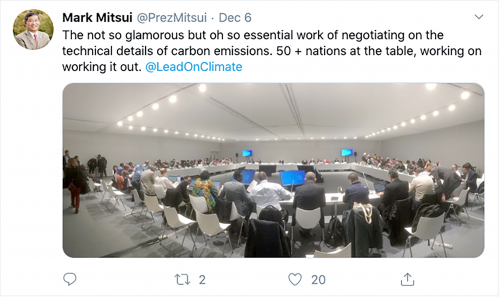 President Mitsui also teamed with fellow COP 25 panelist Lewis & Clark College President Wim Wiewel to pen an Op Ed titled "Call it a climate emergency" . Both leaders are representatives of Second Nature, a nonprofit that brings together more than 400 institutions of higher education that have pledged to become carbon neutral.
Mitsui's work mirrors the college's long established efforts centered on sustainability, many of which are led by PCC's Sustainability Manager Briar Schoon. Academic programs are "greening" their curriculum so that students get the knowledge and exposure needed to work in fields being transformed by climate change, like renewable energy and transportation. The college offers 38 sustainability courses, and nearly 80 that feature sustainability across 26 subject areas, including career technical education.
Award-winning learning gardens at PCC's campuses and centers emphasize hands-on sustainability education and help address food insecurity among students. The college is certified as a Bee Campus USA affiliate; its Rock Creek campus features an on-campus apiary promoting bee education related to pollinator protection.
Operationally, PCC has agreed to purchase off-site power through PGE's new Green Future Impact Program, which is anticipated to offset energy emissions by 20 percent. The college is committed to LEED Gold certification on new construction, and despite its footprint growth, has reduced energy use per square foot by 51 percent since 2006 due to overall sustainability efforts.
Plus, the college is a founding member of the Greater Portland Sustainability Education Network, a United Nations University Regional Center of Expertise on education for sustainable development. 
Collectively, this contributed to PCC being tapped for the 2017 national Second Nature Climate Leadership Award for two-year colleges.
"PCC is doing a lot in this area when compared to other higher education institutions," said Mitsui, "and there were several universities at COP 25 that reached out to ask us for assistance and guidance on developing climate action plans. And yet we know we can do more, and we must do more.
"In my office, I have a sign that reads, 'If you want to go fast, go alone. If you want to go far, go together.' We are at a critical point where we must go fast and far. And the only way to do that is to go together," he said.