This content was published: December 27, 2019. Phone numbers, email addresses, and other information may have changed.
Local company partners with Graphic Design students to create holiday cheer
Submitted Content by Heather N. Lubay.
A company's annual design competition that goes back 15 years was put into the hands of Portland Community College's Graphic Design Program students.
Graphic Design Instructor Angie Martorana partnered with local paper and packaging wholesaler WCP Solutions to give students hands-on experience designing gift wrapping paper to be distributed throughout the Northwest and Midwest. The company's consultant, Laura Luethje, was excited to work with the students.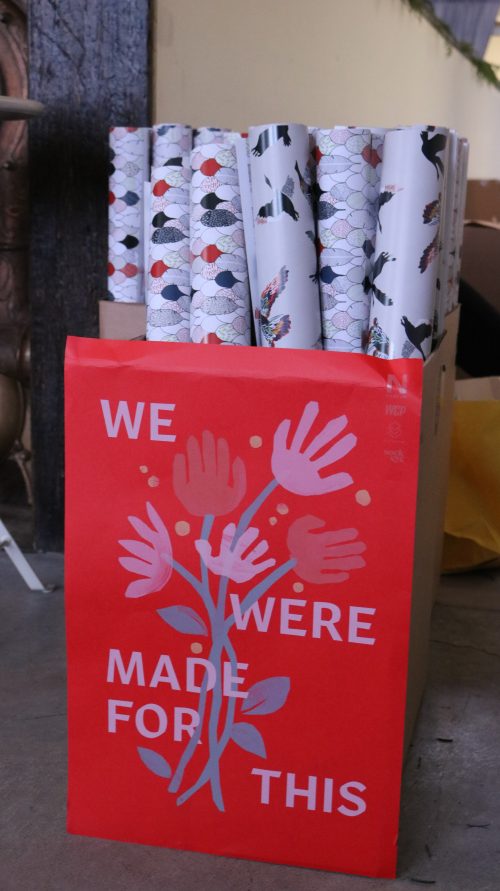 "The readiness and the quality of education (students) get at PCC blows other schools away," Luethje said. "Students learn so much more by way of details at PCC."
Students were randomly paired to design dual-sided paper to brainstorm and decide their direction. Students hand-drew designs and scanned them into Adobe Illustrator for finishing touches, including color.
Martorana said one of the challenges of the project was that students had to work in pairs. They had to create designs that were true to their own styles, yet also complementary to their partner's design through content relationship, color palettes, and illustration style. It was an invaluable experience, she said.

Once the 20 designs were finalized, each pair presented their finished product to the class and Luethje, who took the designs back to the office to pick the winners. Originally, WCP solutions planned on choosing four designs but, due to the high quality of the work, ended up picking six. The winning designs came from students Hannah Huang (feather patterns) and Mollye Pooton (geese).
When Pooton was coming up with her design, she said she wanted a more sophisticated look that incorporated silhouettes. After doing some research Pooton decided to go with geese, eventually incorporating a geometric pattern. Huang wanted to do a scalloped design or abstract pattern. When they put their initial designs together, they decided to change the scallops to feathers and developed the final pairing together.
"It was so exciting," Pooton said. "I really loved working on this project. So many school projects are stressful, but this one was just a joy."
In addition to the gift wrap, WCP Solutions decided to use another image from Sam Sloper, who had incorporated a pineapple into his pattern. When the company opened a new location just north of Seattle, they handed out pineapples (a symbol of good cheer, warmth, and welcome) to local neighbors.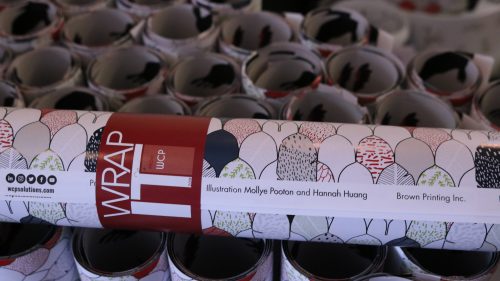 After designs were chosen, students provided print-ready files. They were then invited to the press check to watch their design printed on an offset press at Brown Printing, who donated all of the printing. Each student received 10 sheets of their own design courtesy of WCP Solutions and Stevens Integrated Solutions Printing. The winning distributed gift wrap included the names of the students. 
The student-rolled paper then was distributed to local clients at WCP Solution's end-of-year celebration party.
"Trusting our first- and second-year students with this project speaks to the level of our student work and the Graphic Design Program at PCC," said Martorana. "Laura and her company (WCP Solutions) are an excellent example of how local organizations contribute to the success of our students."